Can Indonesia ban Israeli products?
Anton Hermansyah

The Jakarta Post
Jakarta |

Mon, March 21, 2016

| 09:36 pm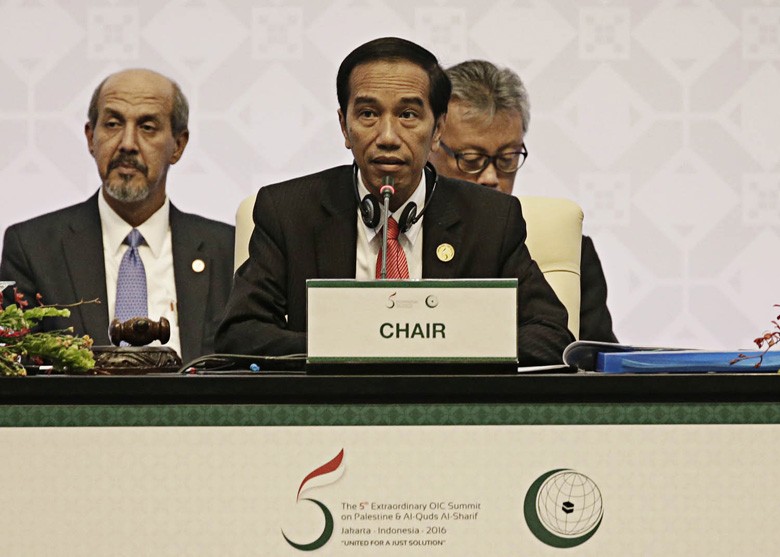 For world peace – President Joko "Jokowi" Widodo (center) speaks during the plenary session of the 5th Extraordinary Organization of Islamic Cooperation (OIC) Summit on on Palestine and Al-Quds Al-Sharif in Jakarta, Monday. Jokowi called on OIC member countries to become part of the solution of the Israeli-Palestinian conflict instead of part of the problem. (Associated Press/Achmad Ibrahim, Pool)
A call for the banning of Israeli products produced in the occupied territories conveyed during the 5th Extraordinary Organization of Islamic Cooperation (OIC) Summit on Palestine and Al-Quds Al-Sharif in Jakarta last week has raised a question about whether OIC member countries, especially Indonesia, can really implement the recommendation.
The Indonesian Chamber of Commerce and Industry (Kadin) deputy chairmen for trade, Benny Soetrisno, said banning Israeli products was technically possible because the state of origin of imports must be reported in the imported goods documents.
"The country of origin is determined by looking at the percentage of local contents of products imported from a country. A country of origin status is declared by the World Trade Organization [WTO]," Benny told thejakartatapost.com.
"Technically, the mandatory declaration of the country of origin in every imported goods document has made it is possible for Indonesia to ban Israeli products. However, it is also possible for Israel to do the same thing to Indonesian products," he said.
Trade Ministry data reveals that Indonesia and Israel have trade relations despite an absence of diplomatic ties. The total value of trade between Indonesia and Israel, mostly in the non-oil and gas sectors, reached US$194.43 million in 2015, or only 0.44 percent of Indonesia's trade with China, which reached $44.45 billion in the same period, according to the ministry.
The Trade Ministry added that Indonesia has maintained a surplus in its balance of trade with Israel; however, the surplus is getting lower. In 2015, Indonesia exported $116.71 million worth of commodities to Israel, consisting of $8,200 for oil and gas and $116.7 million in non-oil and gas. Meanwhile, the value of Indonesia's imports from Israel was worth $77.71 million in 2015 -- all non-oil and gas products.
Banning Israeli products is reportedly getting more difficult if it is related to technological products. It has been reported that several operators in Indonesia are now using some programs procured from Israeli vendors. Their choice is simply based on economic calculations, in which they deemed that the telecommunications programs offered by the Israeli vendors were the best in the market.
Still, that does not mean there are no substitutes for the Israeli products. "There are vendors from other countries producing similar products," Indosat Ooreedoo president director Alexander Rusli told thejakartapost.com on Friday.
In consumer products, it seems that it is also difficult for Indonesia to avoid products made or produced in and by Israel. One of the most famous Israeli products is Waze, a traffic-information-sharing application.
The application began as a 2006 community project called "FreeMap Israel", founded by Ehud Shabtai. It was acquired by Google in 2013 for $1.1 billion and now the traffic information in Google Maps is using the engine from Waze, although the application still exists along with Google Maps. In November 2013, the number of Waze users in Indonesia reached 750,000.
Another product is the USB flash drive, a technology that was developed by Israeli M-Systems in collaboration with IBM. US patent 6148354 was granted for the product in April 1999 and the first flash drive was sold in the US under the brand name IBM DiskOnKey in September 2000. The patent was challenged by companies and inventors from China, Malaysia and Singapore, but IBM DiskOnKey is still regarded as the first commercial flash drive in the world.
Shortly after announcing the call to ban Israeli products, President Joko "Jokowi" Widodo clarified his own statements. Presidential spokesman Johan Budi Sapto Pribowo said President Jokowi stated that the boycott was against Israeli policies toward Palestine, not of its goods.
"The boycott is not directed at products like food and beverages, but more at the Israeli policies in Palestine," Johan said on Tuesday, one day after Jokowi spoke about boycotting Israeli products in the OIC Summit, which ended on Monday. (ebf)
Topics :
You might also like :
Comments