Harsh judicial system leads to prison overcapacity, say experts
thejakartapost.com

The Jakarta Post
Jakarta |

Fri, April 29, 2016

| 12:06 pm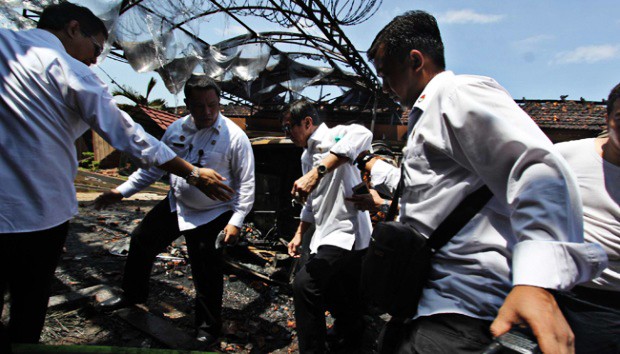 Burned – Law and Human Rights Minister Yasonna Laoly walks through the ruins of a building set alight during a riot at Banceuy Prison in Bandung, West Java, on April 23. (AP/Aditya Herlambang Putra)
The government's plan to build more prisons will not solve overcapacity problems because the main cause of overcrowding is Indonesia's harsh judicial system, experts have said.
Indonesia has 183,000 prisoners currently accommodated in 477 penitentiaries, although the facilities are designed to accommodate only 118,000 inmates.
Judicial system watchdog the Indonesian Judicial Monitoring Society's (MAPPI) research division head said overcapacity problems occurred because Indonesia had too many crime-related legal provisions.
According to a MAPPI study, Indonesia produced 563 laws with 154 crime-related provisions from 1998-2014. It led to 1,601 actions being categorized as crimes, with 1,424 of them leading to possible imprisonment.
Rizki said there were many regulations that carried cumulative penalties for convicts. Many carry a combined sanction of imprisonment and fines.
"The problem is, the amount of fines sought by the government and lawmakers in those regulations is irrational. For instance, the minimum fine stated in the 2009 Narcotics Law is Rp 400 million [US$ 30,000]. Then, if the convict cannot pay the fine, it is replaced by two years' imprisonment," Rizki said in Jakarta.
"So no matter how many more prisons the government aims to build, the overcapacity problem will continue because our legislation is so repressive."
Institute for Criminal Justice Reform (ICJR) legal expert Erasmus Napitupulu said drug-related suspects tended to be imprisoned rather than put in rehabilitation centers.
A study commissioned by ICJR together with Rumah Cemara, a community-based counseling organization for drug addicts and people living with HIV/AIDS, showed that 94 percent of drug-related suspects arrested by the police in 2016 were imprisoned, while only 6 percent were rehabilitated.
According to the Law and Human Rights Ministry, drug inmates account for 35 percent of the country's 183,000 prisoners at present.
"It's a lot more difficult to give drug suspects care in a rehabilitation center rather than putting them in jail," said MAPPI researcher Cendy Adam.
Erasmus criticized the government's measures to repeatedly raise detention periods and fines to have a deterrent effect on offenders. However, there has never been a proper study to evaluate the costs and benefits of the current judicial system.
In several cases, the overcapacity problem has led to riots in prisons. Reports revealed several riots occurred in prisons around Indonesia, including the latest case at Banceuy penitentiary in Bandung on April 23. Before that, riots broke out in Kerobokan prison in Bali on April 21, Tewaan Bitung detention center in North Sulawesi on April 6, Malabero prison in Bengkulu on March 25, Rajabasa prison in Lampung on March 18 and Muara Bulian prison in Jambi on March 17. (vps/ebf)
Topics :
You might also like :
Comments