Hundreds of North Jakartans protest evictions
Callistasia Anggun Wijaya

The Jakarta Post
Jakarta |

Tue, May 3, 2016

| 04:34 pm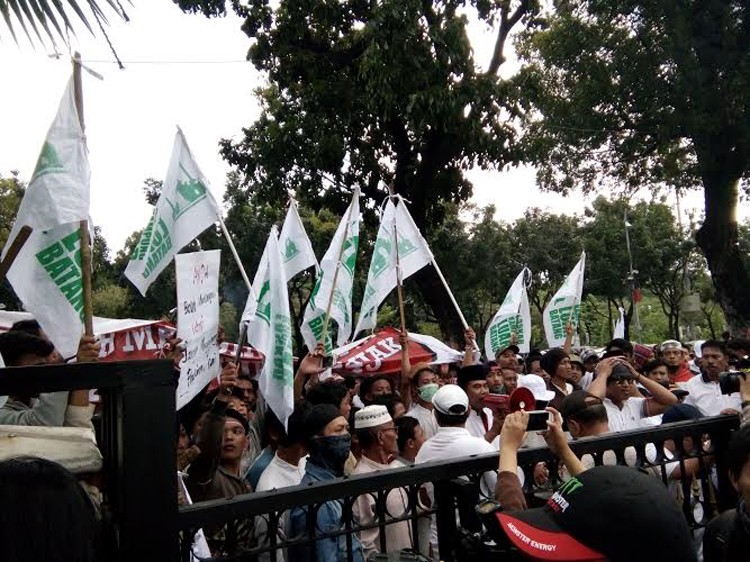 Hundreds of protesters from North Jakarta hold a demonstration in front of Jakarta City Hall on Tuesday. They protested Jakarta Governor Basuki "Ahok" Tjahaja Purnama's move to evict people in a number of residential areas, particularly in North Jakarta. (thejakartapost.com/Callistasia Anggun Wijaya)
Hundreds of North Jakarta residents held a rally in front of Jakarta City Hall on Tuesday to protest the frequent evictions by the Jakarta administration under the leadership of Jakarta Governor Basuki "Ahok" Tjahaja Purnama.
The protestors, grouped under the North Jakarta Residents Alliance (AMJU), called on the governor to put a halt to evictions as they said that the action had caused many people to become homeless, particularly if they were not relocated to low-cost apartments.
Among the protesters were residents of Luar Batang in North Jakarta, the next target of evictions by the city administration.
The areas most recently hit with evictions were Pasar Ikan and Akuarium, two coastal areas near Luar Batang. In February, the city also evicted the Kalijodo red-light district, also in North Jakarta, to be converted into parks.
They also protested what they believed to be the plan of the city administration to allow the construction of luxury apartments near Luar Batang Mosque.
"Luar Batang Mosque is an iconic place so it cannot not be surrounded by apartments and a plaza. The administration can carry out development but they can't disregard the basic concept of the mosque," Jamran, a rally coordinator, said.
Ahok spoke briefly about the protest, stressing that he respected the aspirations conveyed through the demonstration. "Democracy allows demonstrations. Therefore, anyone can carry out a demonstration," Ahok said.
Among the protesters were school children, who admitted that they skipped classes to participate in the demonstration. The protesters called on the governor to step down and mocked police officers securing City Hall.
Ahok said initially that the city administration would carry out evictions in Luar Batang in May to implement a revitalization plan for Luar Batang Mosque and its surrounding areas. However, the plan was postponed on account of protests and a lack of low-cost apartments to accommodate the evictees.
Later, the city said it would purchase land in Luar Batang to develop low-cost apartments. Jamran, however, said the residents opposed the administration's plan to revitalize Luar Batang Mosque. (bbn)
Topics :
You might also like :
Comments