Low literacy rate leads to fanaticism, experts say
The Jakarta Post

The Jakarta Post
Jakarta |

Fri, May 20, 2016

| 10:47 am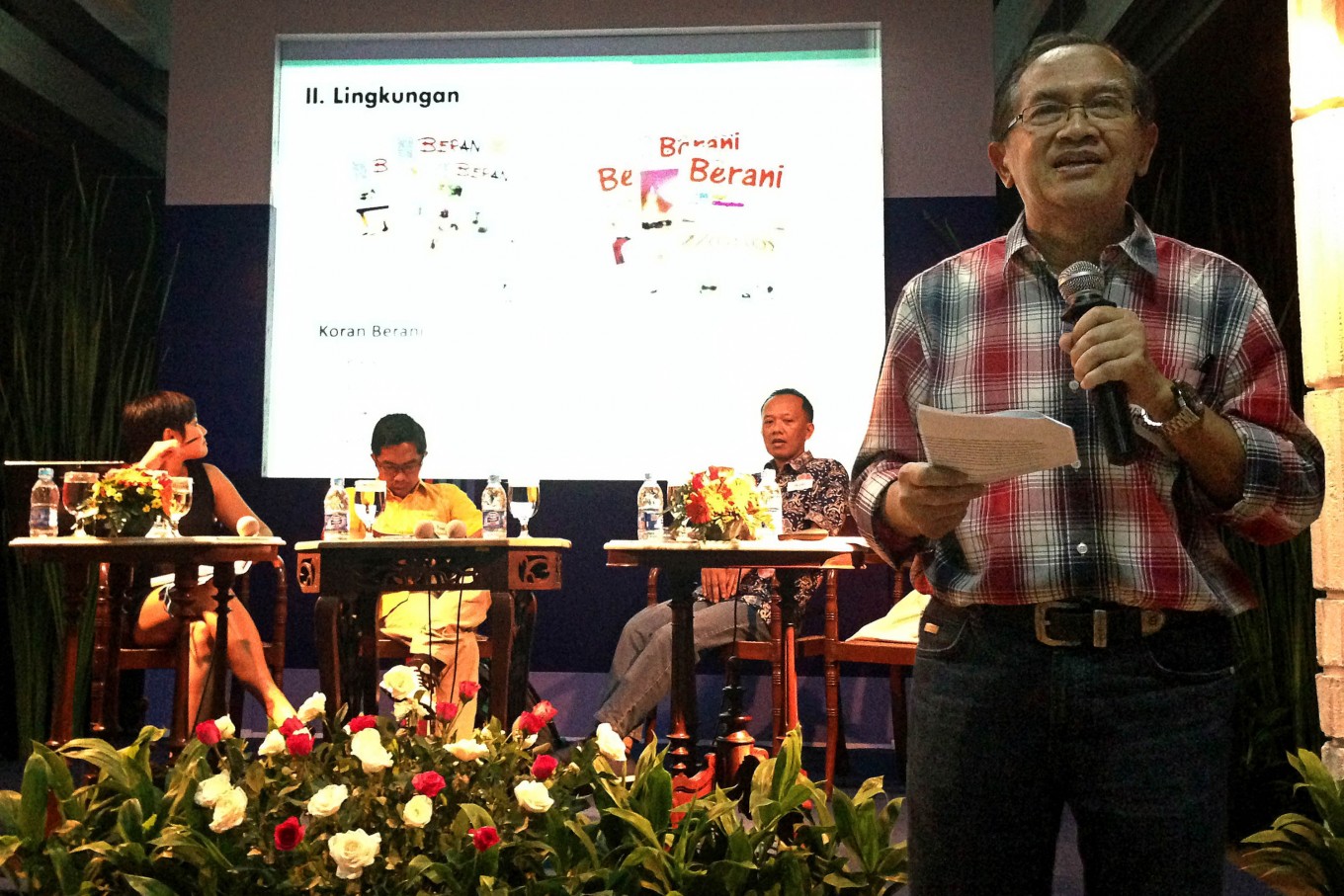 (From left to right) Writer Margareta Astaman, novelist Ahmad Fuadi, senior journalist at Kompas daily Pepih Nugraha and Berani tabloid founder Henricus Witdarmono speak in a discussion titled "Book VS Social Media" at Bentar Budaya Jakarta on May. 19. (JP/Viriya Paramita Singgih)
Parents must be involved in developing reading habits in their children in the current fast-paced digital era as populations with a low literacy rate are prone to fanaticism and radicalism, experts said on Thursday.
Indonesia is ranked 64th out of 65 countries in student reading scores, according to a 2012 Program of International Student Assessment (PISA) survey that evaluated the literacy skills of 15-year-old students, senior journalist Henricus Witdarmono said.
The country's low rank in the survey showed that Indonesian children were only capable of absorbing one or two pieces of information from a single reading, he said, adding that the survey also revealed that the students had low interpretative skills.
"This is very dangerous, as people with low interpretative skills have a higher tendency to be fanatic, radical or fundamentalist," said the founder of Berani, a tabloid for Children, to the audience at a discussion event titled "Book VS Social Media" in Jakarta on Thursday.
Therefore, parents' involvement in developing reading habits among children is crucial.
"Parents can help sharpen a child's focus and concentration level with reading a bedtime story to them every night," Henricus said.
Meanwhile, Pepih Nugraha, a senior reporter at prominent Indonesian newspaper Kompas, said young children who were accustomed to the internet from an early age were more interested in interactive digital content.
This was an opportunity for traditional publishers to adapt to the times and combine writing with other interesting content such as pictures or colorful design, he added.
Indonesia ranked the second lowest among 61 countries in a study released in March titled 'World's Most Literate Nations Ranked' by John Miller, president of Central Connecticut State University in New England, US. The study measured literate behavior characteristics, which includes the number of libraries and newspapers, years of study and availability of computers in a country. (vps/rin)
Topics :
You might also like :
Comments