Cigarette plain packing will not affect sales, say traders
News Desk

The Jakarta Post
Jakarta |

Tue, May 31, 2016

| 08:48 pm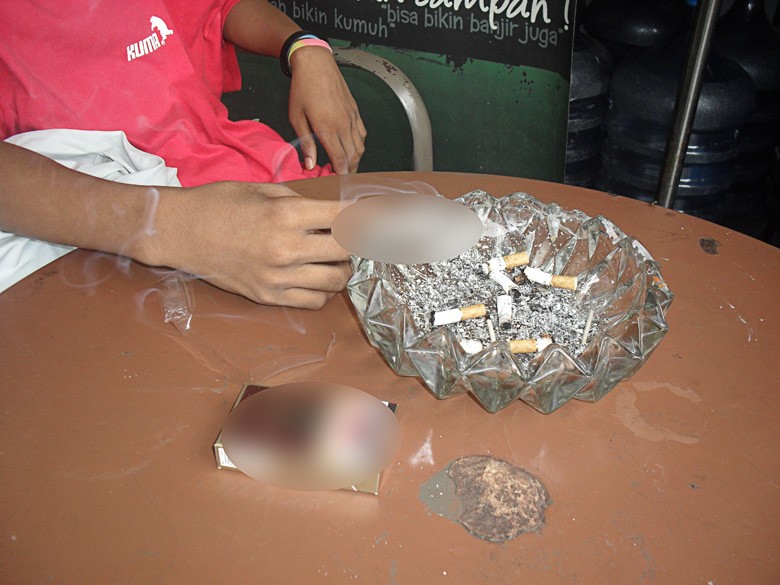 Smoke rises from a clove cigarette in the right hand of a 14-year-old ninth grader at a junior high school in Pasar Minggu, South Jakarta. The boy said he started to smoke after watching his father smoke. (thejakartapost.com/Elly Burhaini Faizal)
Cigarette street vendors say the government's plan to require cigarette producers to produce only plain packaging for all cigarettes sold in the country will not reduce cigarette consumption, especially among young people who often smoke as a part of their lifestyle.
The Health Ministry is pushing the plan in the hope of reducing the attractiveness of tobacco products. Under the plan all packages would have a uniform color with no brand logos.
The idea is in line with the World Health Organization's (WHO) World No Tobacco Day campaign to limit misleading packaging and labeling.
"Maybe consumers won't know which one is their favorite pack of cigarettes [because of the plain packaging], but we sellers know. We could just tell them," said Muhamad Halimi, 43, a cigarette kiosk owner in Permata Hijau, South Jakarta, on Tuesday.
The vendors say the regulation will be as ineffective as previous ones, such as the placement of pictorial warnings on cigarette packages and the increase in tobacco excise by an average of 11.19 percent that come in on Jan. 1.
Jono, another kiosk owner in Cikini, Central Jakarta, said her cigarette sales had increased after the hike in prices. She also said the graphic warnings on the packages had had almost no effect on consumers.
"The pictorial warnings have not delivered a big impact. At most, a few consumers have started to be picky about the cigarette pack they buy. They prefer the least scary picture, which is the one that shows a man smoking with skull-shaped smoke coming from his mouth," Jono added.
Indonesians spent at least Rp 330 trillion (US$24.3 billion) last year to finance their smoking habits. Data from the 2014 Global Youth Tobacco Survey reveal that 20.3 percent of Indonesian teenagers between 13 and 15 years of age are smokers. The same survey shows that 62.7 percent of the surveyed teenagers are exposed to cigarette advertising on television or in movies.
Both Halimi and Jono said that lots of teenagers, with an average age of 10 to 13 years old, had come to their kiosks to buy cigarettes.
"Usually, I ask them, 'Who are you buying for?' Then, some of them say that it's for their fathers or older brothers. But after they leave, I often see them smoking," said Halimi.
Diah Saminarsih, the health minister's special adviser for partnerships and sustainable development goals (SDGs), said that people tended to pick up bad health habits when they had limited control of their own lives. During a discussion in Jakarta on Tuesday, she cited the words of Michael Gideon Marmot, professor of epidemiology and public health at University College London:
"So, the poorer you are, the more careless you are about your own health."
In December 2012, Australia became the first country to fully implement a plain packaging policy. Meanwhile, in 2015, the UK and France passed laws to implement the regulation from May 2016. (vps/bbn)
Topics :
You might also like :
Comments