Child marriage a serious problem in Indonesia
The Jakarta Post

The Jakarta Post
Jakarta |

Wed, July 20, 2016

| 06:31 pm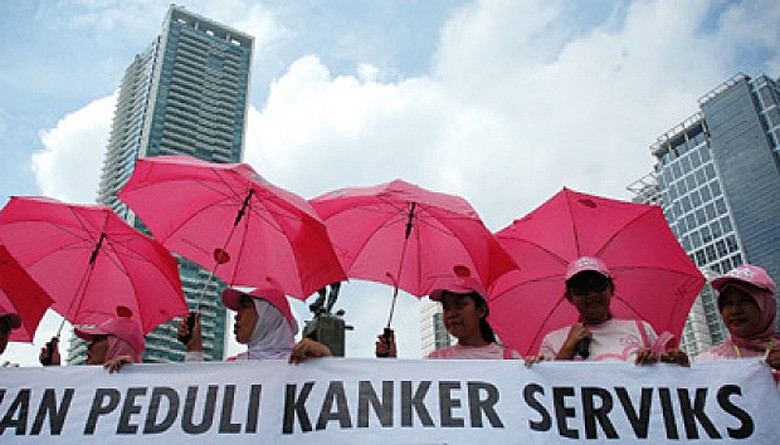 For a prosperous future – Activists stage a peaceful rally to call for an end to child marriage, one of triggering factors of catastrophic diseases in women such as cervical cancer, in Jakarta recently. (Tempo/Zulkarnain)
Indonesia needs to take measures to keep girls out of child marriages, which remain a critical problem in the country despite the Central Statistics Agency's (BPS) latest report showing a slight decrease in the number of child marriage cases.
The agency released a report on Wednesday that said the number of child marriages in Indonesia stood at 23 percent in 2015, slightly down from 24.5 percent in 2010.
"The figure is high because of the number of respondents, which represents the number of child marriages, in the survey [for both years]," BPS director of social welfare statistics Gantjang Amannullah said Wednesday.
The surveys, conducted in 2015 and in 2010, involved 300,000 households from all provinces across the country as samples. They were selected from around 62.5 million households, in which the respondents were housewives aged between 20 and 24 years, and were married before the age of 18.
University of Indonesia's Gender Research Center head Ikilah Muzayyanah said several factors, such as culture and a lack of awareness about the risks of child marriage, were among the major causes, which led parents to let or even force their children to get married at a very young age.
"Some people still believe that it is inappropriate to reject a marriage proposal and are afraid that their daughters will become spinsters," Ikilah said.
She further said the prevailing marriage law also allowed children to get married at a young age.
She urged the government to revise the law because it would also affect the education of girls. At the age of 16, children might not yet have finished their secondary schooling and so they would likely drop out of school.
According to the1974 Marriage Law, the minimum age of marriage for girls is set at 16 years, and 19 years for boys. (wnd/ebf)
Topics :
You might also like :
Comments