Indonesian farmers file class-action suit against Montara over 2009 oil spill
Arif Gunawan Sulistiyono

The Jakarta Post
Jakarta |

Wed, August 3, 2016

| 09:03 am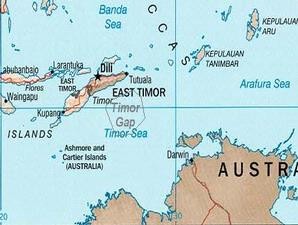 A map shows the territorial waters between Australia and Indonesia contaminated by an oil spill from Australia's Montara oil rigs in 2009. (kompas.com/-)
More than 13,000 Indonesian seaweed farmers whose livelihoods were devastated by an oil spill in the Montara oil field seven years ago officially launched a class action suit in Sydney's federal court on Wednesday.
They have appointed Indonesian advocate Ferdi Tanoni to represent them in the case. Meanwhile, Australia's leading class action specialists Maurice Blackburn Lawyers will take on the case.
The oil spill occurred on Aug. 21, 2009, following a horrific explosion. The Montara oil rig began spewing out oil and for more than 70 days, gas and oil from the rig gushed into the Timor Sea, in Australian waters, some 690 kilometers kilometers west of Darwin and 250 kilometers southeast of Rote Island, East Nusa Tenggara (NTT), Indonesia.
"It is estimated that in excess of 300,000 liters of oil per day contaminated the sea, equivalent to pouring 10 Olympic swimming pools of toxic sludge into the ocean over the months the spill continued. The leak was finally plugged on Nov. 3, 2009," said Cameron Scott, a spokesperson for Maurice Blackburn Lawyers in a press statement.
A 2010 government inquiry into the Montara oil spill was damning in its assessment of the operation of the oil rig.
The massive oil spill has also led to depleted fish reserves in the Timor Sea as it affected the habitat of many fish species and changed their migration patterns in the area, according to Ferdi Tanoni who leads the West Timor Care Foundation (YPTB). (ags)
Topics :
You might also like :
Comments