French CPO tax reversal to boost Indonesian exports: Association
Anton Hermansyah

The Jakarta Post
Jakarta |

Mon, August 8, 2016

| 08:11 pm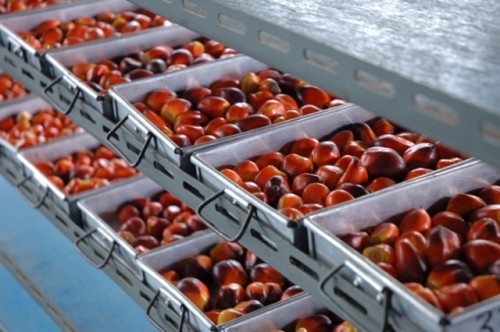 Fresh oil palm fruit bunches are stored in containers before being processed into palm oil. (Courtesy of http://www.sampoernastrategic.com//-)
The Indonesian Palm Oil Producers Association (GAPKI) believes the French National Assembly's move to cancel a planned progressive tax on imported palm oil will boost Indonesian exports to that country.
In the initial plan, France would impose an extra tax of 300 euros or US$332 per ton on palm oil and its derivative products in 2017, which would then be further increased to 900 euros per ton in 2020 in a bid to curb oil palm plantation expansion and its consequent negative environmental impact.
However, the French government in March said the tax would be slashed to 30 euros in 2017 and 90 euros in 2020 after protests from several countries including Indonesia and Malaysia. Eventually, the tax was completely discarded on June 23.
"That is a good decision and positive for the Indonesian palm oil Industry. France and the European market are very important for us," GAPKI's spokesman Tofan Mahdi told thejakartapost.com on Monday in Jakarta.
In March's revision, the French National Assembly had opted to make exemptions for "sustainable" palm oil plantations. However, this received criticism as the sustainability criteria was not clear. "We cannot and will not interpret the [French] decision," Roundtable on Sustainable Palm Oil (RSPO) Indonesia director Tiur Rumondang had said.
Based on consulting firm Europe Economics' data, in 2015 France imported around 100,000 tons of palm oil from Indonesia as well as 11,000 tons from Malaysia. (ags)
You might also like :
Comments