Hospital fraud costing BPJS Kesehatan, expert says
News Desk

The Jakarta Post
Jakarta |

Fri, August 26, 2016

| 10:15 am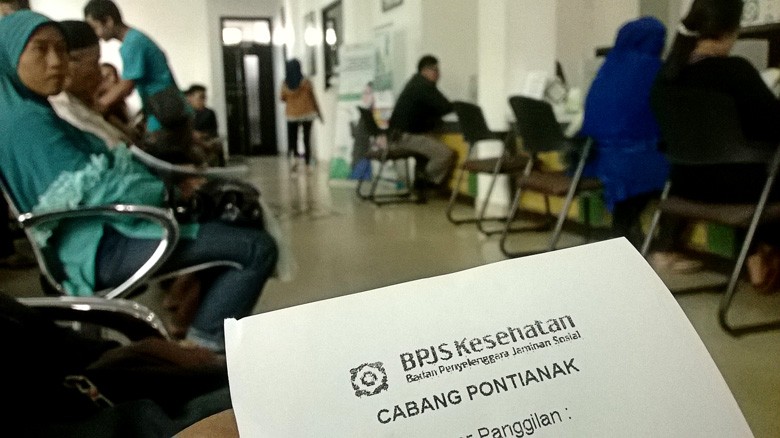 Residents of Pontianak, West Kalimantan, queue to register for BPJS Kesehatan membership at a branch of the Pontianak Health office. Every day, around 200 to 300 residents queue to apply for the government-funded health insurance program. (thejakartapost.com/Severianus Endi)
Indications of fraud committed by hospitals claiming larger reimbursements from the Healthcare and Social Security Agency (BPJS Kesehatan) can be seen through hospital readmission and up-coding records, a public health expert has said.
"Based on my analysis, from the approximately 47 million outpatient cases, 76 percent are readmissions," Budi Hidayat, a public health expert from the University of Indonesia (UI), said on Thursday in a discussion entitled "When Economics and Health Meet".
He added that of the 8.8 million inpatients, 9.7 percent were readmissions. However, Budi said not all readmissions were suspicious.
Readmissions are considered as fraud when patients are hospitalized temporarily and then released as outpatients before recovering properly. However, they will then be re-admitted in order to claim extra reimbursements for further treatment.
Based on Budi's observations, 4.4 percent of inpatient cases were suspicious, and costs the BPJS Kesehatan Rp 1.86 trillion (US$140.5 million). For outpatients, 43 percent cases, costing Rp 6.9 trillion, needed further investigation.
Budi went on to say that the BPJS Kesehatan had to find a way to detect which hospitals were submitting false claims. He estimated the country could save up to Rp 2.5 billion if they could track which hospitals committed such actions.
BPJS has been predicted to suffer losses of Rp 9 trillion by the year-end. As of April, the government decided to increase BPJS premiums to cover the deficit. (wnd/bbn)
You might also like :
Comments