Plantations affect biodiversity, provide few benefits for Papuans: Activists
News Desk

The Jakarta Post
Jakarta |

Fri, September 2, 2016

| 01:15 pm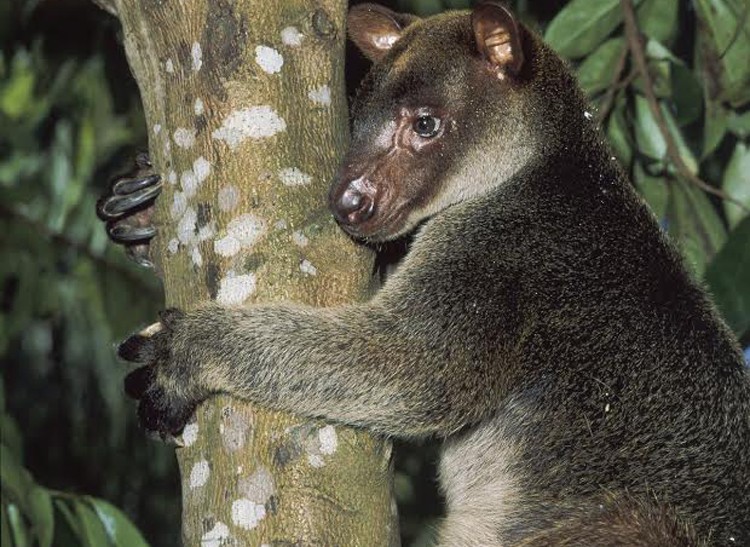 Tree kangaroos are one of Papua's endemic animals. Activists have blamed oil palm plantations for the province's rapid loss of biodiversity. (Courtesy of Mighty Asia Tenggara/File)
An environmental group has blamed the conversion of forests into oil palm plantations for the loss of biodiversity in Papua, adding that it had also failed to improve the welfare of local people in the province.
Forests that were once a source of staple foods such as sago have been converted into oil palm plantations, which provide limited benefits, Bustar Maitar, chairman of environmental group Mighty Asia Tenggara, said in Jakarta on Thursday.
The businesses deprived many indigenous Papuans of their sources of livelihood because they used to rely on sago and meat for food, which they obtained in forests, Bustar said while speaking at a seminar.
He also said plantation companies had cleared more than 50,000 hectares of tropical forest in South Halmahera in North Maluku and Merauke in Papua.
Bustar criticized companies for paying only meager wages to local people who helped to clear the forest. "They [locals] receive a daily salary of only Rp 85,000 [US$6.40] in Merauke," Bustar said.
A similar statement was made by Papuan human rights activist Anselmus Amo of the Secretariat of Peace and Justice of the Merauke Archdiocese (SKP-KAMe), who said local workers were subject to unfair treatment.
"Whenever they stage a protest for better pay, military personnel side with the employers," said Anselmus, adding that the plantations had also destroyed local customs, citing as an example that young Papuans now preferred to eat rice rather than sago. (rez/bbn)
Topics :
You might also like :
Comments