Attempt to trade 11 protected animals foiled
Andi Hajramurni

The Jakarta Post
Makassar, South Sulawesi |

Sun, September 11, 2016

| 01:47 pm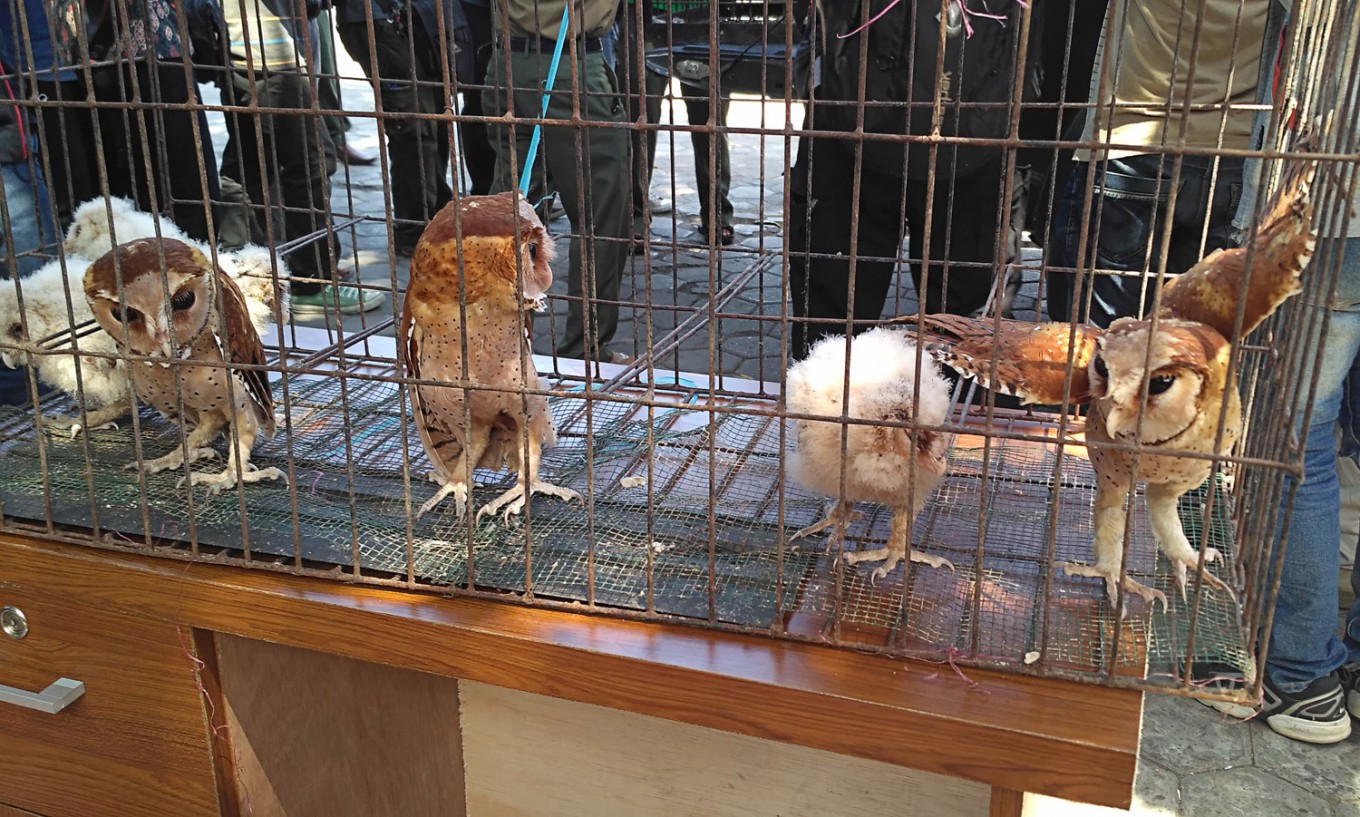 Illegal trade – This picture shows protected bird species, including owls, confiscated by the South Sulawesi Police in an operation in August. (JP/Andi Hajramurni)
The South Sulawesi Police have confiscated 11 protected animals, two of which are imported peregrine falcons from the United Arab Emirates (UAE), suspected to have been illegally traded.
The nine other animals consist of eight hornbills and one Sulawesi hawk-eagle. Two of the hornbills were found dead.
The animals were confiscated from Muhammad Nurhidayat, 22, a resident of the Bumi Tamalanrea Permai residential complex in Makassar, in a raid on Thursday evening.
Adj. Sr. Comr. Kadarislam, head of the environmental resources division at the police's special crimes investigation directorate, said the case was uncovered after the police received information from a resident concerned about the animals.
"After observing the site for several days, we found 11 protected animals, including eight hornbills. Unfortunately, two of the hornbills were already dead," he said on Friday.
Kadarislam said Nurhidayat, who has been named a suspect, claimed he bought the hornbills and Sulawesi hawk-eagle from Pasangkayu, North Mamuju regency, West Sulawesi, paying Rp 550,000 (US$42) for each of the animals.
Nurhidayat also claimed he bought the peregrine falcons online. "The suspect said he bought the peregrine falcons from the UAE for $1,200 each. He said the animals were delivered via an air-shipping service. The falcons were anaesthetized during the delivery," said Kadarislam.
It is suspected the animals would have been sold online. The suspect, however, has denied this, claiming he is simply a bird lover who wanted to collect the animals.
Kadarislam said the suspect was found to have traded in protected animals since December last year. (ebf)
Topics :
You might also like :
Comments