Pension managers have high hopes for IDX investment
News Desk

The Jakarta Post
Jakarta |

Tue, September 20, 2016

| 12:38 pm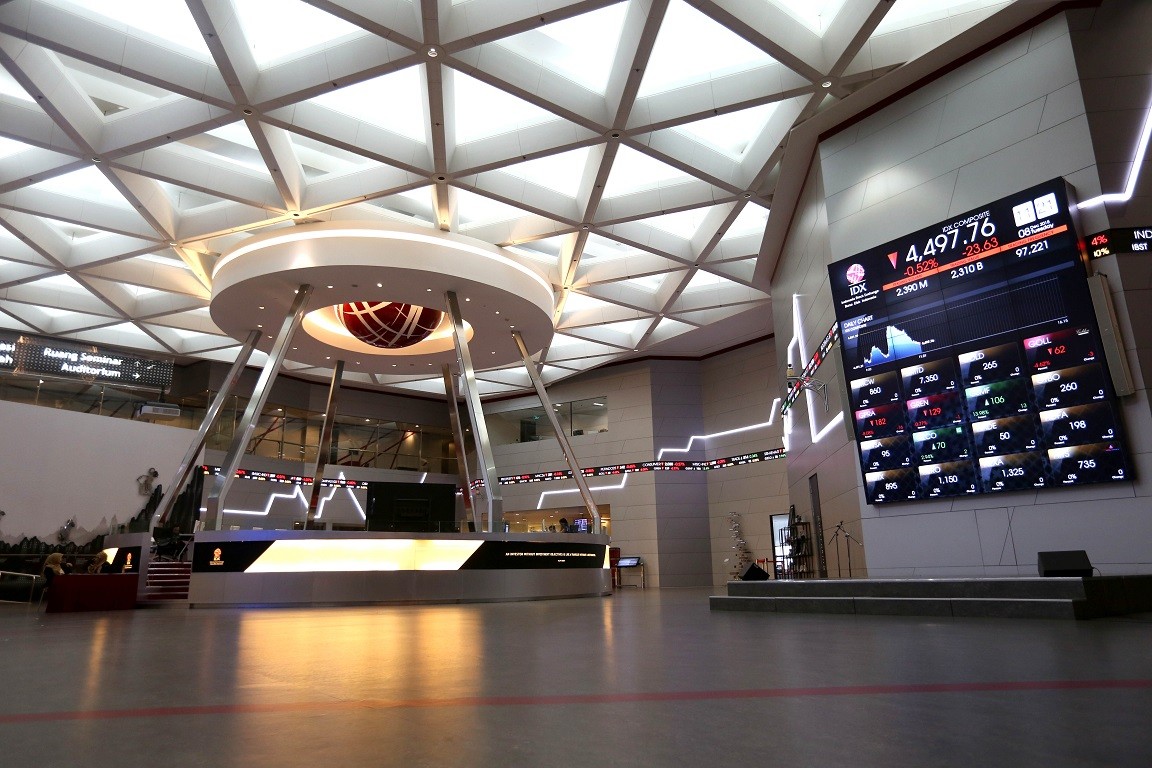 The trading floor of Indonesia Stock Exchange (IDX). (thejakartapost.com/Wienda Parwitasari)
The Indonesian Pension Funds Association (ADPI) has high hopes for the Indonesia Stock Exchange (IDX), which has recorded the highest global growth throughout 2016, to meet its investment target.
The Jakarta Composite Index (JCI) — the IDX's benchmark — has grown 15.9 percent so far this year, with market capitalization of Rp 5.73 quadrillion (US$435.2 billion) as of Monday.
The growth rate was higher than that in Thailand with 15.7 percent, India with 9.8 percent and even the UK with 9.1 percent.
The stock exchange also offered the highest global return as of June, with a 45.4 percent return for a five-year investment and a 363.3 percent return for a period of 10 years, data from the IDX showed.
ADPI chairman Mudjiharno Sudjono said members were looking to invest more in the capital market to grab bigger return of investment (ROI) figures, considering their nature as long-term investors.
"We have an ROI target of 10
percent to 12 percent for pension funds. We can't meet the target if we rely solely on fixed-income instruments, such as government debt papers [SBN] with a 6 percent return or corporate bonds with a 9 percent return," he said at the IDX on Monday.
"That's why we have to invest in the capital market."
According to the association, there are at least 260 pension funds in the country with total net assets under management (AUM) of around Rp 230 trillion.
The biggest players in the business are those belonging to state-owned telecommunications company Telekomunikasi Indonesia (Telkom) with assets worth up to
Rp 18.5 trillion and state-owned lender Bank Rakyat Indonesia (BRI), with assets worth Rp 16.3 trillion.
Their combined investments stand at around Rp 217 trillion, of which around 22 to 25 percent is allocated to debt papers, 22 percent to SBNs, 20 percent to the capital market, 10 percent to fixed assets, 10 percent to time deposits, 8 percent to 10 percent to direct investment and the rest to other investment tools.
Mudjiharno expected the capital market portion, consisting of shares and mutual funds, to increase to 25 to 30 percent within the portfolio next year.
"It can keep increasing as long as we can pick the right stocks," he said.
Meanwhile, IDX president director Tito Sulistio said the global macroeconomic situation, including a slowdown in China, had led global investors to translocate their portfolios to more attractive financial markets like Indonesia.
IDX statistics show the bourse has reported Rp 34.59 trillion in net buys since the beginning of the year. The net buy figure is a significant indicator of how attractive a stock market is to foreign investors.
For the past 10 years, almost half of the companies — amounting to 507 firms — have posted a compound annual growth rate (CAGR) of return of more than 10 percent. Of the figure, 7.3 percent of them recorded a CAGR above 40 percent.
Tito encouraged pension funds to penetrate deeper into the stock market as their contribution was still relatively low.
"The contribution of pension funds within global stock markets stands at around 40 percent, while it only stands at 20 percent here in Indonesia," he said.
Mudjiharno said in addition to the stock market, it was also planning to venture more into the debt market, as called for by the Financial Services Authority (OJK).
The OJK issued a regulation earlier this year requiring non-bank financial institutions, including pension funds, to allocate at least 20 percent of their AUM to SBNs by the end of this year and 30 percent by the end of 2017.
"The 30 percent target is feasible. Moreover, the OJK will issue a new regulation stipulating that state firm bonds related to infrastructure can also be considered SBNs," Mudjiharno said. (vps)
Topics :
You might also like :
Comments