Most UNHRC recommendations are not properly implemented: Rights activist
Marguerite Afra Sapiie

The Jakarta Post
Jakarta |

Tue, September 27, 2016

| 10:04 am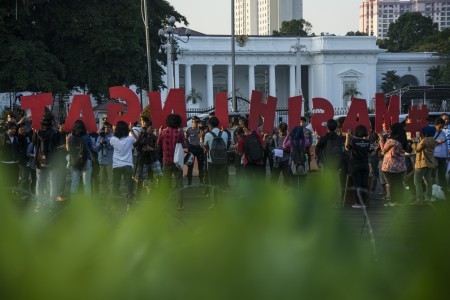 Activists from human rights watchdog Commission for Missing Persons and Victims of Violence (Kontras) protest in front of the State Palace on July 27 following the announcement of new Cabinet members. They protested President Joko "Jokowi" Widodo's appointment of Gen. (ret) Wiranto as coordinating political, legal and security affairs minister. (Antara/Aprilio Akbar)
The government has yet to maximize efforts to comply with UN Human Rights Council (UNHRC) recommendations, including with regard to resolving human rights abuse cases and offering better protection to religious minority groups, a rights activist has said.
"In human rights, what matters is the impact of the policy, whether the people who suffer and the victims of the violations feel as though their rights have been fulfilled. The government has failed to address the discrimination that all victims and sufferers go through," Muhammad Hafiz of the Human Rights Working Group (HRWG) said on Monday.
The 2012 UNHRC's universal periodic review requested that Indonesia, among others, amend or revoke laws and regulations that banned religious freedom, to allow foreign journalists free access to Papua and West Papua and to allow the entry of the UN special rapporteurs on indigenous people and minority groups into the country.
Hafiz said the HRWG and several other rights groups had filed a report with the UNHRC regarding the government's efforts to follow up on the recommendations from 2012-2016, which would be brought up in the upcoming UNHRC universal periodic report in 2017.
He, however, acknowledged that the government had ratified the UN Convention on the Protection of the Rights of All Migrant Workers and deliberated the inter-religious harmony bill to protect religious groups.
"However, the efforts only revolved around the scope of policy and were partially implemented", he added. (bbn)
Topics :
You might also like :
Comments