Congrats, Donald Trump
|

Thu, November 10, 2016

| 10:42 am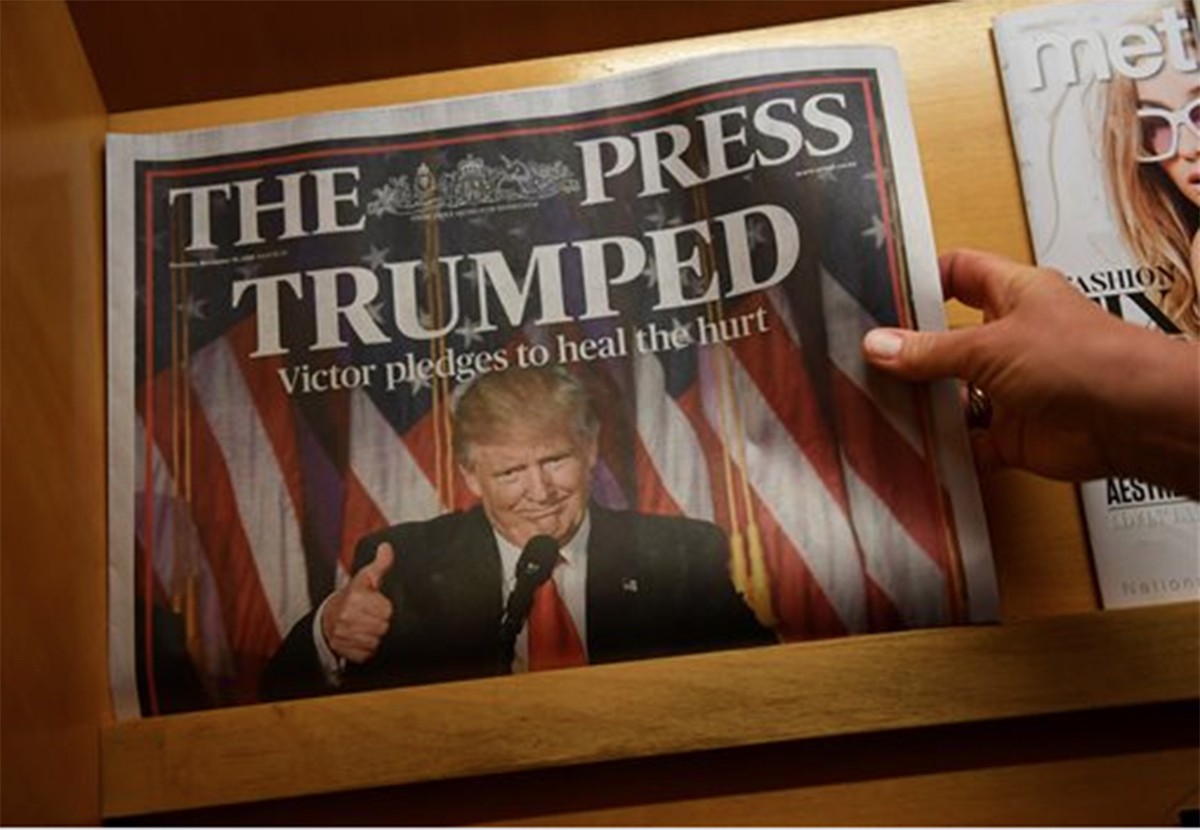 A woman reaches for a local newspaper reporting on the election victory of US President-elect Donald Trump in Christchurch, New Zealand, on Nov. 10, 2016. (Mark Ralston, Pool Photo via AP/-)
Results of yet another historic US election have flowed in to the joy and dismay of either supporters or those who don't favor the presidential candidate leading in the tallies — Donald Trump.
Ahead of the final result showing Trump won 276 electoral college votes against Hillary Clinton's 218 — or over 57 million votes to Clinton's more than 56 million — waves of nervousness emerged from Asian markets as Trump has repeatedly campaigned for protective measures to keep American jobs — one of his most appealing pledges to Americans who feared that their jobs would be stolen once the perceived "flood" of migrants arrived on their shores.
Whatever reservations we may have, we extend our congratulations to president-elect Donald Trump. Congratulations also to his Republican Party, which has conquered both the House of Representatives and the Senate.
Most of all we congratulate all Americans who contributed to what was largely a peaceful election. By American standards it was the most divisive, but despite the war of words, however vile, it was still an orderly election in our eyes.
Losers' hand-wringing and soul searching will follow, and pollsters may investigate their methods, as various results suggested former first lady and state secretary Hillary Clinton was the preferred candidate.
But today, like many others we're relieved that the US election is practically over. True to American tradition, we are confident the US will remain stable as Clinton has graciously conceded defeat and congratulated Trump.
For a US that is however divisive but able to prove the strength of its prevailing value — that democracy must win — is the reassurance the world needs regardless of Trump's scary rhetoric. His first statements have been reassuring; at home, at least he intends to be a president "for all Americans" who will lead the people of all races, religions, backgrounds and beliefs to rebuild the nation and renew the American dream.
What follows are questions on what Trump as the 45th US president will mean for the world; for Asia and the Pacific, our increasingly tense region, the vast potentials of which could be explored far more if only the global powers could settle their differences.
In his spontaneous reaction to Trump's victory, President Joko "Jokowi" Widodo expressed belief that ties between the two countries would remain robust, considering the fact that the US is among the five-largest investors in Indonesia. Trump's promise to get along with all nations is indicative that the US under him could do Indonesia good.
In the meantime, Indonesians can learn from America's vast experience with its electoral system. It is the system and its guardians working around the clock that assured that every single vote counted in the face of Trump's claims that the system was "rigged". It is the credibility of the election system and its implementation that will make Americans largely accept the winner as a result of a fair process.
Our appreciation also goes to President Barack Obama, our former Indonesian boy in the White House. For all your disappointment, we're confident that you will urge Americans to unite under their new leader to whom you will pass the baton bearing great responsibility.
Topics :
You might also like :
Comments