New visa rules may require foreigners to join the queue
Marguerite Afra Sapiie

The Jakarta Post
Jakarta |

Mon, November 28, 2016

| 07:19 am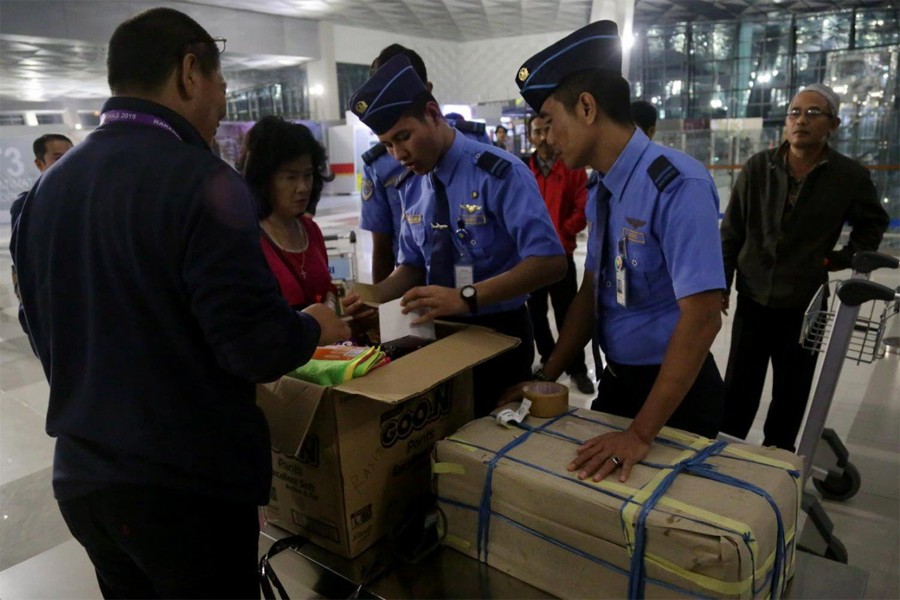 Airport staffers check luggage belonging to passengers at Terminal 3 of Soekarno-Hatta International Airport in Banten on Aug. 9. (JP/Wendra Ajistyatama)
The government has disallowed immigration agencies from utilizing their fast-track privileges in the processing of visa permits, a move that the immigration office claims is part of President Joko "Jokowi" Widodo's agenda to crack down on illegal levies.
As a result of the new policy, which has been in effect since Nov. 14, foreigners working in Indonesia, as well as representatives of their employers, may be required to be present in person at immigration offices and join the queue just like regular applicants.
Heru Santoso, spokesperson for the Immigration Directorate General at the Law and Human Rights Ministry, however, denied circulating information saying that licenses issued to migration agents and other third parties would be revoked.
"If [expatriates] want to submit through migration agents, it's their right [to do so]. But the point is, our service to the agents is the same as other applicants. They need to queue up like everyone else," Heru told The Jakarta Post.
He asserted that all applications, be they through third parties or not, would receive equal treatment.
When asked if all applicants would be required to attend in person, Heru only said, "It's the right of an immigration officer to request the presence of the concerned party." He repeated this when asked for further details.
Heru said the new policy would also help improve transparency and accountability in the country's immigration services.
The efforts were especially aimed at tackling collection of illicit fees by immigration officers from agents that wanted to "speed things up",
he said.
"Another important thing is that [under the new policy] foreigners will be encouraged to find out the official cost [of visa applications]. All this time, they have been paying much more to migration agents for their services while very few of them actually know the official costs we charge," he added.
Heru said the ministry had notified all immigration offices in the country via an internal circular.
Combating illegal levies is Jokowi's current priority in his first legal reform package, which aims to end the years-long practice of bureaucrats collecting illicit fees from members of the public in return for their public services.
Meanwhile, the new policy has triggered mixed responses from migration agents and expatriates.
The Permit House, a Jakarta-based agency, published an article on its website www.thepermithouse.com expressing concerns that under the new policy, expatriates and their sponsoring companies might have to be present at every step of the visa permit process.
They might have to come to immigration office more than five times, it said. The agency also informed there would be no more fast-tracking as all applications "would be handled on a 'first in, first out' basis".
Previously, applicants using a third party's services usually only had to come to the biographical data step of the process.
The government's official costs for immigration services, ranging from temporary to permanent stay visas, is stipulated under Government Regulation No. 45/2014 on types and tariffs of non-tax revenues.
A British woman living with her Indonesian husband in Canggu, Bali, who wanted to remain anonymous, welcomed the announcement, saying that she never liked migration agents because "they tend to demand even up to a 500 percent commission fee".
She has been on permanent stay visa permit (KITAP) for 17 years. When her family used an agent to renew the permit earlier this year, she said she was charged Rp 35 million (US$ 2,587). She deemed it a good deal since, according to her, other agents could charge Rp 50 million.
Under the 2014 Government Regulation, KITAP extension costs
Rp 10.2 million.
"Agents can be corrupt. I am not saying all of them, but a lot are. I am up for cleaning up the system," she told the Post.
But for 72-year-old Shane McRae, also a KITAP holder who has lived in Ubud, Bali, for six years, paying extra to agents is worth it.
The Australian said she was not pleased by the new policy, saying that the standard process was time consuming.
"Having to go down to city multiple times and wait for hours for each step in the process is onerous," McRae said.
Topics :
You might also like :
Comments