Aceh quake kills at least 94
Marguerite Afra Sapiie, Ina Parlina, Hotli Simanjuntak

The Jakarta Post
Aceh/Jakarta |

Thu, December 8, 2016

| 06:53 am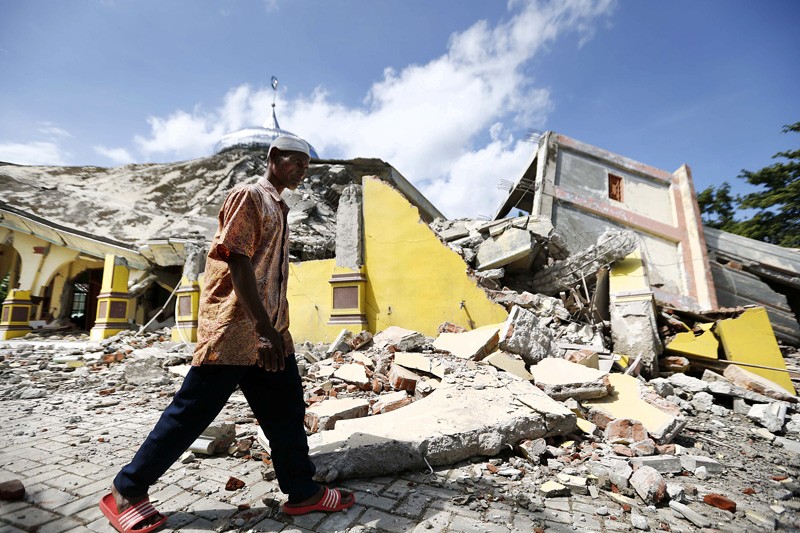 Great loss: A resident walks past the ruins of a mosque devastated during a powerful earthquake in Meuredu, Pidie Jaya, Aceh, on Wednesday. The 6.5 magnitude earthquake whose epicenter was 18 kilometers off the coast of Pidie Jaya regency claimed at least 94 lives and destroyed numerous buildings. (JP/Hotli Simanjuntak)
Less than three weeks before the commemoration of the Boxing Day tsunami that devastated Nangroe Aceh Darussalam 12 years ago, a powerful earthquake rattled the province on Wednesday morning, killing at least 94 people.
The earthquake, with a magnitude of 6.5 on the Richter scale, occurred at approximately 5:03 a.m. local time and was centered at a depth of 10 kilometers and about 106 km southeast of Banda Aceh.
While the earthquake was felt in numerous areas, including Banda Aceh, Bener Meriah regency, Central Aceh regency as well as other areas in North Sumatra, it caused devastating damage in Bireun, Pidie and Pidie Jaya.
The National Disaster Mitigation Agency (BNPB) said as of 3 p.m. on Wednesday, at least 94 people had been reported dead, 128 severely wounded, 489 having suffered from minor injuries and about 10,000 people were affected by the earthquake.
"We predict that the number of victims will increase, considering a large number of people are still trapped under debris," BNPB spokesman Sutopo Purwo Nugroho told journalists on Wednesday.
Pidie Jaya, located 18 km northwest of the earthquake's epicenter, endured the most severe damage with at least 200 buildings, including the dome in the Dayah Mudi Mesra Samalanga Mosque and a building of STAI Al-Aziziah Islamic University, collapsing during the earthquake.
Local residents in Pidie Jaya, who saw roads crack and power poles collapse, have chosen to reside outside their houses in tents, as they have become afraid of potential aftershocks.
"We feel safer outside; we are afraid that there will be more earthquakes with stronger magnitudes," Nurmaida, a resident of Trieng Gadeng, Pidie Jaya, said.
A market area in Meureudu was heavily damaged with dozens of shops destroyed.
On Wednesday, an evacuation team began sifting through the rubble in order to save dozens of victims believed to be trapped under the debris.
"Dozens of people stayed in this market building because they planned to attend a wedding; they spent the night here," said Muhammad Armi, a Meureudu local, as he added that only three of the total had been saved.
Heavy equipment has been deployed in the Meureudu sub-district in Pidie Jaya to extract people from the rubble, in an effort that included thousands of search and rescue personnel, such as the Regional Disaster Mitigation Agency (BPPD), the National Search and Rescue Agency (Basarnas), the National Police and hundreds of volunteers, Sutopo said.
The Indonesian Military (TNI) deployed 740 personnel in the search to evacuate victims, including 400 village supervisory non-commissioned officers (Babinsa), 300 troops, a 25-person military health unit and 15 military transportation and logistics detachment personnel.
The Social Affairs Ministry has sent Rp 2 million (US$150) worth of aid assistance, including tents, mattresses, medicine, instant food, family kits and clothes, to victims.
"Emergency assistance has been sent to Pidie Jaya, Aceh, from [Jakarta] and the ministry's regional office in Sumatra," Social Affairs Minister Khofifah Indar Parawansa said.
President Joko "Jokowi" Widodo on Wednesday ordered presidential chief of staff Teten Masduki to fly to the affected areas to identify what assistance the central government could give to local administrations.
"We will continue to monitor [the situation]," the President said after receiving reports from related ministers.
For Acehnese, this is a terrifying reminder of the 2004 tsunami tragedy on Dec. 26, which left more than 220,000 dead across the Indian Ocean.
Before the tsunami hit the province in 2004, Jakarta's Geophysical Center had registered an earthquake measuring 6.4 on the Richter scale off the coast of Sumatra, which quickly escalated to a magnitude of 9.3, the strongest earthquake registered in the world for 40 years.
Surono, a disaster expert at the Energy and Natural Resources Ministry, has reiterated that the earthquake did not indicate a potential for a tsunami. "The earthquake moved in a horizontal motion; its epicenter is located inland, and therefore it will not cause a tsunami," Surono explained.
The Volcanology and Geological Disaster Mitigation Center's (PVMBG) head of earthquake and tsunami mitigation in West Indonesia, Sri Hardiati, said it needed further research to identify the exact faults that caused the earthquake.
Topics :
You might also like :
Comments