Court rejects Ahok's refutation
Safrin La Batu

The Jakarta Post
Jakarta |

Tue, December 27, 2016

| 12:37 pm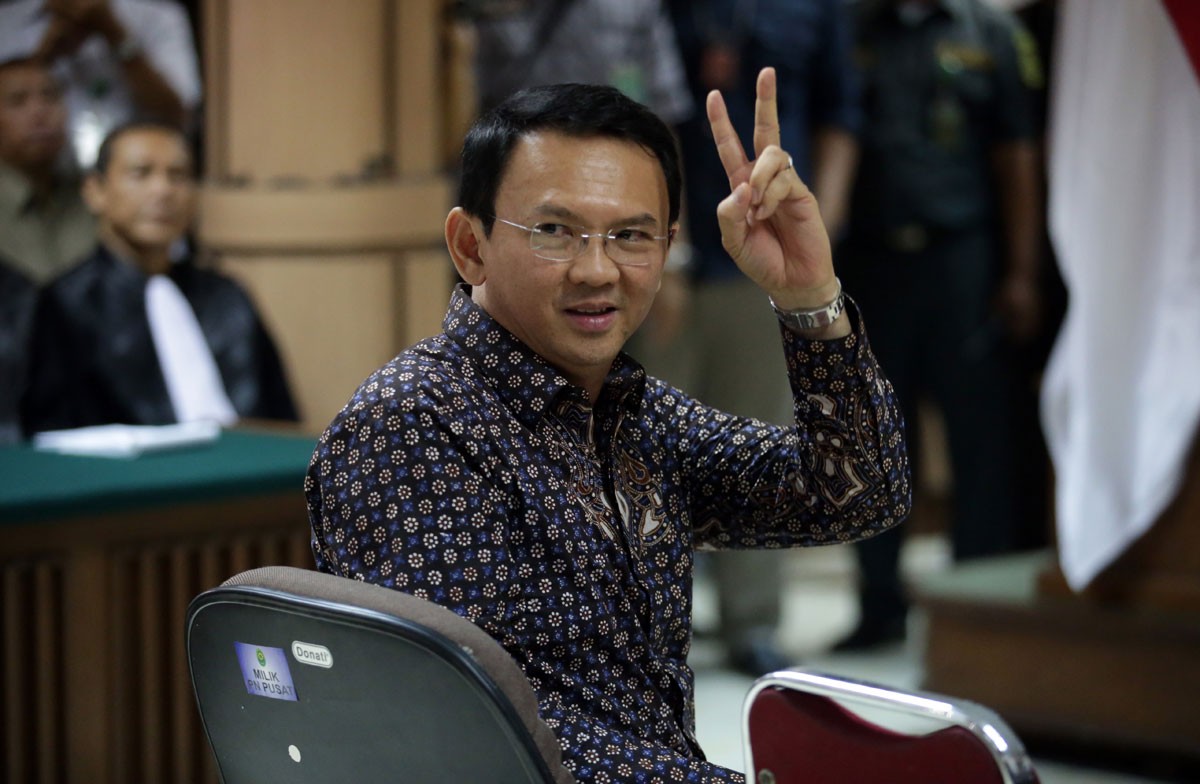 Jakarta Governor Basuki Tjahaja Purnama gives the peace sign to visitors inside the courtroom during a hearing at the North Jakarta District Court in Jakarta on Dec. 27. The court has decided to continue the blasphemy trial of the non-active governor who is accused of insulting the Quran. (EPA/POOL/Bagus Indahono/ via JP)
The North Jakarta District Court rejected Jakarta Governor Basuki "Ahok" Tjahaja Purnama's refutation of the prosecutors' indictment during the latest hearing of his blasphemy trial on Tuesday.
Reading out the court's interlocutory decision, presiding judge Dwiarso Budi Santiarto said all arguments conveyed by Ahok in the refutation, in which he stated that he never intended to insult Islam, the Quran and ulemas, were core parts of the indictment. Members of the court's judge panel would consider them in a later hearing before they ruled on the case, he went on.
"Therefore, we have decided that the defendant's refutation cannot be accepted," said Dwiarso.
On Dec. 13, the governor, who is a Christian of Chinese descent, conveyed his refutation in tears, saying that his remarks about Quranic verse Al Maidah 51 were not intended to insult Islam, but rather to criticize politicians who had been using the Quranic verse to attack him.
(Read also: Ahok braces for third hearing of blasphemy trial)
Ahok also told a story about his Muslim godparents and god-siblings and the harmony he had experienced with them, saying that it was impossible that he would insult "the religion of his godparents and god-siblings".
"I am very sad about being accused of insulting Islam. It is like being accused of insulting my own godparents and siblings, whom I love and who love me as well," Ahok said when reading his refutation before the judges.
In response to the governor's refutation, prosecutors said in a hearing on Dec. 21 that Ahok's speech, in which he cited Al Maidah 51, was irrelevant to the agenda of his visit to Thousand Islands in September in his capacity as Jakarta governor. (ebf)
Topics :
You might also like :
Comments