ERP ruling may be revised after criticism from business competition watchdog
News Desk

The Jakarta Post
Jakarta |

Thu, December 29, 2016

| 06:59 am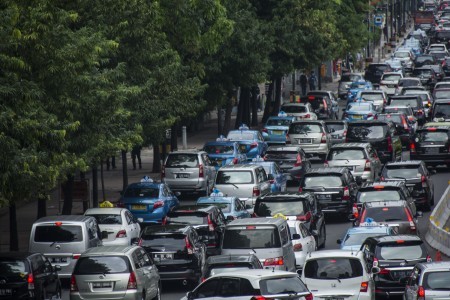 Vehicles stuck in traffic on Jl. MH Thamrin in Central Jakarta on June 20. The Jakarta administration will in future use an electronic road pricing (ERP) system to restrict the number of vehicles passing through main thoroughfares like Jl. M.H. Thamrin and Jl. Sudirman. (Antara/Aprilio Akbar)
A Jakarta gubernatorial regulation on the procurement of electronic road pricing (ERP) systems could be revised in response to criticism by the Business Competition Supervisory Commission (KPPU), acting Jakarta governor Sumarsono said on Wednesday.
"If we have to revise the regulation, we will revise it," said Sumarsono at City Hall on Wednesday as reported by kompas.com.
According to the KPPU, Gubernatorial Regulation No. 149/2016 on traffic control and the ERP system is discriminative because it specifies a particular technology be implemented.
Article 8, paragraph 1c of the regulation stipulates that the ERP system should utilize dedicated short-range communications (DSRC) with a frequency of 5.8 gigahertz.
(Read also: City administration told to review technical requirement on ERP)
The specified technology, the KPPU argues, is a limitation that potentially violates the 1999 Antimonopoly Law because there are various other technologies the ERP system can utilize.
KPPU chairman Syarkawi said on Tuesday the regulation would mean other technologies, like radio-frequency identification (RFID) or global positioning system (GPS), could not compete in tenders for ERP systems.
Sumarsono said his office would wait for the KPPU's official recommendation on the process of the tender. "We respect the KPPU's opinion. The KPPU has the authority to determine whether [the regulation] creates a monopoly or not," he added.
The acting governor said his decision on the ERP system would be based on future discussions between representatives of the KPPU and the Jakarta administration. (bbn)
Topics :
You might also like :
Comments