Teen pregnancy rate remains high in Yogyakarta
Bambang Muryanto

The Jakarta Post
Yogyakarta |

Thu, December 29, 2016

| 11:17 pm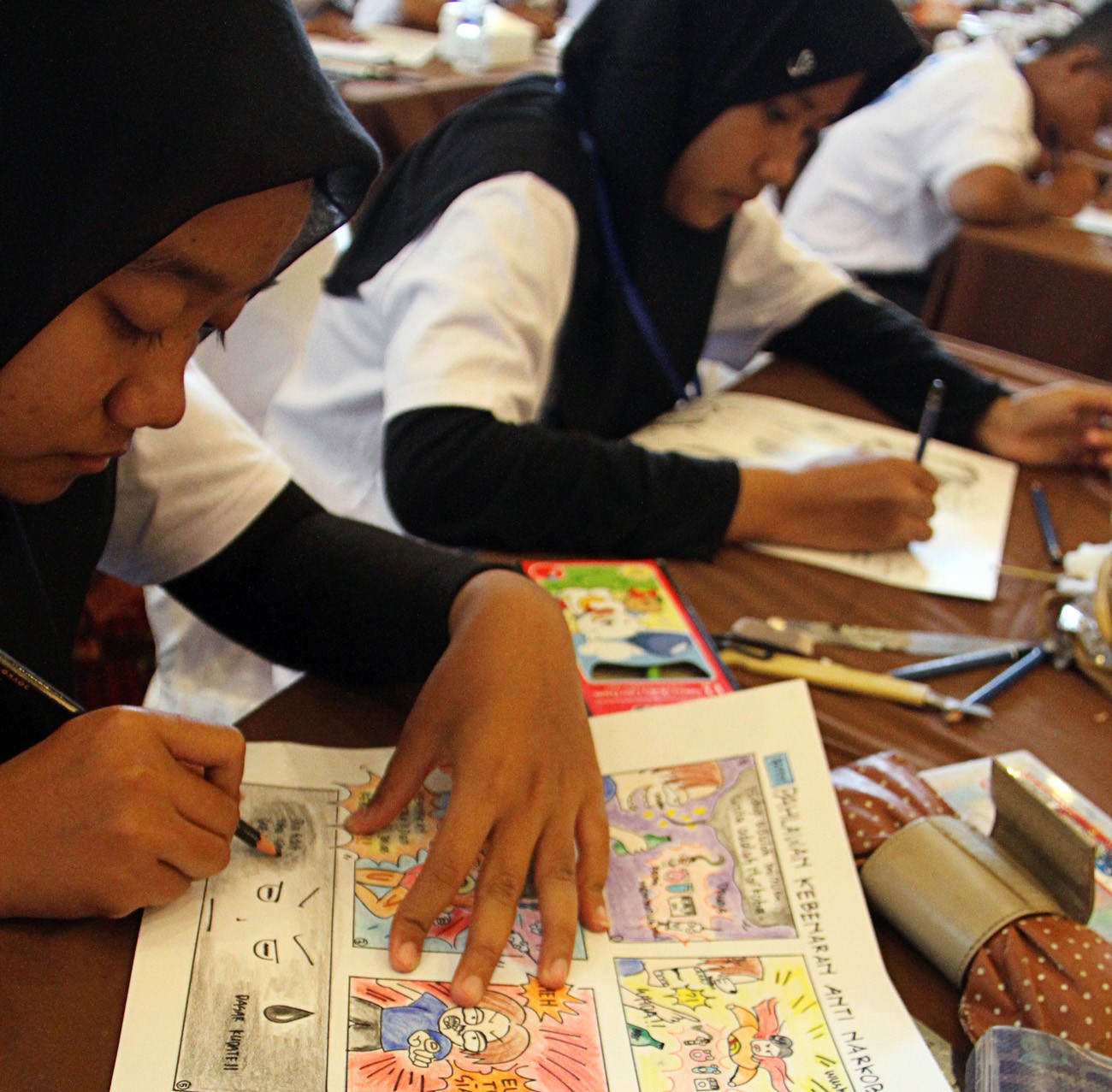 Just say no -- Teenagers explore their creativity through a coloring competition held by the National Narcotics Agency (BNN) in Tulungagung, East Java, on Dec. 15. (Antara/Destyan Sujarwoko)
The number of adolescents giving birth following premarital sex in Yogyakarta has remained high, reaching at least 720 from January to November this year, data from an NGO concerned with sexual and reproductive rights showed.
The director of the Yogyakarta chapter of the Indonesian Planned Parenthood Association (PKBI), Gama Triono, said that although the number of teen pregnancy cases might not be as high as in the previous year, 1,078, this year's figure was alarming.
"Sexual abuse among young couples is one of factors that have led to the high pregnancy rate among adolescents in Yogyakarta. After the couples were aware that their premarital sex had gone too far, they took marriage as the solution for the unwanted pregnancy. They decided to keep their baby," Gama said.
The data reveals that from 2013 to 2016 the average number of young pregnant women was 957 per year and the average number of young women giving birth was 79 per month.
Gama said the 1974 Marriage Law, which set 16 years as the minimum age for girls to get married, also contributed to the high number of young females giving birth in the province.
The PKBI recorded hundreds of under-age marriages occurring in three regencies, namely Bantul, Gunungkidul and Sleman, in 2015.
Another reason that contributed to the high rate of pregnancy in adolescence was the failure to provide them with proper education on reproductive health because of cultural taboos.
"If teens can get access to proper education on sexual and reproductive health, the number of unwanted pregnancy that may lead to under-aged marriage could decline because they know the risk of engaging in premarital sex," Gama said.
Research in 2010 showed that 70 percent of unmarried couples did not use any contraceptives when they engaged in their first sexual intercourse.
"This is why the number of unwanted pregnancies remains high," the Yogyakarta Health Agency's head of family planning, Sutarti, said.
While dating among youth has become more acceptable in Indonesia, premarital sex still faces strong resistance, especially among devout Muslim families in this predominantly Muslim country. This is why it is quite hard for young and unmarried couples to obtain contraceptives.
Many unmarried youths still do not have access to information about family planning, although Indonesia has long advocated a family planning program.
Regional Development Planning Agency head Sri Mulyani said leaders of local administrations and experts from universities had improved their efforts to relay information about sexual and reproductive health rights.
"Education from parents should be strengthened," she said.
Jazelyn, a youth from Gunung Kidul regency, said a strong relationship between parents and children was very important to keep children from committing mistakes.
"Parents should not easily get angry at their children and forbid them [from doing anything]. Parents should be able to discuss with their children, understand their problems and help them find solutions," she said. (ebf)
You might also like :
Comments