They may look down at me, but I will prove them wrong: Agus
Agnes Anya

The Jakarta Post
Jakarta |

Thu, December 29, 2016

| 07:23 am Jakarta gubernatorial candidate Agus Harimurti Yudhoyono speaks during his media visit to The Jakarta Post on Dec. 28. (JP/Wienda Parwitasari)
Riding merely on his father's coattails, Agus Harimurti Yudhoyono, 38, was once touted as an unlikely rival to challenge the overwhelmingly popular incumbent Jakarta Governor Basuki "Ahok" Tjahaja Purnama in the upcoming gubernatorial election.
Not only that, the eldest son of former president Susilo Bambang Yudhoyono has no knack for politics and was considered too young and lacking management experience. His 15-year career in the military was largely spent studying overseas.
But Agus' "guerilla strategy" to win the hearts and minds of middle to lower-income voters seems to have paid off.
Agus has ascended to become the frontrunner, according to several recent surveys, amid a blasphemy case that has hurt the electability of Ahok, a Christian of Chinese descent, as Muslim voters find an alternative in Agus.
"I have been underestimated, as many said I am only riding on the popularity of my father."
"But that's OK. I consider such an assumption as a whip on my back for me to prove that they are wrong," said Agus in an emotional tone during a visit to The Jakarta Post on Wednesday.
(Read also: SBY 'overconfident' in picking son for Jakarta election: Analyst)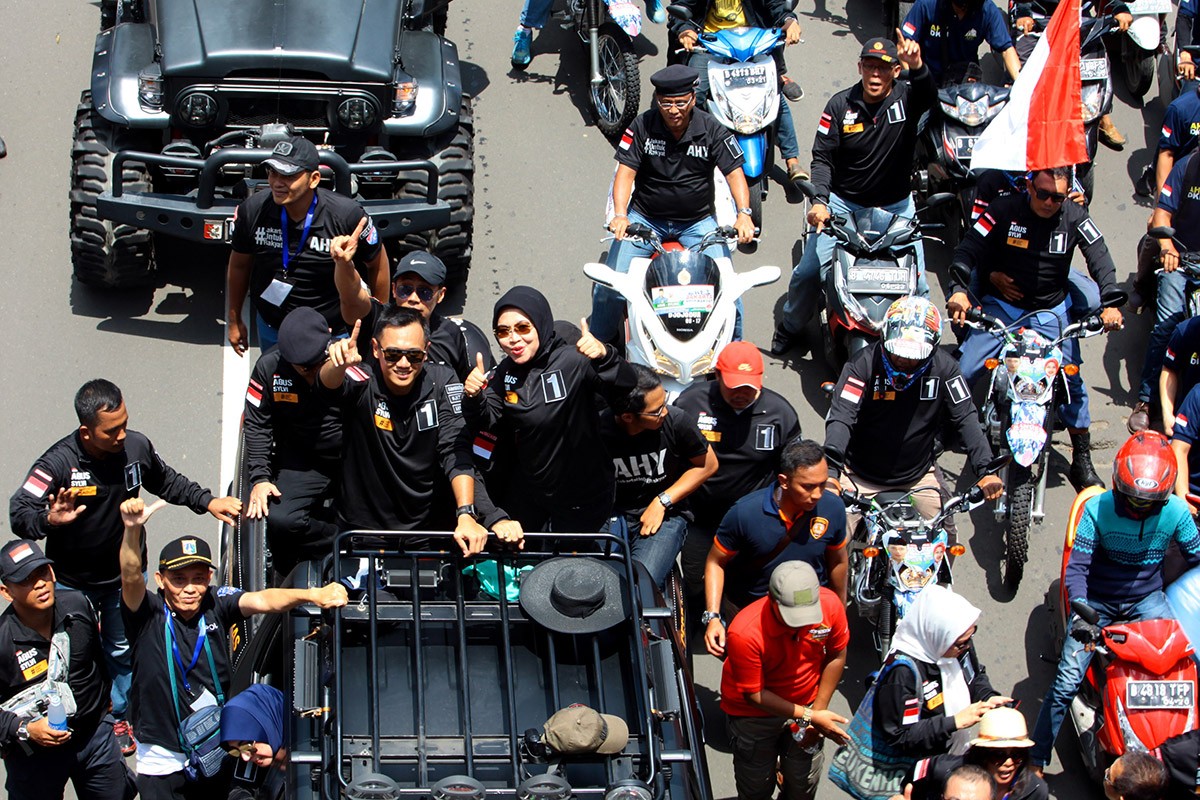 Candidate No. 1 Agus Harimurti Yudhoyono and Sylviana Murni participate in the Jakarta gubernatorial election parade on Oct. 29. (JP/Seto Wardhana.)
Agus said his father had not dictated his campaign strategy and that he considered his father a mentor from whom he could learn the best things in life.
"I've never carried around my father's picture during campaign stops," said Agus, whose body language and speaking manner closely resembles that of his father.
"I would like to be known as AHY [his initials], not SBY. I have my own distinctive character and strengths," he said.
When asked of his strategy to win the election, Agus said he would primarily focus on luring voters in the middle- to lower-income bracket, which he believed to account for around 70 percent of voters.
Agus also took the time to clarify his enormous wealth, which was fielded to the authorities as a requirement to participate in the election.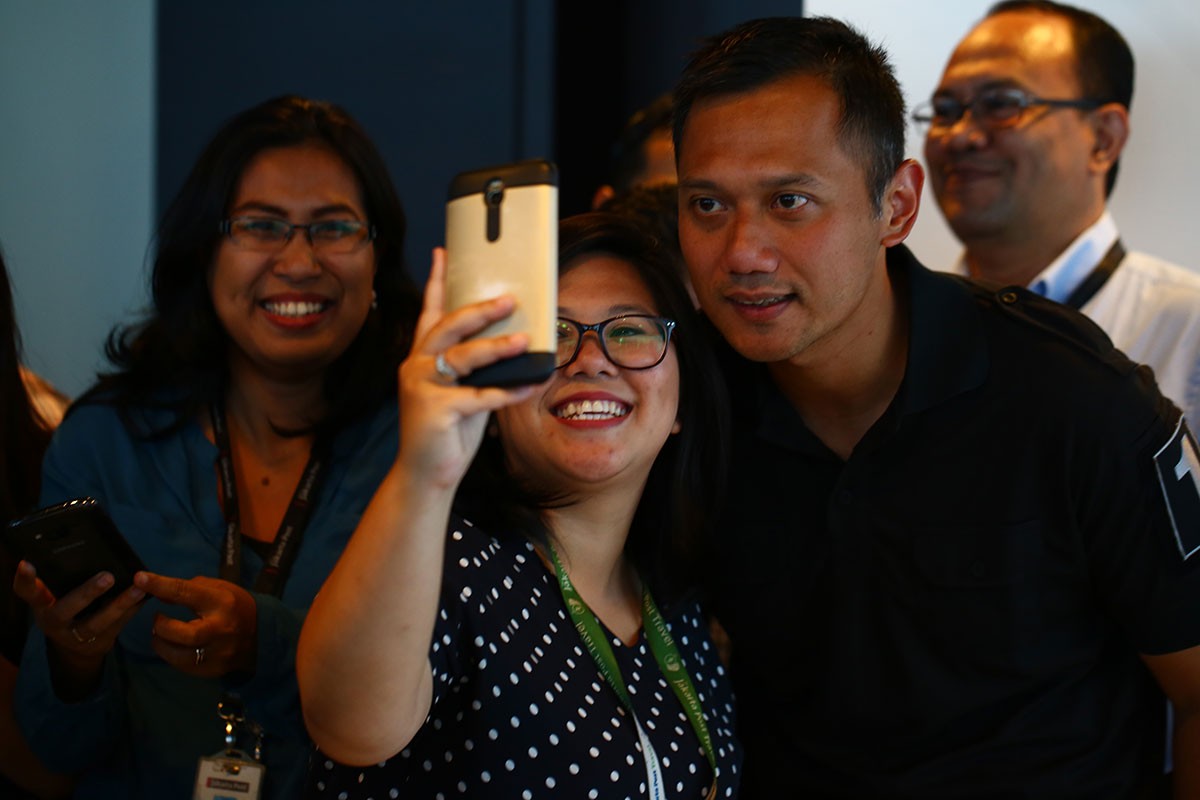 Front-runner: Jakarta gubernatorial candidate Agus Harimurti Yudhoyono takes a selfie with a member of The Jakarta Post's editorial team during his media visit on Dec. 28.(JP/Wienda Parwitasari)
(Read also: Agus more wealthy than SBY, declared assets suggest)
As an Army officer with the rank of major and a take-home pay of less than Rp 6 million (US$447) a month, Agus has accumulated a wealth valued at Rp 15.2 billion and US$551,332.
The amount is higher than his father's wealth in 2009 when Yudhoyono ran for a second term as president. At that time, the retired three-star army general reported wealth of Rp 7.6 billion.
Agus claims his wealth came mostly from his wife, who is a model and celebrity.
"Before she married me, Annisa [Pohan] was an artist with income, which certainly was much higher than mine," said Agus.
Agus refused to elaborate, and affirmed that he had the right to not reveal the details of his wealth to the public.
His wealth report previously aroused heated debate on social media platforms, such as Facebook and Instagram, with internet users questioning the source of his wealth, considering that he was only a middleranking officer.
Some even focused their attention on Annisa's expensive clothing and accessories, including a Hermes bag, and said Agus would not likely be able to afford such goods.
The debate grew harsh with some netizens starting to mock him and his family, including his 8-year-old daughter.
In response to the critics, the graduate of Harvard's John F. Kennedy School of Government disabled the comment section on his personal Instagram account.
"This is my personal account, and it is in my power to disable the comment section," said Agus, adding that all feedback from the public pertaining to the election should be directed to his social media accounts.
"Don't get me wrong, I love criticism. Constructive criticism is wonderful, but I just don't have time to respond to haters."
You might also like :
Comments