Fintech to further grow with new rule
Prima Wirayani

The Jakarta Post
Jakarta |

Thu, January 5, 2017

| 08:12 am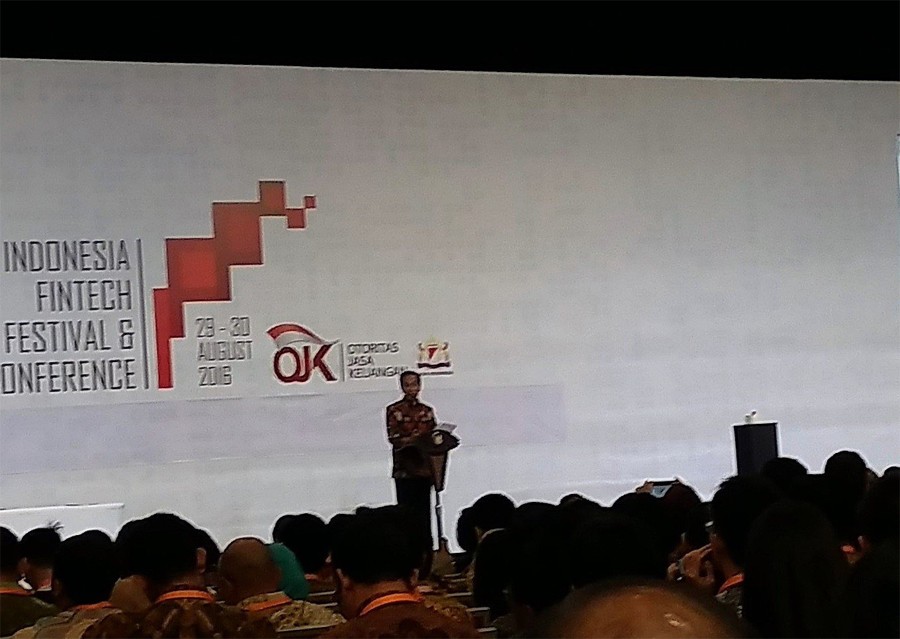 President Joko Widodo delivers a speech at the Indonesia Fintech Festival and Conference at the Indonesia Convention Exhibition (ICE) Serpong, Tangerang, on Aug. 30. (JP/Anton Hermansyah)
Business players have pinned high hopes on the financial technology (fintech) lending business expanding as room for growth has been provided by a newly issued regulation passed by a financial authority.
Expressing their optimism, fintech peer-to-peer (P2P) lending businesspeople say the regulation will boost investor confidence on Indonesian fintech firms, as well as provide sufficient protection to customers.
Financial Services Authority (OJK) Regulation No. 77/2016 on fintech, which was passed in late December last year, lays out a set of basic arrangements for the sector, such as minimum capital requirements, interest rate provision and education and consumer protection.
Amartha Mikro Fintek vice president Aria Widyanto described the rule as "already accommodative" to fintech players and expected investors to put their money in because of the enhanced regulatory measures.
"This regulation obliges fintech businesses to be registered and supervised by the OJK, which in fact will boost [investor] confidence further," Aria told The Jakarta Post Wednesday.
(Read also: Financial authority issues regulation on fintech lending)
The issuance of the rule is timely for the burgeoning industry. As of late last year, the OJK recorded that 120 fintech firms were currently operating in Southeast Asia's largest economy, a majority of which were start ups in various segments, including P2P lending, e-wallets, crowdfunding and financial settlements.
Overall transactions through the platform are estimated to rise by 18.8 percent on a annual basis to hit US$14.5 billion by 2020, according to market statistics portal Statista.
The new rule requires every fintech P2P lending firm to register and secure a business license from the authority before running its business.
Several arrangements concerning new and small firms are also addressed, including minimum capital prerequisites and absence of fund placement in a time deposit account.
(Read also: Fintech lending regulation raises concerns among business players)
Under the new regulation, a fintech company must own at least Rp 1 billion (US$74,239) in capital during registration and must have Rp 2.5 billion for the business permit application. These requirements are lower than the Rp 2 billion and Rp 5 billion, respectively, stipulated in the previous draft.
To allow wider access to loans, the rule also does not set a maximum interest rate cap, but instead offers flexibility so that a fintech firm can advise its investors and customers about its rate by "taking into account fairness and developments in the economy".
Previously, the draft of regulation stated that the maximum interest rate is seven times that of Bank Indonesia's seven-day reverse repurchase (repo) rate per annum.
Moreover, the rule requires fintech firms to use escrow and virtual accounts in their business operation.
The services and information firms provide also should be given in accessible language, enabling customers who have no access to the banking system or are financially illiterate ease of access to loans.
"The regulation will protect customers, as well as support fintech growth in 2017," said UangTeman CEO and co-founder Aidil Zulkifli in an e-mail. However, Aidil also said more details were necessary and this included investor and consumer protection, marketing ethics, risk management and rules, and regulations about partnerships with formal banks or financial institutions.
OJK chairman Muliaman D. Hadad admitted that the new rule was still an initial step taken by the authority to regulate and supervise the sector.
"What's important is that they are our radar because we don't want to regulate every aspect hastily," he said at the OJK's annual press briefing recently. "We want to provide [fintech firms] transparency guidelines first."
The OJK also has implemented a regulatory sandbox, in which firms can test a service they want to offer to consumers under its supervision before it issues further regulations.
New fintech rule sets out basic arrangements for minimum capital requirements, interest rate levels Business players say rule is conducive to business growth.
You might also like :
Comments