Bahrumsyah's wife, not Bahrun Naim's, among those deported from Turkey: Police
Margareth S. Aritonang

The Jakarta Post
Jakarta |

Tue, February 7, 2017

| 02:27 pm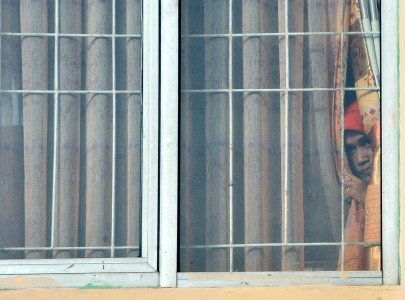 A woman peeks through a window at the Bambu Apus social shelter in East Jakarta on Monday. The shelter currently housed 75 Indonesians deported from Turkey for allegedly attempting to enter Syria and join the Islamic State group. The government put them in custody in the shelter for a de-radicalization program before returning them to their hometowns. (Antara/Yulius Staria Wijaya)
The National Police said on Tuesday that a woman among 75 people currently housed in the Bambu Apus social shelter was the wife of Bahrumsyah, correcting earlier information stating it was the wife of Bahrun Naim. Both Bahrumsyah and Bahrun Naim are Indonesian militants supporting the terrorist group Islamic State (IS) in Syria.
Bahrumsyah's third wife, identified as Nia Kurniawati, was among 17 Indonesians deported from Turkey last month for allegedly attempting to enter Syria, National Police spokesman Brig. Gen. Rikwanto said. She had joined another 74 people in a de-radicalization program in the Bambu Apus shelter in East Jakarta.
"She was sent to the [Bambu Apus] shelter to join the rehabilitation program run by the Social Affairs Ministry," Rikwanto said.
Bahrumsyah is one of several Indonesian militants believed to have departed for Syria in 2014 to join the notorious terrorist group in its fight against the Syrian government.
Police suspect him of being a financier of a terrorists attack in Central Jakarta in January last year that left eight people dead, including the four alleged perpetrators.
In a visit to the shelter on Monday, the director of the National Counterterrorism Agency's (BNPT) de-radicalization program, Irfan Idris, named the wife of Bahrun Naim's among the deportees. Bahrun is a tech-savvy militant who allegedly operates from Syria to recruit new militants online and inspires IS supporters to carry out attacks at home.
The 75 people, including 34 children, are undergoing a de-radicalization program before they are allowed to go back to their hometowns. (rin)
You might also like :
Comments