Indonesia's tough stance causes headache for tuna exporters
News Desk

The Jakarta Post
Jakarta |

Mon, February 20, 2017

| 07:02 am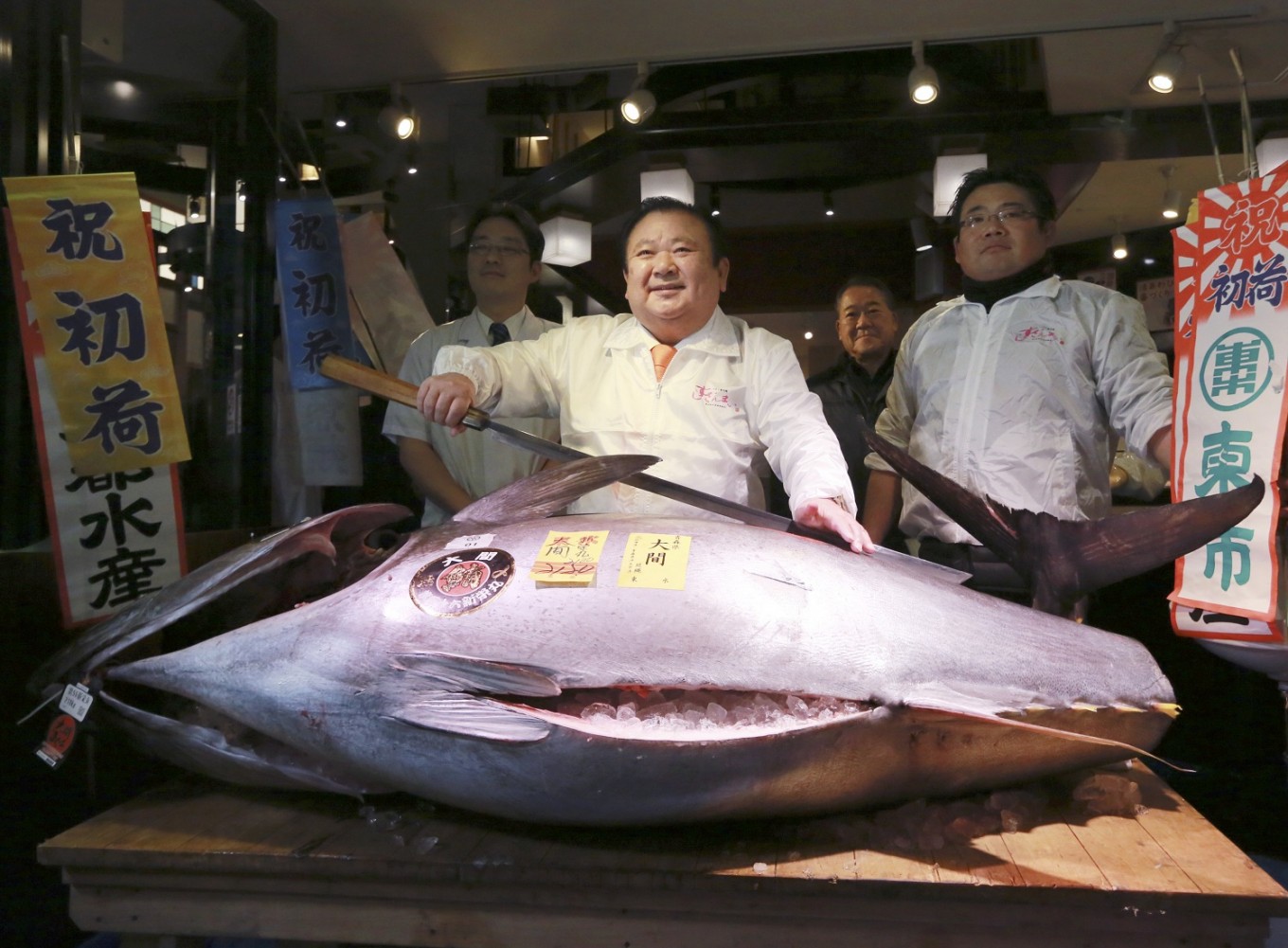 Kiyoshi Kimura, center, president of Kiyomura Co., poses with the bluefin tuna he made a winning bid at the annual New Year auction, at his Sushi Zanmai restaurant near Tsukiji fish market in Tokyo, early Thursday, Jan. 5, 2017. (AP/Eugene Hoshiko)
Despite their support for the government's efforts in the fight against illegal fishing, Indonesia's tuna exporters have urged the authorities to loosen their stance on requirements for tuna ships, which they claim have hampered the commodity's export performance.
To curb rampant illegal fishing carried out by foreign vessels, the Maritime Affairs and Fisheries Ministry imposed a temporary moratorium on the use of foreign-made vessels from November 2014 to October 2015, during which time it also froze the operation of vessels with a capacity greater than 30 gross tons (GT).
The ministry required them to undergo permit audits and demanded that they be replaced by locally made vessels.
As many as 1,132 ships were pulled from operations during the moratorium. Some 500 ships have been cleared in the audit, but the ministry is standing its ground and obliging fishers to only use locally made ships.
Responding to the situation, Indonesian Tuna Association (ASTUIN) secretary-general Hendra Sugandhi said excessive licensing for fishing vessels had left many business players with no choice except to halt their operations.
The association claims that 15 fishing vessels owned by its members, each with a capacity of 400 GT or more, are currently out of service due to the regulation.
"All the 15 vessels have been registered with the Japan-based Organization for the Promotion of Responsible Tuna Fisheries [OPRT]. But now, all of them can no longer operate due to the government's regulation," he said on Friday during a discussion.
Hendra claimed that the 15 vessels in question had operated on the high seas, not in Indonesian waters, thus complied with existing regulations that only allow fishing vessels under 150 GT to operate in Indonesia's jurisdiction.
According to the Regional Fisheries Management Organization (RFMO), Indonesia currently only has 275 vessels authorized for tuna fishing, as opposed to 1,746 vessels recorded in 2011.
Data from the Geneva-based International Trade Center showed that Indonesia was the third-biggest and ninth-biggest exporter for bigeye tuna and yellowfin tuna, respectively.
While the annual export volume of bigeye tuna has been stagnant at 1,200 to 1,500 tons from 2012 to 2015, exports of yellowfin tuna saw a declining trend from 3,771 tons in 2012 to 1,675 tons in 2015.
ASTUIN said in the 2015 to 2016 period, Indonesia had lost potential tuna exports worth Rp 82.7 billion (US$6.22 million), particularly from major export destinations such as Japan and the United States, due to the introduction of the strict requirements for fishing vessels.
To maintain quality, large fish like tuna need to be frozen individually, immediately after being caught. This requires a wellequipped fishing vessel with a large cold storage area.
"These kinds of vessels are not produced by local shipmakers. Many countries still import this type of ship from Japan and a few other nations that have the technology," he said.
(Read also: Bluefin tuna goes for $632,000 in 1st Tsukiji auction of '17)
The Maritime Affairs and Fisheries Ministry's acting director general for capture fisheries, Zulficar Mochtar, however, said the ministry would stick to its current policy to tighten supervision over the operation of foreign fishing vessels in the country's jurisdiction.
"Various references have shown that 85 percent of the world's fishery potential is overfished and fully exploited. Therefore, sustainable fisheries management needs to be applied to prevent extinction in the future," he said.
Topics :
You might also like :
Comments