Lawmakers urge govt to take firm action on Timor Sea oil spill
Djemi Amnifu

The Jakarta Post
Kupang |

Tue, February 21, 2017

| 11:57 am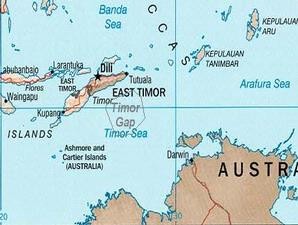 A map shows the territorial water between Australia and Indonesia at East Timor, where oil spilled from Australian Montara's oil rigs in 2009. (kompas.com/-)
Lawmakers have demanded the Indonesian government engage in intensive diplomatic talks with its Australian counterpart to resolve an oil spill in the Montara oil field that has destroyed the livelihoods of fishermen in Kupang, East Nusa Tenggara.
A number of lawmakers from House of Representatives Commission V overseeing infrastructure, transportation and village development have signed a petition to urge the government to speed up efforts to resolve the case.
"We are committed to supporting the fisherman in the Montara case," said Commission V chairman Fary Francis of the Gerindra Party on Tuesday.
(Read also: Montara oil spill brought suffering to E. Nusa Tenggara)
After an explosion in 2009 at an oil field operated by PTTEP Australasia, gas and oil from the rig gushed into the Timor Sea for more than 70 days.
It is estimated that in excess of 300,000 liters of oil per day contaminated the sea, equivalent to pouring 10 Olympic swimming pools of toxic sludge into the ocean over the months the spill continued.
The oil spill has had a devastating effect on the livelihoods of fishermen and coastal communities in East Nusa Tenggara, with fish catches and seaweed harvests continuing to decline in the heavily polluted waters.
A group of 13,000 seaweed farmers are demanding compensation from the company through an Australian court. (wit)
Topics :
You might also like :
Comments