Bandung terrorist suspect was 'recidivist': Police
News Desk

The Jakarta Post
Jakarta |

Mon, February 27, 2017

| 09:11 pm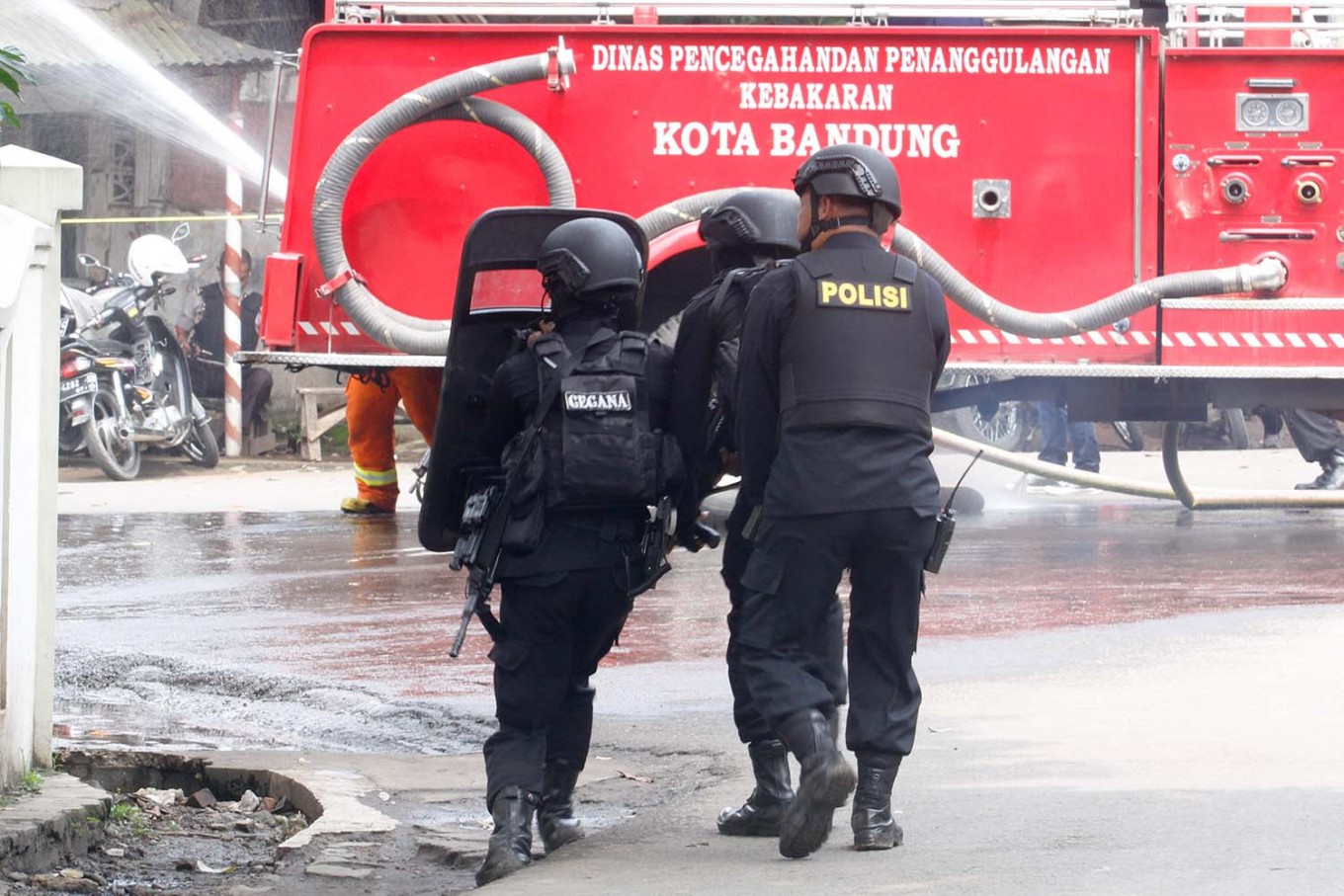 Three police bomb squad members approach the Arjuna subdistrict office building in Bandung on Feb. 27 after a suspected terrorist identified as Yayat Cahdiyat was neutralized while trying to set the building on fire. (JP/Arya Dipa)
The suspect who left an improvised explosive device in a cooking pot at a public park in Bandung on Monday was identified by police as Yayat Cahdiyat, a recidivist of a terrorism case as he was previously charged for being involved in military-style training with militants in Aceh.
"He undertook military-style training in Aceh and took part in other activities in relation to the training. He was sentenced to three years in prison in 2012," National Police spokesperson Sr. Comr. Martinus Sitompul said Monday.
The preliminary investigation showed that Yayat was a member of Jamaah Anshar Daulah (JAD) in Bandung. JAD allegedly has connections with the Islamic State radical movement in Iraq and Syria. The National Counterterrorism Agency (BNPT) has called JAD "the most dangerous terrorist organization in the country."
Martinus said Yayat was a member of a group led by Ujang Kusnanang, aka Rian or Ujang Pincang. Ujang, a convicted terrorist, also had been involved with the training in Aceh.
The police's Densus 88 counterterrorism squad was investigating the possibility of more suspects being involved in the case because a witness saw Yayat on a motorcycle with another person.
"[A witness said] he was riding pillion and then saw him take off running into the [Arjuna] subdistrict office," Martinus said. The police have yet to find a motive.
Yayat, who died en route to hospital, was also known as Dani or Abu Salam. He was born in Purwakarta regency in West Java on June 24, 1975. (dis/evi)
Topics :
You might also like :
Comments