Ahok's speech not blasphemous: Expert
Callistasia Anggun Wijaya

The Jakarta Post
Jakarta |

Tue, March 21, 2017

| 01:03 pm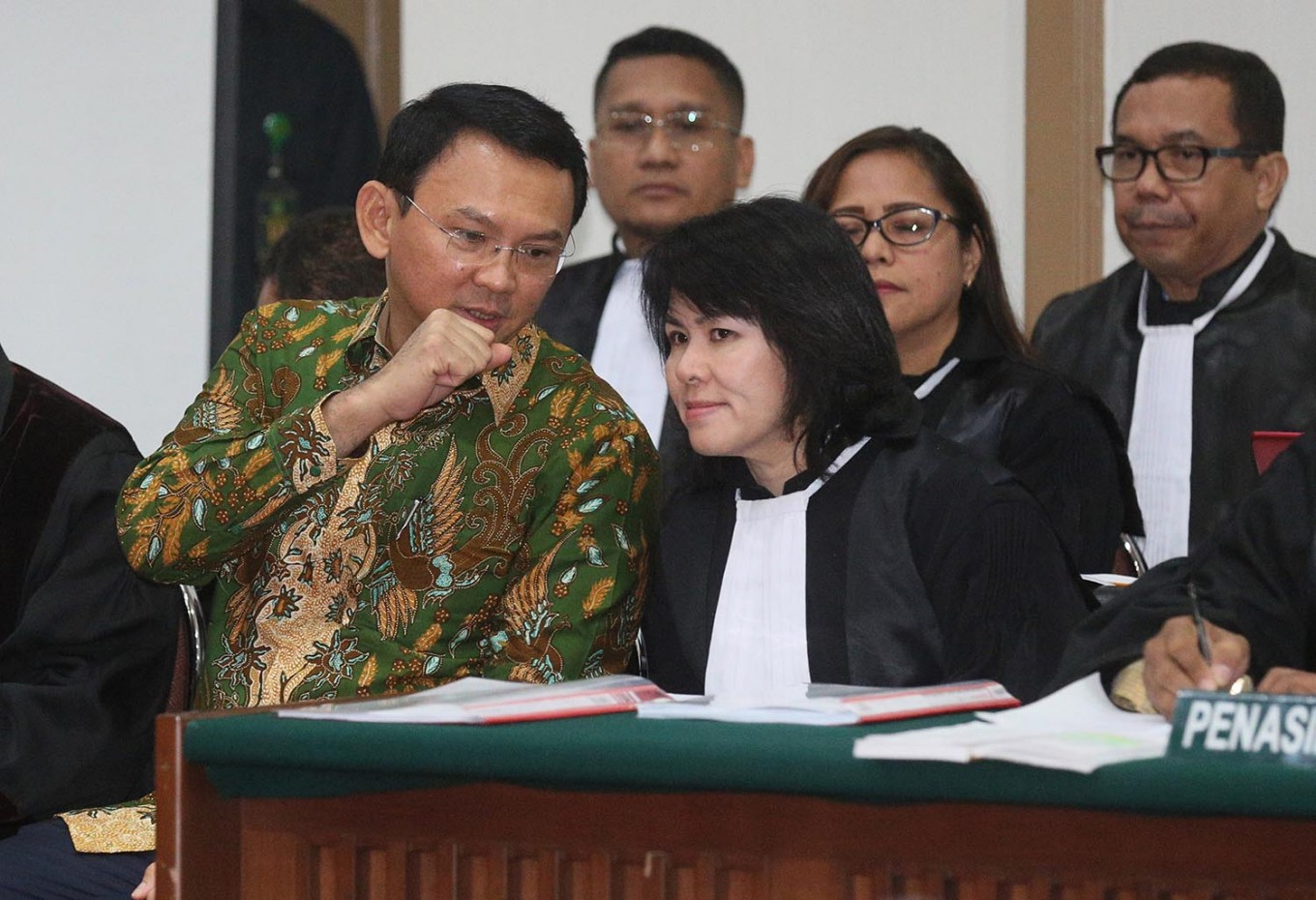 Maintaining his innocence: Jakarta Governor Basuki "Ahok" Tjahaja Purnama (left) talks to his lawyer during his blasphemy trial at the North Jakarta District Court on Feb. 28. (Media Indonesia/POOL/Ramdani/ via JP)
A language expert has said that Jakarta Governor Basuki "Ahok" Tjahaja Purnama's speech during his working visit in Thousand Islands regency last September, in which he referred to a Quranic verse, was not blasphemous.
Rahayu Surtiarti, a language expert from the University of Indonesia (UI), said she had watched the complete version of Ahok's Sep. 27 speech, which lasted 1 hour and 40 minutes.
She said no part of the speech indicated that Ahok was campaigning or reflected an intention to insult Islam, as claimed by the prosecutors.
"There was no sense that he was campaigning in his speech. He 'campaigned' about the fish cultivation program. He even convinced the residents that the program would continue even if they had a different governor," Rahayu told the judges.
(Read also: Judges want to speed up Ahok's trial)
She went on to explain that Ahok had not stated that the Quranic verse he had referred to was a lie, but instead he had said that people had used that verse to lie to people.
In part of his speech Ahok said, "In your inner hearts, ladies and gentlemen, you may feel you cannot vote for me, because [you have been] lied to by the use of Surah al-Maidah, Verse 51. […] So, if you cannot vote for me because you are afraid of being condemned to hell, you do not need to feel uneasy, because you are being fooled. It is alright."
By stating the word "use", Rahayu said, Ahok meant the verse had been used by some people to lie. "The Quran can't lie, but people can use anything to lie," she said. (ebf)
Join the discussions