IN MEMORIAM: Legendary journalist Ahmad Taufik dies at 51
Dandy Koswaraputra

The Jakarta Post
Jakarta |

Fri, March 24, 2017

| 11:04 pm President of Southeast Asian Press Alliance (SEAPA) Eko Maryadi puts flowers on the grave of Ahmad Taufik. Eko, who is the former chairman of the Alliance of Independent Journalists (AJI), is a former prison mate of Taufik when they opposed then-president Suharto's government in the 1990s. (Alliance of Independent Journalists/File)
For Eko Maryadi, former chairman of the Alliance of Independent Journalists (AJI), the death of prominent journalist Ahmad Taufik, affectionately known as Ate, is an occasion for grief but also for memories. Companion-in-arms against the dictatorship of president Soeharto, Eko and Taufik served time together in prison.
Taufik died of lung cancer on Thursday at 7:15 pm after being hospitalized in Jakarta. His body was taken to the family home in Kebon Pala, Central Jakarta. He was 51.
"Ate and I were like brothers as we spent about three years in jail in three different prisons; Salemba, then Cipinang and Cirebon prisons. We never argued or fought each other although we had different preferences in politics. I've lost my dearest friend and brother who was loyal, kind and consistent," Eko said.
(Read also: Prominent Indonesian journalist Ahmad Taufik dies)
Taufik was born in Jakarta on July 12, 1965. He spent his early childhood in Kebon Pala, Central Jakarta. He then studied at the Chinese Primary School SD Tionghoa, in Tanah Abang. When the school was closed he continued his education at a government school SD Kebon Kacang.
Taufik studied at junior high school SMP 35 Gambir and then senior high school SMA 24 Senayan in Central Jakarta before he moved to Bandung, West Java, for college. Taufik studied law at the Bandung Islamic University (UNISBA) and Arab Literature at state education institute IKIP Bandung.
While at university, Taufik actively fought for local people's land rights in West Java. He advocated for social, economic and political rights. His involvement in journalism blossomed in his university years. He had written for newspapers, tabloids and magazines since 1985.
His journalistic career began at monthly magazine Islamic Young Generation, Estafet, biweekly Islamic magazine Kiblat and weekly tabloid Eksponen. In 1989, he started working for weekly news magazine Tempo until 1994, when he moved around working for Media Indonesia and weekly news magazine D&R.
Taufik went back to Tempo in 1998, but still found time to become a lecturer at STIKOM Bandung and write for other publications, namely Suara Ummah-Bulanan Digest Islam, monthly magazine Bening, weekly news magazines Hankroyeh 21, lifestyle magazines U-Mag, On Stage, Let's Dance, Tempo Interaktif, AdaTerus.com and BeritaProtes.com.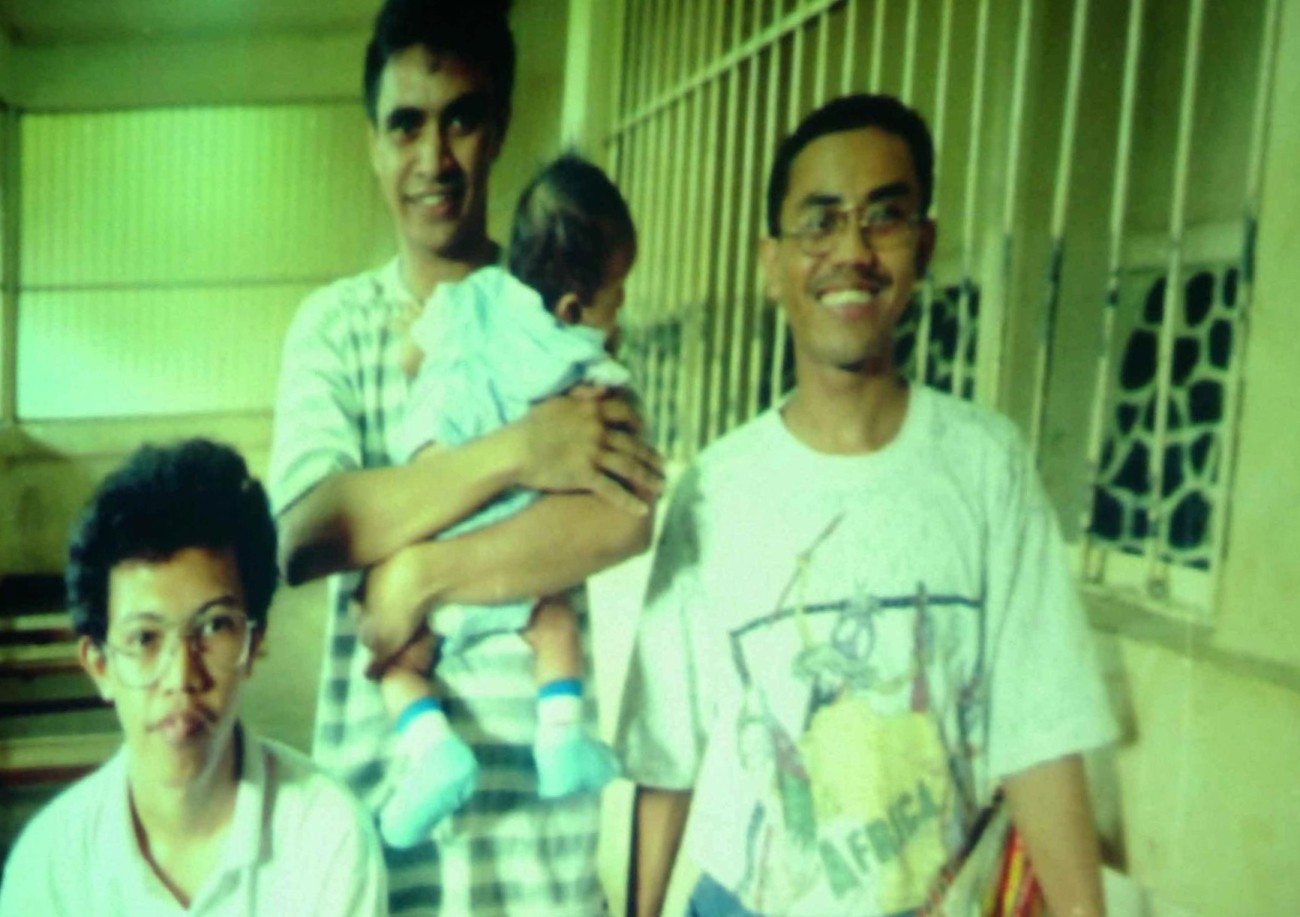 Ahmad Taufik (holding his first son) and Eko Maryadi in Salemba Prison, 1995. (Anonymous/File)
The father of three kids was a highly respected journalist and mentor to many journalists, especially to young reporters like Alwan Ridha Ramadhani. The former Tempo and merdeka.com reporter had a great dynamic with Ate even though their age gap was quite big.
"I remember when I worked for Tempo and merdeka.com in Jakarta, Ate often gave me a ride from Bandung (my hometown) to the capital because he visited Bandung frequently. We discussed many things, including his family. Ate, who usually wore a sarong and t-shirt during the trip, also asked me to take care of the Alliance of Independent Journalists (AJI). He always insisted on dropping me off at my rented house when we arrived in Jakarta," Alwan said.
Taufik established student, youth, journalism, nationality and anti-corruption organizations. He was the founder of Forum Independent
Journalists (FOWI) in Bandung, chairman of the Presidium of AJI, chairman of the Institute for Advocacy of the Indonesian Press (Certified), member of the International Federation of Journalists (IFJ), member of Bela Keadilan Legal Aid, member of Garda Independence and honorary member of the International PEN English Centre.
Ate wrote more than 15 books since 1994 up until his latest book, 7 Contemporary International Issues, which was published in 2016. He also taught journalism courses at several universities in Indonesia.
Ahmad Taufik was buried on Friday at the Karet Bivak General Cemetery, Central Jakarta. (dis/van)
Topics :
Join the discussions