Fintech Talk: The potential rise of MSMEs and creative industry via P2P lending
Adrian Gunadi

Indonesian FinTech Association vice chairman and Investree co-founder and CEO
Jakarta |

Tue, April 11, 2017

| 12:30 pm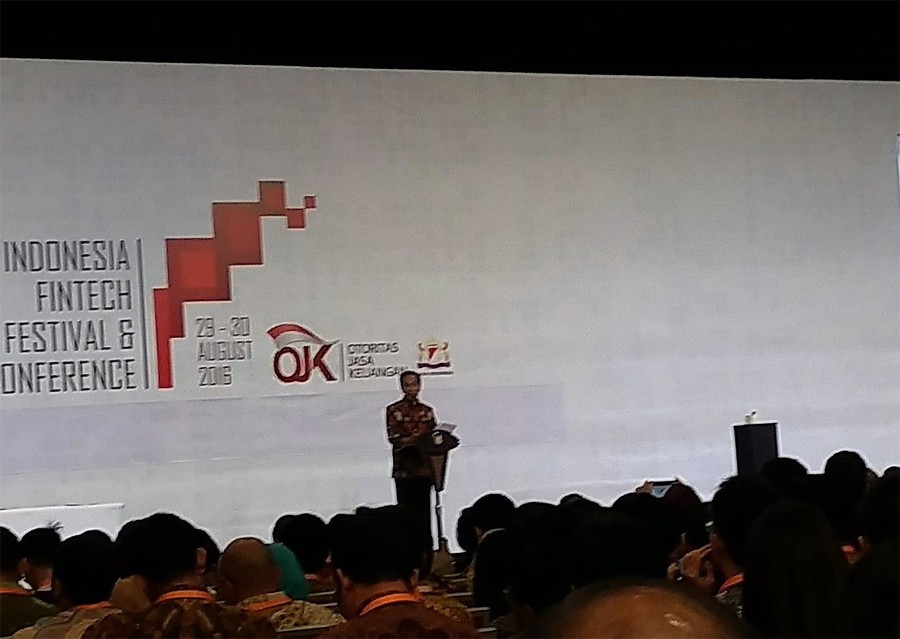 President Joko Widodo delivers a speech at the Indonesia Fintech Festival and Conference at the Indonesia Convention Exhibition (ICE) Serpong, Tangerang, on Aug. 30, 2016. (JP/Anton Hermansyah)
It is no longer breaking news that micro, small and medium enterprises (MSMEs) are among Indonesia's economic turbines and a particular focus of President Joko "Jokowi" Widodo's administration.
The number of MSMEs in Indonesia reportedly stands at approximately 49 million and they are projected to absorb 107 million workers.
The contribution of MSMEs toward Indonesia's gross domestic product (GDP) has grown over the last five years.
It is a fact noted by the Cooperatives and Small and Medium Enterprises Ministry, as the contribution amounted to 60.3 percent of total GDP in 2016 from 57.8 percent in 2011.
Among MSMEs, the creative industry also has seen its share of positive growth at a rate of approximately 5.6 percent between 2010 and 2013.
The industry contributes 7.1 percent of the total GDP and has managed to absorb around 12 million workers, with great potential to increase.
(Read also: Fintech Talk: Encouraging investment through P2P lending scheme)
It is a strategic instrument to combat unemployment and alleviate poverty.
Although growth is promising, both the MSME and creative industry sectors currently face stiff competition, with the ASEAN Economic Community being one of the triggers.
In response to that, the ministry is looking to enhance the productivity and competitive edge of MSMEs by about 20 percent per year.
One way to achieve that is by improving financing accessibility for MSMEs.
The Financial Services Authority (OJK) states that the need for financing in Indonesia will reach almost Rp 1.7 quadrillion (US$127.6 billion).
Meanwhile, the financing capacity of the traditional financial industry can only cater to around Rp 700 trillion.
This means an Rp 1-quadrillion gap exists, including among MSMEs that may not gain financing access from the banking industry or other financial institutions.
This situation is led by one thing: the limitation of business actors in the financial services sector.
Low financial penetration has left MSMEs facing difficulty in accessing working capital credit.
This is especially true for the creative industry, which works primarily with intangible assets, which often puts them in a difficult position in regard to collateral when applying for loans from banks or other financial institutions to finance their business needs.
The birth of financial technology (fintech), specifically peer-to-peer lending (P2P lending), which is backed by technological developments, is a breath of fresh air offering financing solutions through platforms that may make MSME operations easier.
As an intermediary channel between borrowers and lenders, P2P lending is the bridge that will be able to answer the business needs of MSMEs and help the creative industry to stay afloat.
Through easier and faster financing schemes, along with competitive interest rates compared to conventional financial services, P2P lending is a possible solution for the creative segment and other industries, which have high capital demand, but without access to bank credit.
This is also in line with the growth of the sharing-economy business model sprouting all over Indonesia, especially that fueled by technology.
Fintech P2P lending operators currently offer a non-exhaustive list of alternative financing, some of which is in the form of microfinancing or working capital, customer loans and crowdfunding.
One of the more interesting alternatives that the MSME sector can take advantage of, especially for the creative industry, is invoice financing.
Cash flow is often an operational challenge for people working in this industry.
They often face dire challenges when attempting to maintain a positive cash flow and at the same time, attempt to expand their business.
The challenges are mainly caused by the limited presence of fixed-asset collateral as a prime prerequisite of conventional lending.
Through invoice financing, businesses can use current running invoices (future receivables) as collateral and — with ease, speed and security — secure access to financing without being overly concerned about cash flow.
This form of capital injection helps MSMEs keep their businesses operating smoothly.
On the other hand, the lenders are given competitive compensation while contributing to the creation of social impact; pushing for a more equitable welfare between business players and society in general.
The rise of the sharing economy can be an opportunity for P2P lending to push for a more inclusive economy in Indonesia.
Considering that P2P lending's current financing volume amounts to approximately Rp 150 billion, the objective is to have more P2P lending operators solidly engage MSMEs and the creative industry.
Government support, without a doubt, is critical to ensure a healthy ecosystem is set up, consumers are protected and the industry is safeguarded from potential "online predatory middlemen" (tengkulak) putting on a P2P lending façade.
The sustainability and integrity of the P2P lending business need to gain support from both regulators and business actors.
Clear rules of the game and commitment to enforcing those rules will help P2P lending develop a solid standing as an effective financing solution and result in a significant impact for MSMEs and the creative industry in Indonesia.

You might also like :
Comments