VP Pence makes inaugural visit to ASEAN Secretariat
Tama Salim

The Jakarta Post
Jakarta |

Fri, April 21, 2017

| 06:23 am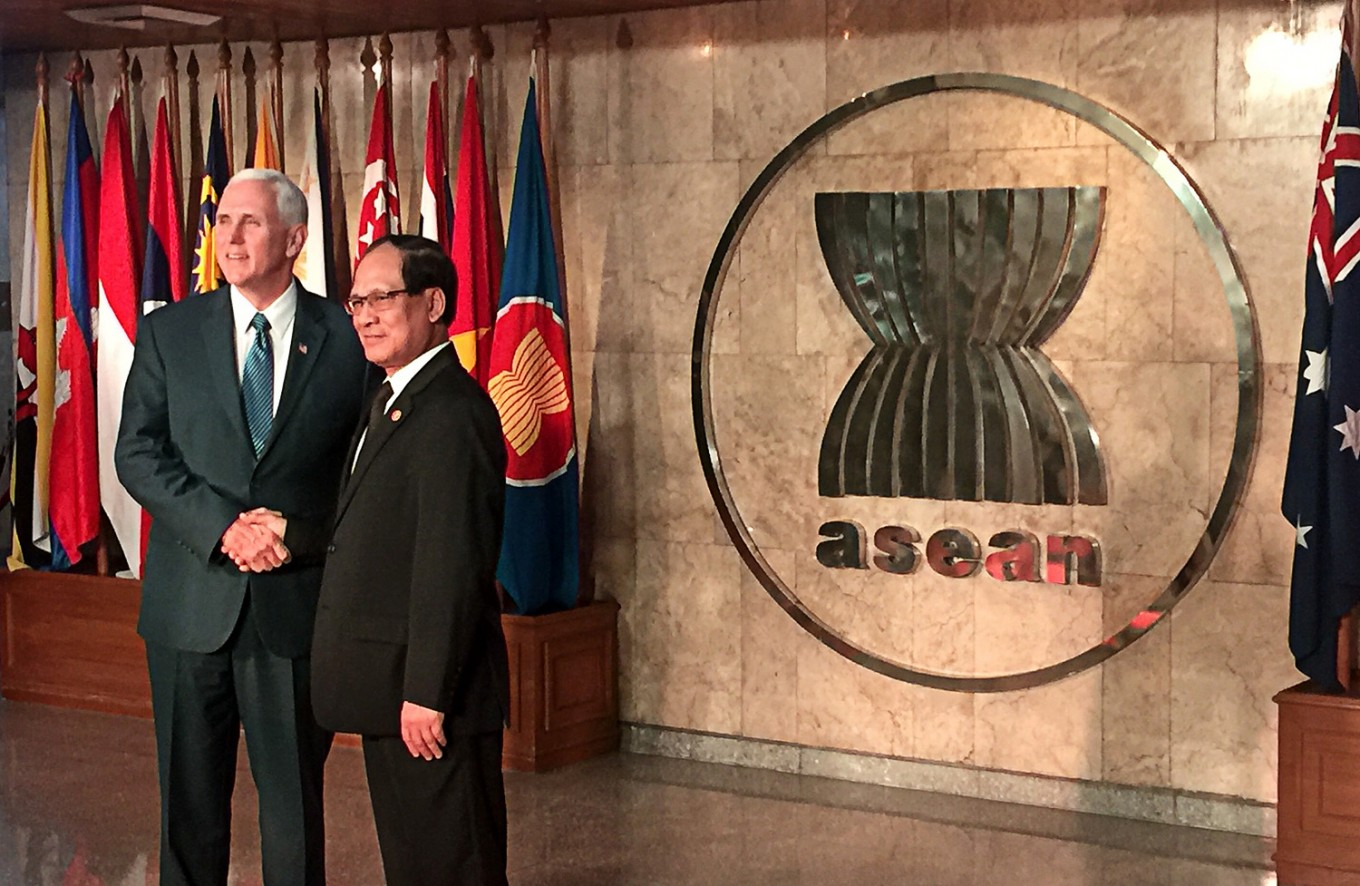 Warm welcome: ASEAN Secretary-General Le Luong Minh (right) greets US Vice President Mike Pence upon his arrival at the ASEAN Secretariat in South Jakarta on April 20. (JP/Tama Salim)
United States Vice President Mike Pence made his maiden visit to the ASEAN Secretariat in Jakarta on Thursday, amid expectations of a clearer US foreign policy stance for the region.
ASEAN Secretary-General Le Luong Minh greeted the Republican vice president, who earlier on Thursday made a courtesy call to President Joko "Jokowi" Widodo at the State Palace and held talks on bilateral ties with Vice President Jusuf Kalla.
The US second-in-command's visit to ASEAN was the first since the new US administration was sworn in on Jan. 20. It was also the first visit of a US high-ranking official at ASEAN headquarters in Jakarta after former US secretary of state Hillary Clinton visited during Cambodia's ASEAN chairmanship in 2012.
Outgoing Indonesian permanent representative to ASEAN, Rahmat Pramono told The Jakarta Post prior to the visit that Pence was set to speak privately with Secretary General Le before holding a 30-minute dialogue with ASEAN's Committee of Permanent Representatives (CPR), as requested by both parties.
"We want [the US] commitments to ASEAN on issues like South China Sea disputes and tensions on the Korean Peninsula," Rahmat said.
He said the CPR, which engaged in the day-to-day dealings of formulating ASEAN's stance on a wide array of issues, would also convey its hope in the meeting that US President Donald Trump would be able to attend the next ASEAN Summit later this year. (ebf)
Join the discussions