Lame-duck Ahok sees mount­ing de­fi­ance
Callistasia Anggun Wijaya

The Jakarta Post
Jakarta |

Fri, April 28, 2017

| 09:15 am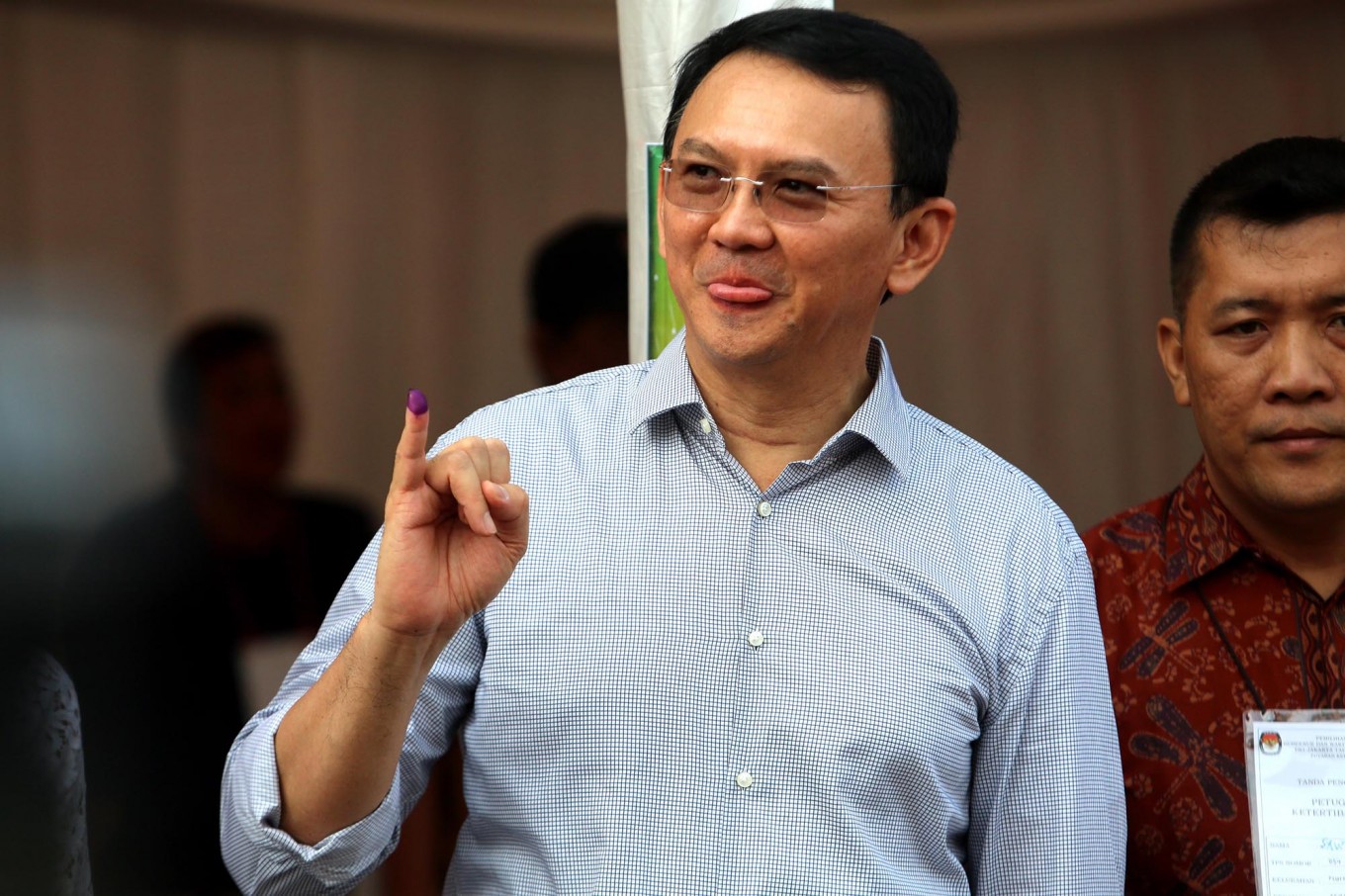 Incumbent Basuki "Ahok" Tjahaja Purnama and his family cast vote in the Jakarta gubernatorial runoff election at polling station TPS 54, Pantai Mutiara, Pluit, on April 19. (JP/Seto Wardhana)
Jakarta Gover­nor Ba­suki "Ahok" Tja­haja Pur­nama still has an­other six months to lead the city be­fore of­fi­cially pass­ing the ba­ton to Anies Baswedan, who de­feated the in­cum­bent in the runoff elec­tion on April 19. Lately how­ever, the hard-charg­ing gov­er­nor seems some­thing akin to a lame-duck ruler, as some of his poli­cies and plans are fac­ing de­fi­ant re­bel­lion from af­fected res­i­dents.
The Pen­jaringan Po­lice have re­port­edly ques­tioned three res­i­dents who com­plained about the pres­ence of thugs in the for­mer red-light dis­trict area of Kal­i­jodo in North Jakarta, which was trans­formed by Ahok into a child­friendly in­te­grated pub­lic space (RPTRA).
"They [the thugs] are in­so­lent, they think I can't act firmly to­ward them. They think I'm no longer a gov­er­nor while in fact I am the gov­er­nor un­til Oct. 7," Ahok said at City Hall.
Anies' vic­tory has also rein­vig­o­rated res­i­dent op­po­si­tion to­ward Ahok's evic­tion pol­icy, as il­lus­trated by is hap­pen­ing at Pasar Ikan and Kam­pung Akuar­ium in North Jakarta.
Back in April 2016, the gov­er­nor evicted res­i­dents from Pasar Ikan and Kam­pung Akuar­ium, ship­ping hun­dreds of them to low-cost apart­ments and brush­ing aside their cries for fair com­pen­sa­tion.
While some res­i­dents agreed to move to nearby apart­ments, oth­ers stayed on the evicted land by re­ly­ing on the help of some ex­ter­nal par­ties, in­clud­ing the Gerindra Party, to sus­tain their liv­ing. Since Ahok's de­feat, some of the evicted res­i­dents have be­gun mov­ing back into the ar­eas.
Pen­jaringan dis­trict head Mo­ham­mad An­dri said there were 90 semi-per­ma­nent dwellings flour­ish­ing in the area. Some res­i­dents have even started build­ing per­ma­nent houses.
"We started work­ing on Mon­day [to build a per­ma­nent house]. The owner of this house is an evictee who is now liv­ing in a rented house in Muara Baru," said Ro­man, 27, a home builder.
Ro­man, who was also evicted, said he be­lieved that Anies would not de­stroy the re­con­structed houses be­cause dur­ing the cam­paign pe­riod, the pre­sump­tive win­ner of the Jakarta elec­tion promised that he would not do so.
Another evictee, Adi Riyanto, 57, who is ren­o­vat­ing his 15 square me­ter house, said he was not afraid that Ahok would again de­mol­ish his house be­cause the le­gal process re­gard­ing the evic­tion was still on­go­ing.
In late 2016, the res­i­dents filed a class ac­tion with the Cen­tral Jakarta District Court against the ad­min­is­tra­tion's evic­tion plan. In the class ac­tion, the res­i­dents asked for com­pen­sa­tion.
Haratua Purba from the ad­min­is­tra­tion's le­gal bu­reau said the ad­min­is­tra­tion and the res­i­dents were still en­gaged in a me­di­a­tion process be­fore en­ter­ing into the next le­gal pro­ceed­ing.
Mean­while, Ahok said the ad­min­is­tra­tion would bull­doze the houses.
The gov­er­nor stressed that his cher­ished re­vi­tal­iza­tion project would con­tinue af­ter the ad­min­is­tra­tion had fin­ished study­ing the her­itage as­pects of the Pasar Ikan area.
How­ever, not all of the evictees are try­ing to over­turn Ahok's evic­tion pro­gram.
Res­i­dents of Bukit Duri in South Jakarta, for in­stance, do not plan to re­build their houses upon the cleared land, the res­i­dents' ad­vo­cate, Sandyawan Su­mardi, said.
They will build a vil­lage of row houses on va­cant land in Bukit Duri Tan­jakan.
Anies met with Bukit Duri res­i­dents dur­ing the cam­paign and promised that he would obey a rul­ing from the Jakarta State Ad­min­is­tra­tive Court stat­ing that their evic­tion was il­le­gal.
Sandyawan added that Anies had promised to pay com­pen­sa­tion to the evictees even though Ahok's ad­min­is­tra­tion had filed an ap­peal against the de­ci­sion.
Join the discussions