SBY to launch book, prepare next political move at Dems congress
Panca Nugraha

The Jakarta Post
Mataram |

Tue, May 2, 2017

| 08:18 am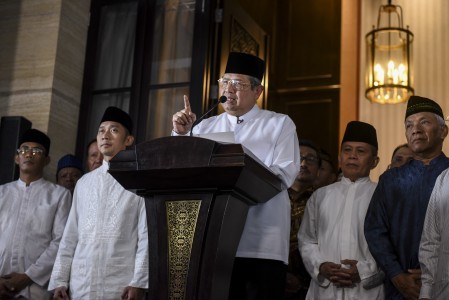 Former president and current chairman of the Democratic Party Susilo Bambang Yudhoyono speaks at a press conference at his house in Mega Kuningan in Jakarta on Feb. 14. (Antara/Hafidz Mubarak A.)
Former president Susilo Bambang Yudhoyono, who has remained a strong political figure since his term ended three years ago, is set to launch a book about his Twitter account, which has become one of his main mouthpieces to not only to share his views, but also to banter and argue with other politicians.
The book, titled Twitter SBY, will be introduced at the national meeting of the Democratic Party, the political party that he co-founded and continues to lead, in Mataram, West Nusa Tenggara, on May 7 to 9, an event that will be attended by more than 1,000 party members.
"The national meeting will be held on May 8, and the book will be launched a day earlier by Pak SBY, said Farid Tolomundu, a congress committee member, referring to the party chairman by his initials.
He claimed the national meeting in Mataram would be the first national political party gathering outside Java and Bali. West Nusa Tenggara Governor Muhammad Zainul Majdi is the chairman of the party's provincial chapter.
Known for his media savviness since leaving the presidency, Yudhoyono has used his twitter handler, @SBYudhoyono, to communicate with citizens, conveying his views on national issues, and attacking his political opponents.
(Read also: SBY rants on Twitter condemning efforts smearing son's candidacy)
Although never via direct statements, he has often criticized President Joko "Jokowi" Widodo's administration. The 67-year-old politician made frequent media appearances and numerous twitter posts earlier this year when his son Agus Harimurti was running in the Jakarta gubernatorial election.
Speculation is rife that Agus will be nominated for the East Java gubernatorial election next year. (wit)
Join the discussions