Ahok's verdict prompts fresh calls for review of "draconian" Blasphemy law
Nurul Fitri Ramadhani

The Jakarta Post
ICJR |

Wed, May 10, 2017

| 06:36 am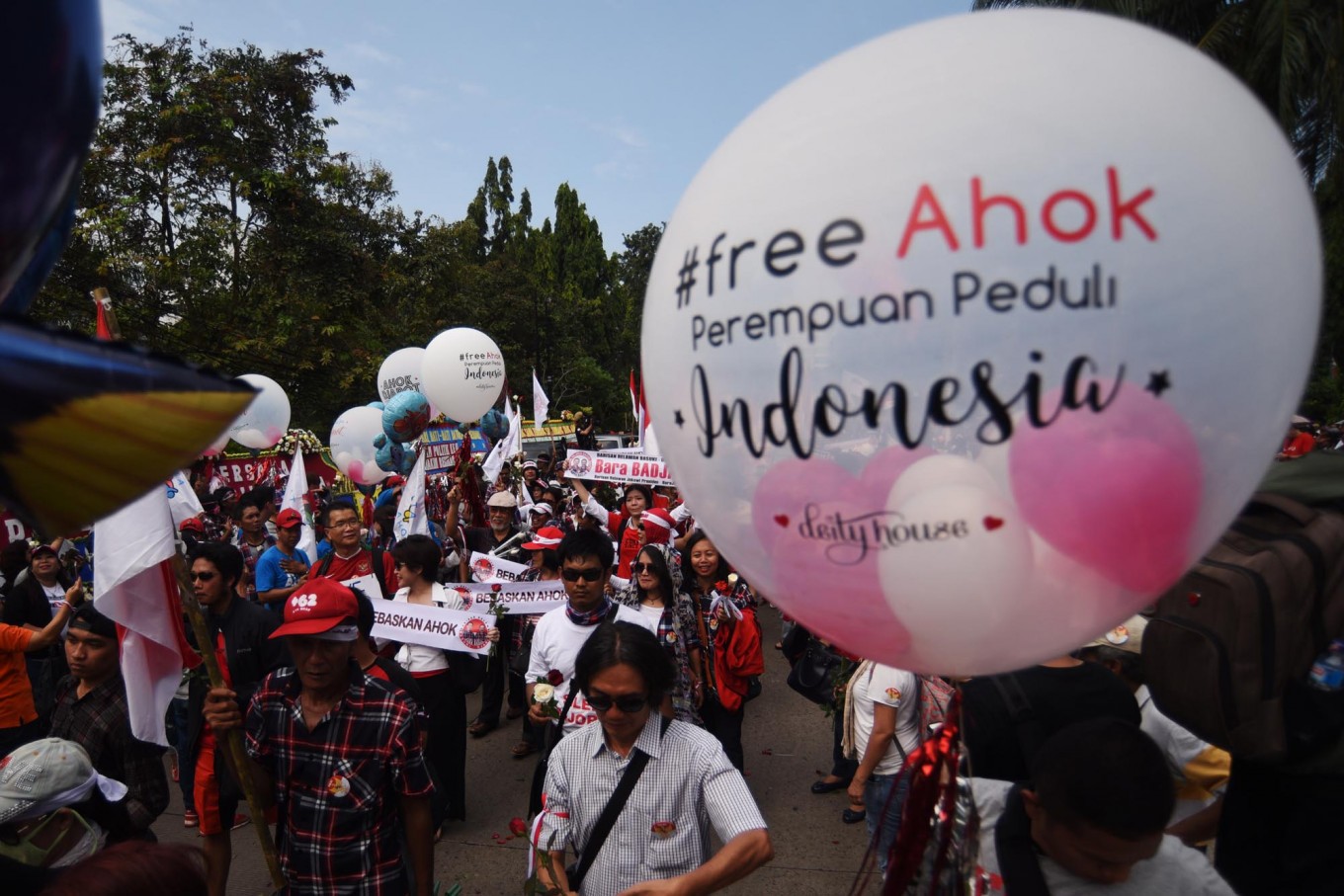 Jakarta Governor Basuki "Ahok" Tjahaja Purnama's supporters rally on Tuesday outside the Agriculture Ministry auditorium where Ahok had been tried on blasphemy charges. They demanded he be acquitted and released. (Antara/Akbar Nugroho Gumay)
The now suspended Jakarta Governor Basuki "Ahok" Tjahaja Purnama, who was found guilty of blasphemy by the North Jakarta District Court and sentenced to two years imprisonment, is yet another victim of the problematic 1965 Blasphemy Law that has been abused to criminalize people, the Institute for Criminal Justice Reform (ICJR) has said.
ICJR executive director Supriyadi Widodo Eddyono said on Tuesday that Article 156a on blasphemy in the Criminal Code, which was added as mandated by the 1965 law, had turned out to have so many interpretations that often incriminated minorities.
(Read also: Support grows as '#Ahok' grabs worldwide attention)
The main problem of this law lies in the fact that blasphemy has never been clearly defined, he said.
"We really regret that the draconian law still exists and the implementation has gone too far that it oftentimes harms minorities. The court should have also been more careful in elaborating on the terms in the article," Supriyadi said.
He also slammed the court's order to detain Ahok because the governor had shown good manners throughout the whole legal process.
Hendardi, the chairman of the Setara Institute, a rights group, said Ahok's blasphemy case was the 97th since 1965, 89 of which happened after 1998 and resulted in controversial verdicts.
"The verdict has clearly shown that the article is prone to be misused by certain people for their own interests. This is why the article is dangerous," Hendardi said. (bbs)
Join the discussions