Judges give Ahok stiffer sentence
Callistasia Anggun Wijaya

The Jakarta Post
Jakarta |

Tue, May 9, 2017

| 01:31 pm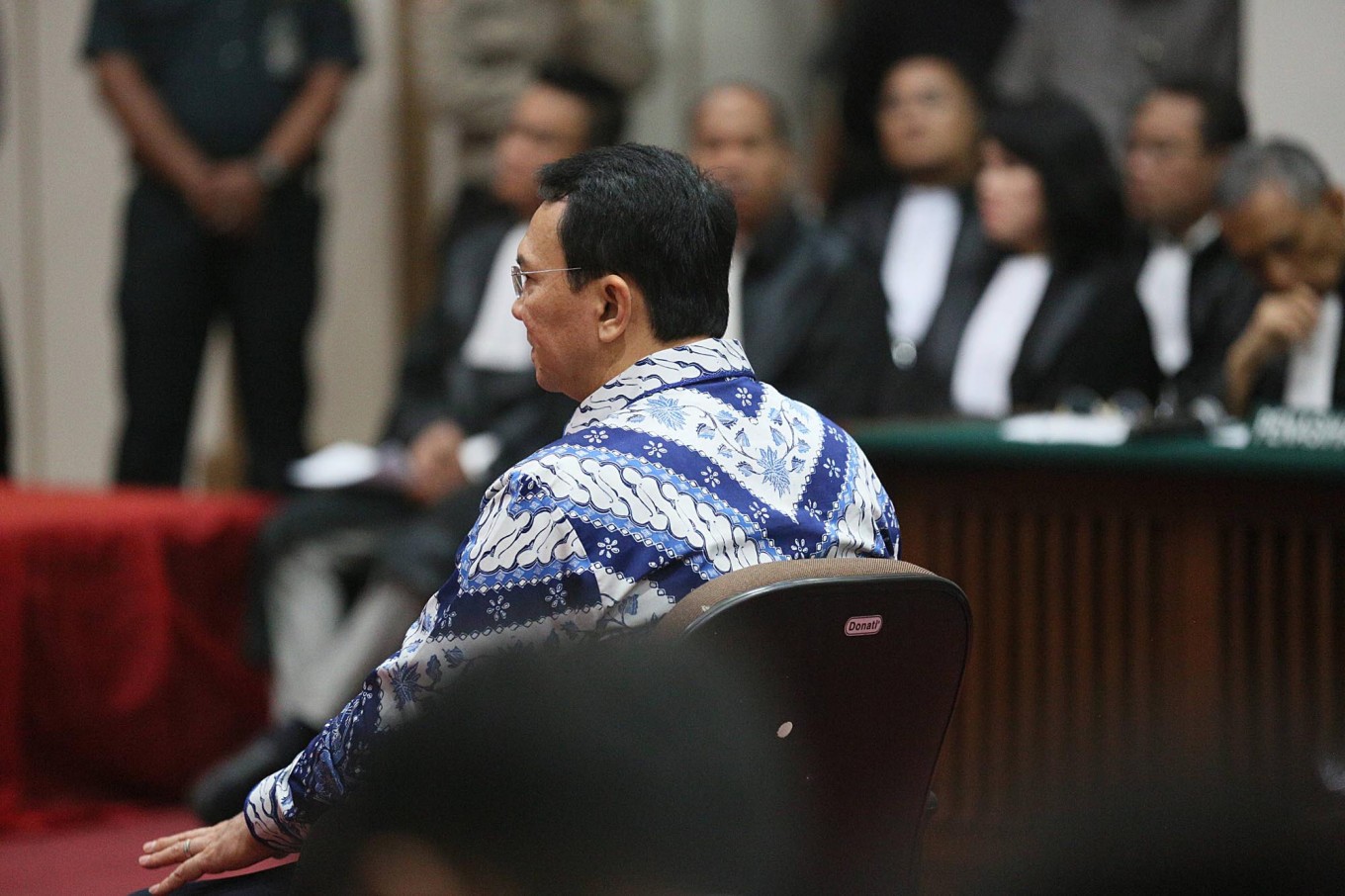 Judgement day: Blasphemy defendant Jakarta Governor Basuki "Ahok" Tjahaja Purnama attends his final hearing at the North Jakarta District Court on May 9. (MI/Ramdani/Pool)
The North Jakarta District Court ignored on Tuesday the prosecution's demand to sentence Jakarta Governor Basuki "Ahok" Tjahaja Purnama to two years' probation for insulting Muslim leaders.
The judges sentenced Ahok to two years in prison for blasphemy as stipulated in Article 156a of the Criminal Code (KUHP) despite the prosecutors dropping the blasphemy charge against Ahok and instead accusing him of insulting Muslim leaders in violation of Article 156 of the KUHP.
The judges said they disapproved of the prosecutors requesting only probation for Ahok.
"The defendant feels no remorse. His action caused unrest, 'hurt' Islam and divided Muslims and groups," presiding judge Dwiarso Budi Santiarso said.
(Read also: Ahok detractors rejoice at guilty verdict)
Mitigating factors in Ahok's case were that he had no previous criminal record and was polite and cooperative during the trial, the judge said.
Dwiarso said the panel of judges disagreed with prosecutors' consideration that Ahok was not the only person responsible for the uproar resulting from the case.
In a previous hearing, prosecutors blamed Buni Yani, currently a hate-speech sus­pect, who up­loaded an edited video of Ahok's speech to his Face­book ac­count with a mis­lead­ing transcrip­tion, and said he should also be held responsible in the case. It was the video that led to pub­lic up­roar and the gov­er­nor's blas­phemy charges, the pros­e­cu­tors said.
Dwiarso asserted Buni's case was not relevant to Ahok's blasphemy case. (ebf)
Topics :
Join the discussions