Painting exhibition taken down over communism accusations
Bambang Muryanto

The Jakarta Post
Yogyakarta |

Tue, May 9, 2017

| 08:26 am Banned: Painter Andreas Iswinarno packs up his paintings after youth organization Pemuda Pancasila (PP) members forced him to cancel his painting exhibition in Yogyakarta on May 8 for allegedly spreading communist ideas. (JP/Bambang Muryanto)
Approximately 30 members of youth organization Pemuda Pancasila (PP) on Monday took down the painting exhibition of an artist cum activist, Andreas Iswinarno.
The exhibition entitled "Tribute to Wiji Thukul: Saya Masih Utuh dan Kata-kata Belum Binasa (I'm still complete and words have not yet been destroyed)" was dissolved as the displayed art work was suspected to have contained communism ideas.
"When we were displaying the paintings, they suddenly came and asked us to stop the exhibition because Wiji Thukul was considered a communist," said Andreas.
Not only banning the exhibition, the PP members also removed Andreas' paintings and Wiji Thukul's poems, which were placed on the walls surrounding the Indonesian Islamic University's Center for Human Rights Studies (Pusham UII) building in Banguntapan, Yogyakarta.
The PP members threatened they would burn the building if the exhibition continued to take place.
"They took five paintings and a set of printed pages of Wiji Thukul's poems," said Andreas. It was reported that one of the PP members had pushed, choked and almost hit the painter as he attempted to defend his paintings.
"I chose Wiji Thukul because his poems are still relevant with the current social political situation," said Andreas about the Indonesian poet whose whereabouts are unknown until today.
"We will report this case to the Yogyakarta Police. We will ask for the fulfillment of the police's promises to protect us," said Pusham UII director Eko Riyadi.
Andreas' painting exhibition, scheduled to be on display in Semarang, Central Java, on May 1 to 6, was also taken down by mass organizations. (ebf)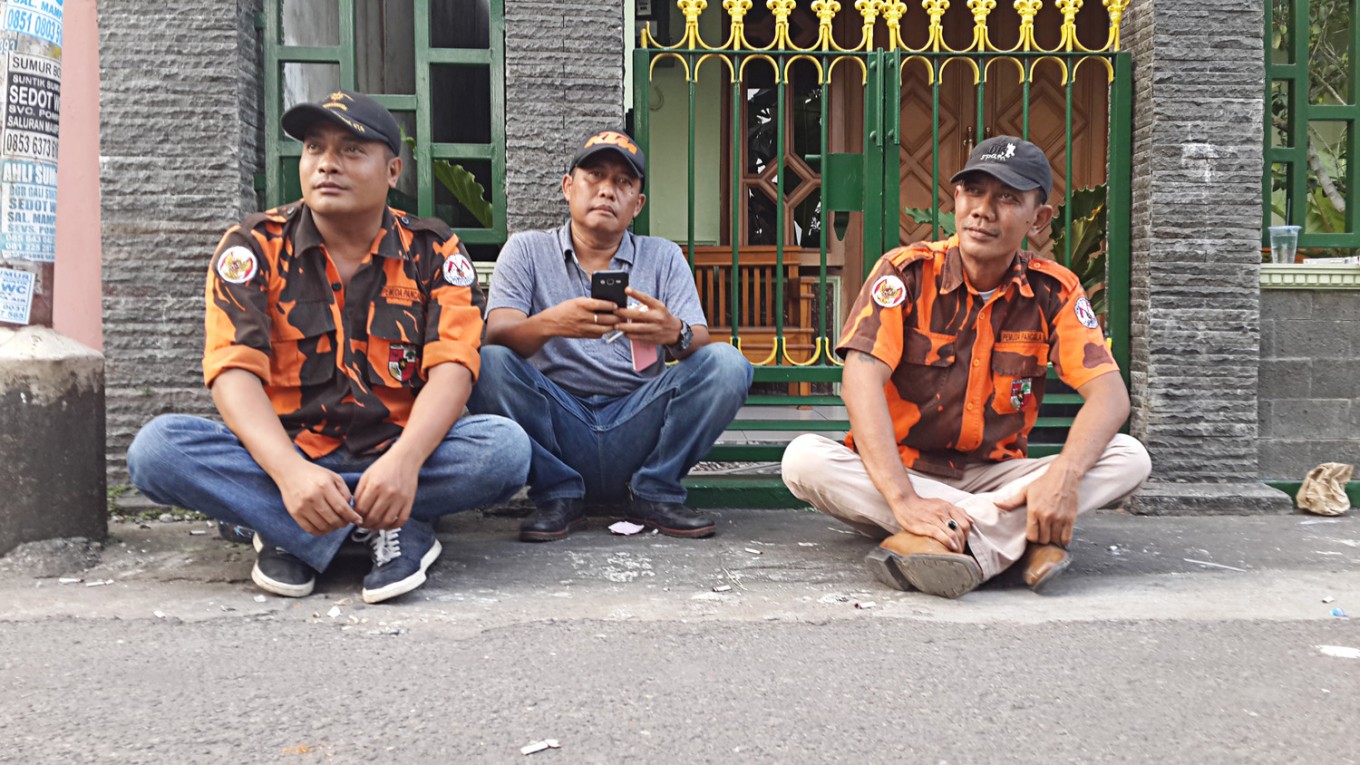 Against 'communism': Youth organization Pemuda Pancasila (PP) members are on guard in front of the Indonesian Islamic University's Center for Human Rights Studies (Pusham UII) in Banguntapan, Yogyakarta, on May 8. They demanded painter Andreas Iswinarno to cancel his painting exhibition over alleged communist suspicions. (JP/Bambang Muryanto)

Topics :
Join the discussions