Police find links between Jakarta twin bombings and Bandung bombing
Arya Dipa

The Jakarta Post
Bandung, West Java |

Thu, May 25, 2017

| 06:56 pm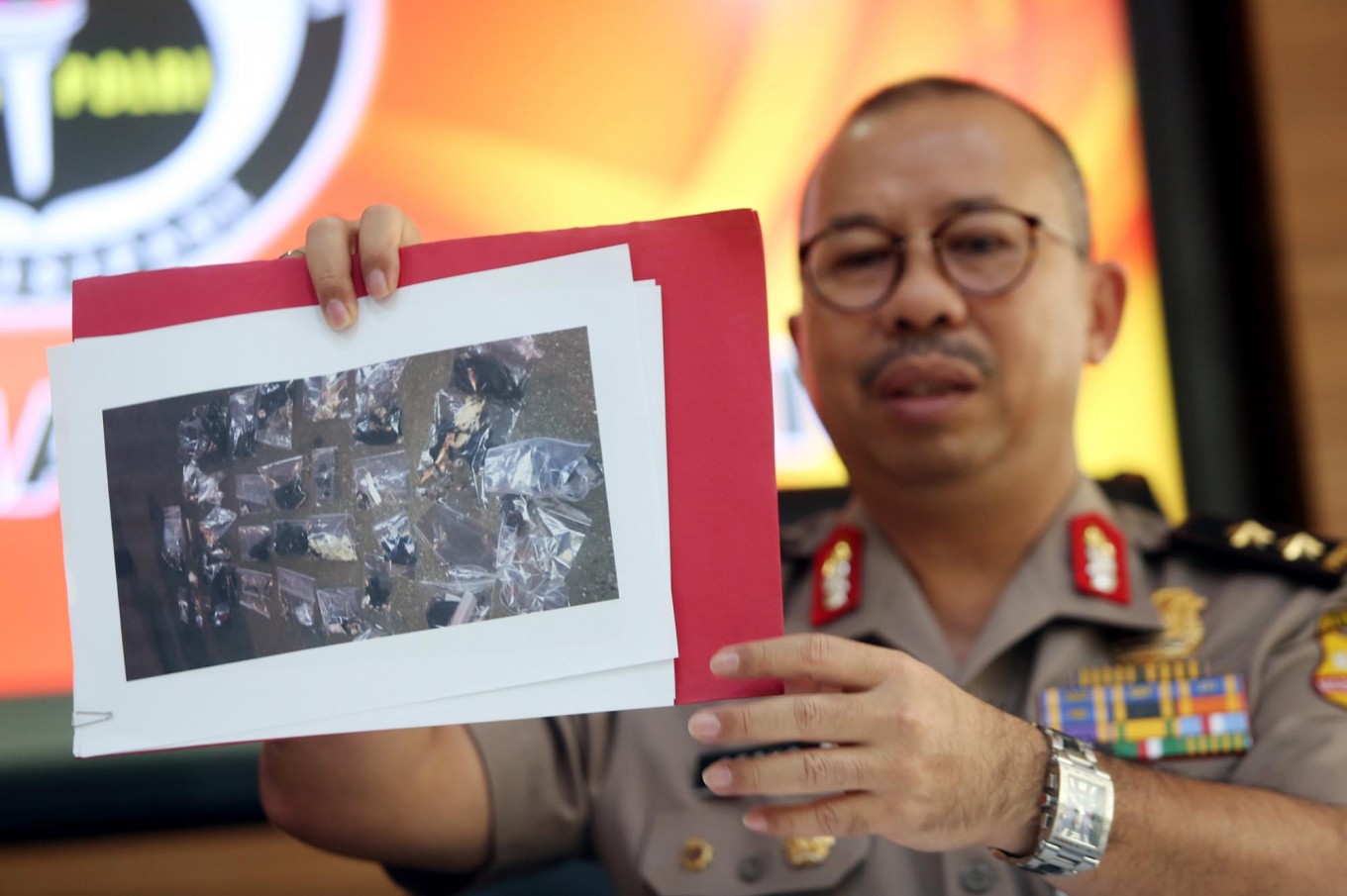 Indonesian police spokesman Setyo Wasisto holds up a photograph showing materials collected as evidence from the suicide bombing site, during a press conference in Jakarta on May 25, 2017. Indonesia's elite anti-terror squad is investigating the suicide bombing attack near a busy Jakarta bus station that killed three policemen, the latest assault in the Muslim-majority country as it faces a surge in militant plots. (AFP/Adiba)
Personnel from the National Police's Densus 88 counterterrorism squad have found links between the twin bombings at the Kampung Melayu bus terminal in East Jakarta and the Bandung bombing early this year following searches of the houses of the alleged suicide bombers on Thursday.
"INS's wife [told police investigators that she] was once introduced by her husband to Agus, one of the Cicendo bombing suspects" said West Java Police spokesman Sr. Comr. Yusri Yunus, using the initials INS to refer to one of the alleged suicide bombers, Ichwan Nurul Salam.
Agus is suspected to have rigged the pressure cooker bomb, which exploded at Pandawa Park in Cicendo, Bandung on Feb. 27. Both Ichwan and Agus lived in Batununggal district.
Police conducted a search of Ichwan's rental house in the Batununggal, Bandung, West Java and seized documents and camping kits as evidence. Police also took Ichwan's wife for further questioning in addition to placing a police line around the house.
Yusri said in addition to finding links with the Cicendo terror group, police may also find leads suggesting links between Ichwan and the terror network led by Abu Salam, the perpetrator of pressure cooker bomb attack in Bandung who was gunned down by police.
(Read also: East Jakarta suicide blasts likely linked to IS: Police)
Yusri added that police also searched a house in Sirnagalih village, Cipongkor, West Bandung, believed to belong to the other alleged bomber Ahmad Sukri.
Through questioning of Sukri's mother, EN, 61, police learned that Sukri had been staying in a rental house in Garut for the past three months with his wife and two children.
"[Sukri] worked as a tailor," Yusri said.
Police took EN for further questioning and took blood DNA samples to match with Sukri's. (dmr)
Topics :
Join the discussions