Govt urged to establish crisis center to respond to impacts of Qatar crisis
Marguerite Afra Sapiie

The Jakarta Post
Jakarta |

Wed, June 7, 2017

| 10:59 pm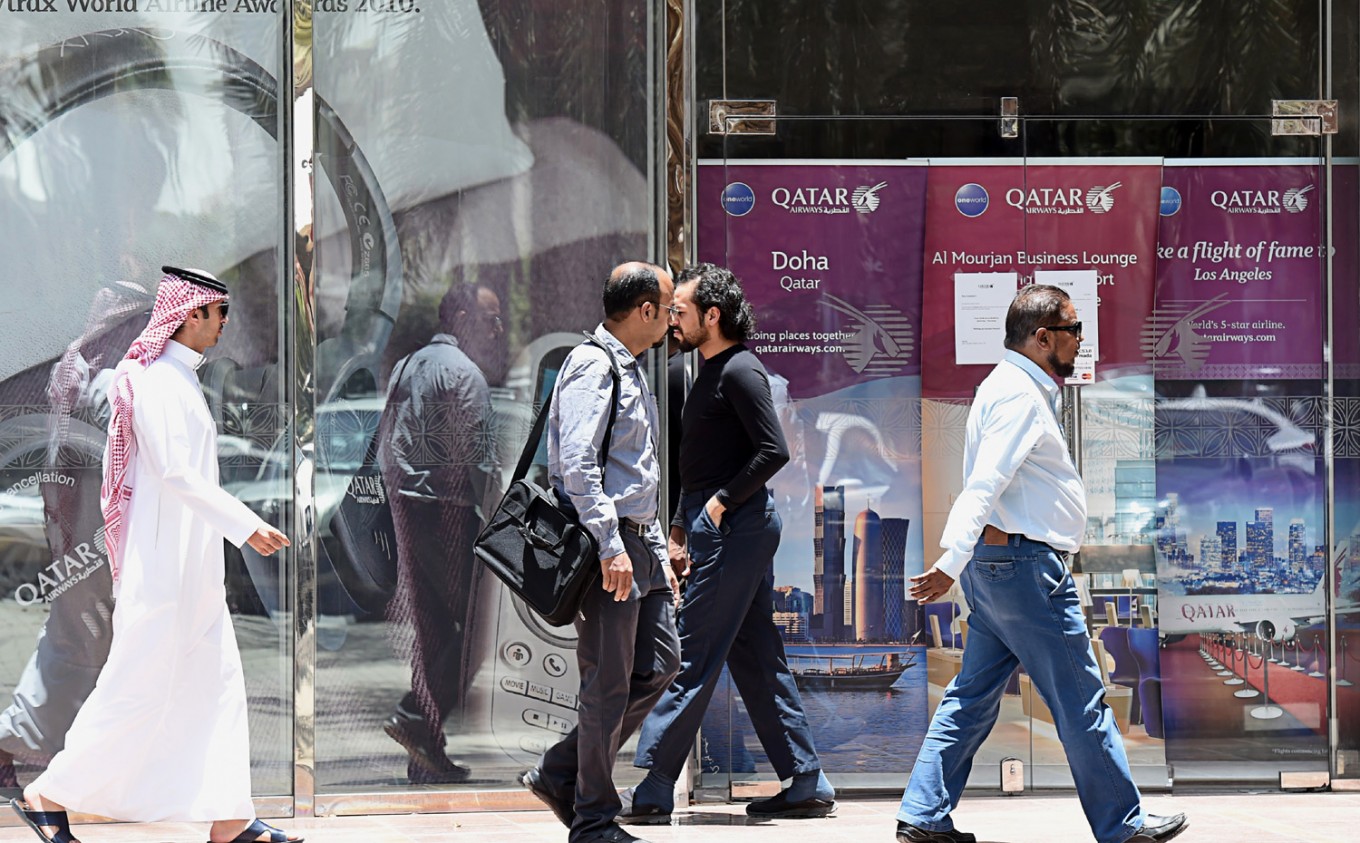 Diplomatic crisis: A picture taken on June 5 shows people walking past the Qatar Airways branch in the Saudi capital Riyadh, after it had suspended all flights to Saudi Arabia following a severing of relations between major gulf states and gas-rich Qatar. Arab nations including Saudi Arabia and Egypt cut ties with Qatar, accusing it of supporting extremism, in the biggest diplomatic crisis to hit the region in years. (AFP/Fayez Nureldine)
Workers' rights advocate Migrant CARE is calling on the Indonesian government to open a crisis center to tackle the possible impacts of a political crisis that has erupted following the severing of diplomatic relations between Qatar and several other Middle Eastern countries.
Migrant CARE executive director Wahyu Susilo said the crisis would sooner or later make an impact on the presence and safety of Indonesian migrant workers in the region. In the Middle East, Indonesian migrant workers were mostly employed in the countries that are currently engaged in a diplomatic spat against Qatar, namely Bahrain, Saudi Arabia and the United Arab Emirates.
He said there had been a transportation crisis after Saudi Arabian authorities banned the operation of Qatar Airways and closed its land and sea borders with Qatar. The crisis might create a complicated problem because in the upcoming weeks hundreds of thousands of Indonesian migrant workers in the region would have plans to return to Indonesia to celebrate Idul Fitri in their home towns.
"We urge the government to open crisis centers at Indonesian representative offices in countries that are entangled in this diplomatic crisis and by also involving migrant worker organizations and the Indonesian diaspora in the region," Wahyu said in a press statement on Wednesday
Following the crisis that has been taking place in Syria since 2012, Migrant Care has received many complaints from the families of migrant workers who have had relatives trapped by war. "The crisis center should be able to perform quick responses, provide information and undertake other comprehensive measures to ensure the safety of both Indonesian migrant workers and Indonesian nationals," Wahyu said. (afr/ebf)
Join the discussions