Democrats will not back Prabowo in 2019: Senior politician
News Desk

The Jakarta Post
Jakarta |

Thu, July 27, 2017

| 04:32 pm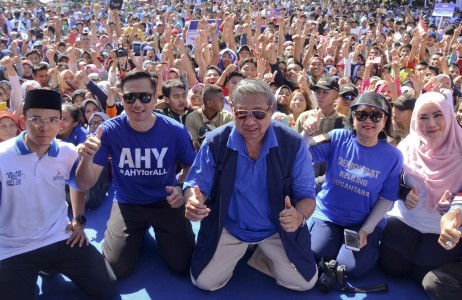 West Nusa Tenggara Governor M. Zainul Majdi (left), chairman of Democratic Party and former president Susilo Bambang Yudhoyono (center) with Ani Yudhoyono (second right) and their eldest son Agus Harimurti Yudhoyono (second left) pose together during declaration of (Antara/Ahmad Subaidi)
Prior to a meeting between Democratic Party chairman Susilo Bambang Yudhoyono and his Gerindra counterpart Prabowo Subianto, a senior party official has indicated that it would nominate its own presidential candidate for the 2019 elections, despite Gerindra's decision to nominate its patron Prabowo.
The two opposition party leaders are scheduled to hold a formal meeting on Thursday evening at Yudhoyono's private residence in Cikeas, West Java.
The deputy chairman of the Democratic Party advisory board, Agus Hermanto, said on Thursday morning that a coalition for 2019 could be one of the possible topics for discussion by the two leaders in the closed-door meeting. But he emphasized that, in the end, the party would propose its own presidential candidate, most likely selected from among its party cadres.
"Dems will definitely nominate our own presidential candidate. We're now cultivating our next leader, with young Dems members pushing for Agus Harimurti [Yudhoyono], but we'll see," said Agus, referring to Yudhoyono's eldest son, a Kostrad infantry unit veteran and Harvard graduate.
"Until now, we see that Prabowo is still firm on running in the presidential contest. So it's okay for him to ask for input from Yudhoyono, who has 10 years' experience as president and won the presidential election twice, about the key to success in the election," he said.
It is likely that no single party will be able to nominate a presidential candidate in the 2019 general elections, as the recently passed 2017 Election Law stipulates that a party must have 20 percent of total seats in the House of Representatives or 25 percent of popular votes to be able to field a presidential candidate.
Join the discussions