Duterte criticizes Trump on trade
Manila, Philippines |

Tue, August 8, 2017

| 04:47 pm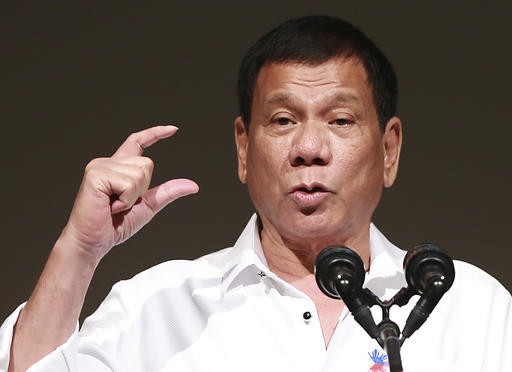 In this Oct. 26, 2016 file photo, Philippine President Rodrigo Duterte delivers a speech at the Philippine Economic Forum in Tokyo. Philippine police killed a town mayor in his jail cell in a purported gunbattle on Saturday, Nov. 5, the second killing in a week of a politician linked to illegal drugs under President Duterte's brutal crackdown. (AP/Eugene Hoshiko, File)
Philippine President Rodrigo Duterte on Tuesday took a swipe at the Trump administration's retreat from a major free trade deal, joining Asian nations at a forum this week in criticising rising protectionism.
Until recently China and the United States were both pushing sweeping free trade deals that excluded each other.
But shortly after taking office in January, US President Donald Trump withdrew from the Trans-Pacific Partnership (TPP) which he described as a "job killer".
The move delivered a hammer blow to the 11 other nations who spent seven years negotiating what was billed as the world's largest trade deal.
During a speech celebrating the 50th anniversary of the Association of Southeast Asian Nations (ASEAN) in Manila, Duterte gave his backing to a planned trade pact backed by China known as the Regional Comprehensive Economic Partnership.
"ASEAN has a bigger stake than any part of the world in standing up against protectionism and securing the rules of the game in the international trade," he told delegates.
RCEP, he said, "will provide further impetus to our efforts", adding he hoped negotiations on the Beijing-led deal "should conclude swiftly".
He then added a jab over TPP's collapse.
"(I'm) reminded that the Transpacific, it was a dream, is no longer there," he said.
Before Trump's withdrawal, TPP would have covered 40 percent of the global economy.
It went further than most existing free trade pacts, with labour laws, environmental protections and intellectual property rights touted by backers as a new gold standard for global trade.
The deal, which excluded China, was also seen as a way to counter Beijing's regional economic dominance.
Topics :
Join the discussions