Hamas, Fatah sign deal on Palestinian reconciliation
Emmanuel Parisse and Adel Zaanoun

Agence France-Presse
Cairo, Egypt |

Thu, October 12, 2017

| 10:09 pm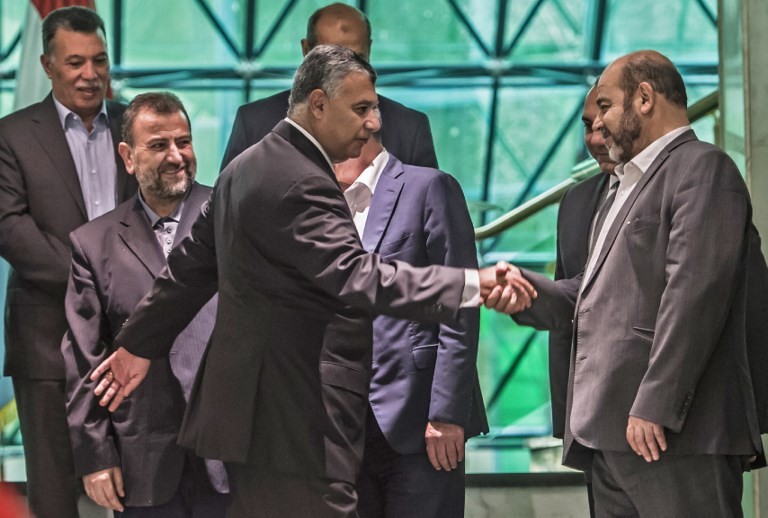 Khaled Fawzi (center), head of the Egyptian Intelligence services, greets Mussa Abu Marzuq (right), senior Hamas official, after signing a reconciliation deal in Cairo on October 12, 2017, as the two rival Palestinian movements ended their decade-long split following negotiations overseen by Egypt. Under the agreement, the West Bank-based Palestinian Authority is to resume full control of the Hamas-controlled Gaza Strip by December 1, according to a statement from Egypt's government. (Agence France -Presse/Khaled Desouki)
Rival Palestinian factions Hamas and Fatah signed an agreement Thursday on ending a decade-long split following talks mediated by Egypt in Cairo, with president Mahmud Abbas calling it a "final" accord.
Under the agreement, the West Bank-based Palestinian Authority is to resume full control of the Hamas-controlled Gaza Strip by December 1, according to a statement from Egypt's government.
Abbas welcomed the deal in comments to AFP and said he considered it a "final agreement to end the division" -- though many details remain to be resolved and previous reconciliation attempts have repeatedly failed.
It was signed in Cairo by new Hamas deputy leader Salah al-Aruri and Azzam al-Ahmad, the head of the Fatah delegation for the talks, at the headquarters of Egypt's intelligence service, which oversaw the negotiations.
Celebrations broke out in the Gaza Strip after the announcement of the deal, with residents waving flags of Egypt, Palestine, Fatah and Hamas.
Negotiations are now expected to be held on forming a unity government, with the various Palestinian political movements invited to another meeting in Cairo on November 21.
Another party to the negotiations, speaking on condition of anonymity, said the agreement would see Palestinian Authority forces take control of the Rafah border crossing between Gaza and Egypt.
One of the key issues has been punitive measures taken by Abbas against Gaza in recent months, including reducing electricity payments that left the territory's residents with only a few hours of power a day.
"All the measures taken recently will end very shortly," Zakaria al-Agha, a senior Fatah leader in the Gaza Strip, told AFP.
Sanctions taken by Abbas against Hamas-controlled Gaza will also soon be lifted, the Fatah official said.
The deal includes 3,000 members of the West Bank-based Palestinian Authority's police force redeploying to Gaza, a member of the negotiating team told AFP on condition of anonymity.
The figure is however a fraction of the more than 20,000 police officers employed separately by Hamas.
Topics :
Join the discussions