PAN opens door to possible coalition with PDI-P in W. Java race
Nurul Fitri Ramadhani

The Jakarta Post
Jakarta |

Wed, November 1, 2017

| 04:38 pm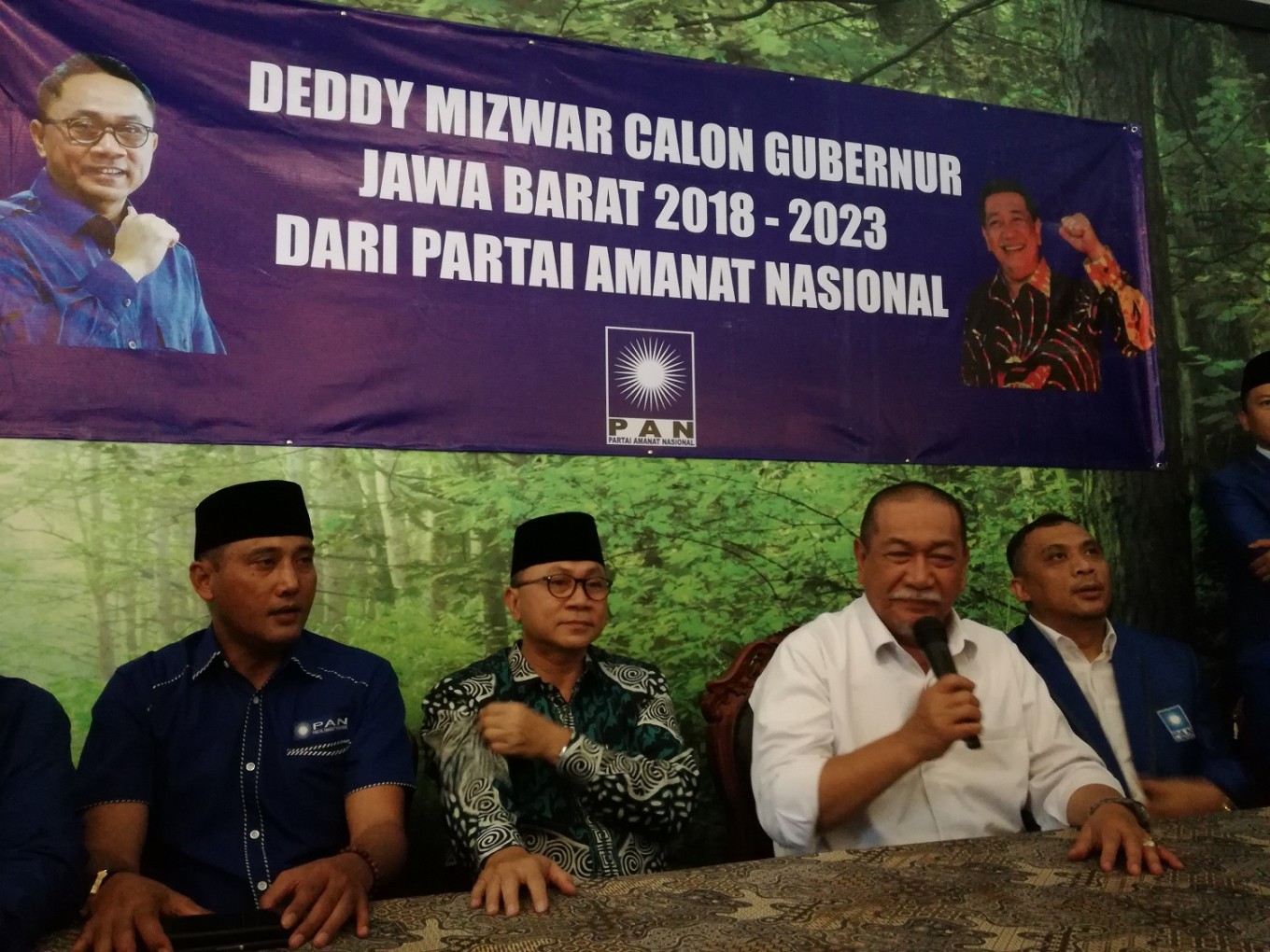 In this file photo dated Oct. 25, 2017, West Java Deputy Governor Deddy Mizwar (second right) speaks at a press event in Bandung after receiving support from the National Mandate Party (PAN) to run in the 2018 gubernatorial election. (JP/Arya Dipa)
The National Mandate Party (PAN) has said it is open to the possibility of having the Indonesian Democratic Party of Struggle (PDI-P) join a coalition that endorses West Java Deputy Governor Deddy Mizwar in the 2018 gubernatorial race.
"The more parties, the better. Please [join us]. PAN can't do it alone," PAN chairman Zulkifli Hasan said at the House of Representatives building on Wednesday.
Zulkifli made the statement following a plan revealed by the PDI-P to invite Deddy for a meeting next week, despite the PDI-P's standing as the only party in West Java that can field a gubernatorial ticket without forming a coalition because of its 20-council seats.
PDI-P recently invited seven prospective hopefuls, including Deddy, to a silaturahmi (get together), which appeared to be a kind of primary to vet candidates.
Unlike the PDI-P, PAN — which is affiliated to the country's second-largest Muslim organization, Muhammadiyah — cannot endorse names without forming a coalition as it controls only four council seats in West Java, the country's most populated province and home to many conservative Muslim groups.
"Therefore, we also hope that the Democratic Party, Gerindra Party and PKS [Prosperous Justice Party] can join us as well," Zulkifli said.
Other parties have also been scouting for gubernatorial candidates to compete against popular Bandung Mayor Ridwan Kamil, who has secured enough support from two Islam-based parties — the United Development Party (PPP) and the National Awakening Party (PKB) — as well as the NasDem Party and Golkar Party. (ipa)
Join the discussions