Australia helps improving education in East Nusa Tenggara
Djemi Amnifu

The Jakarta Post
Kupang, East Nusa Tenggara |

Thu, November 2, 2017

| 06:39 pm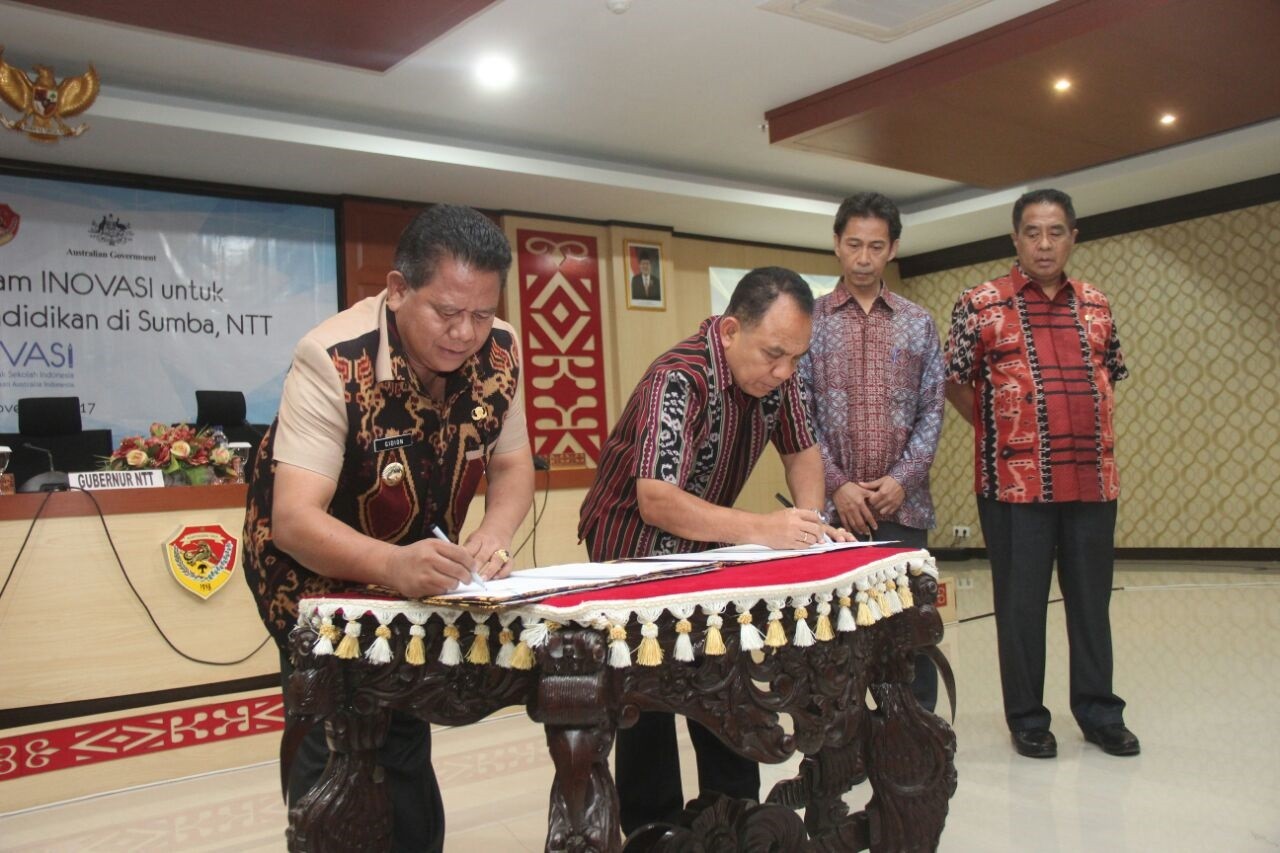 Improving education: East Sumba regent Gidion Mbilijora (left) and East Nusa Tenggara Governor Frans Lebu Raya on Thursday sign a memorandum of understanding to mark the implementation of the Australian-funded INOVASI program in the regency. The program aims to improve literacy and numeracy skills of elementary school students in East Nusa Tenggara. (JP/Djemi Amnifu)
The Australian government handed over an educational assistance program on Thursday called Innovation for Indonesia's School Children (INOVASI) for four regencies in Sumba Island, East Nusa Tenggara (NTT).
The four regencies are: Central Sumba, East Sumba, Southwest Sumba and West Sumba.
Delivered as an education partnership, INOVASI focuses on efforts to improve the quality of literacy and numeracy learning outcomes of elementary school students.
NTT is the second province to host the implementation of INOVASI in Indonesia. The program was launched through the signing of a memorandum of understanding (MoU) between NTT administration and the Education and Culture Ministry, which was represented by the province's governor, Frans Lebu Raya, and the ministry's Research and Development Agency head Totok Suprayitno.
Michelle Lowe, counselor for human development division at the Department of Foreign Affairs and Trade (DFAT) at the Australian Embassy, witnessed the MoU-signing ceremony.
Frans said the launch of INOVASI showed commitment and support of the government and its program partners to improve the quality of education in Sumba, especially for elementary education.
"We are welcoming the implementation of INOVASI in NTT that will help us to improve students' learning outcomes, especially in literacy and numeracy," Frans said.
To strengthen the partnership, the NTT governor signed MoUs with leaders of the four regencies.
Totok said he was optimistic INOVASI would bring a significant impact to classrooms. "It aims not to dictate [schools] but instead to explore deeper local potentials, which can give a direction to teaching patterns for students," he said. (ebf)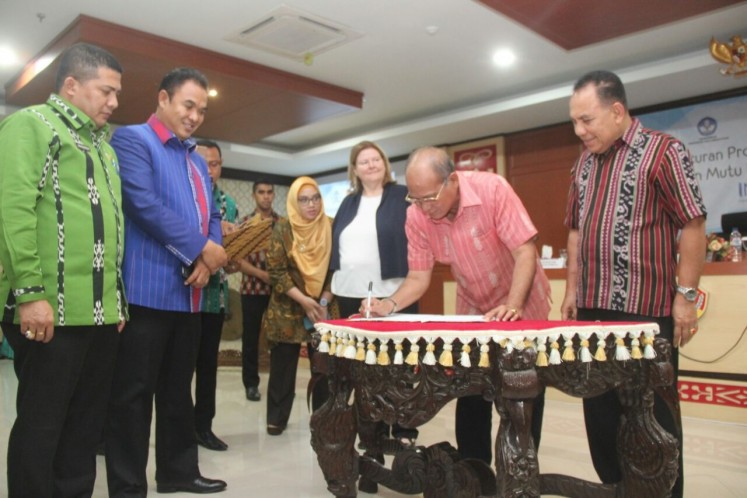 Closer partnership: East Nusa Tenggara governor Frans Lebu Raya witnesses the signing of an MoU on Thursday by Southwestern Sumba regent Markus Dairo Talu. (JP/Djemi Amnifu)
Join the discussions