Sunda slow lorises undergo wildlife rehabilitation in W.Kalimantan
Severianus Endi

The Jakarta Post
Pontianak, West Kalimantan |

Fri, November 3, 2017

| 06:56 pm Protected animal: A Sunda slow loris, known locally as a kukang, undergoes rehabilitation at a shelter owned by conservation group International Animal Rescue (IAR) in Ketapang, West Kalimantan. (Courtesy of International Animal Rescue/File)
Four Sunda slow lorises, known locally as kukang, have been sent to a rehabilitation camp in a protected forest in Mount Tarak, Ketapang regency, West Kalimantan, so they can regain their wild instincts.
Having long been kept as pets, the slow lorises underwent a rehabilitation process at a shelter owned by the International Animal Rescue (IAR) organization in the past year before being sent to Mt. Tarak for further wildlife training at the end of October.
Ruswanto of the West Kalimantan Natural Resource Conservation Agency (BKSDA) told The Jakarta Post on Friday that two of the four Sunda slow lorises were adult females that had been confiscated from local residents in Pontianak. Another slow loris rescued by the agency's personnel in Sambas regency was an adult male, he added.
Ruswanto said also that during the rehabilitation process at the IAC shelter, a baby slow loris was born and it was now four months old.
It is expected the four slow lorises will be able to immediately adapt and regain their wild instincts as Mt.Tarak remains a well preserved ecosystem and is home to several notable species. These include orangutans and other primates, helmeted hornbills and various other species of birds and mammals.
"There is an abundance of natural food in the area," said Ruswanto.
Located in Sungai Awan Kiri village in Muara Pawan district, the IAR shelter began its activities as an orangutan rehabilitation center in November 2009. The shelter, which covers almost 60 hectares, employs 25 animal nurses and has 15 cages. The center is equipped with a clinic and an orangutan school. (ebf)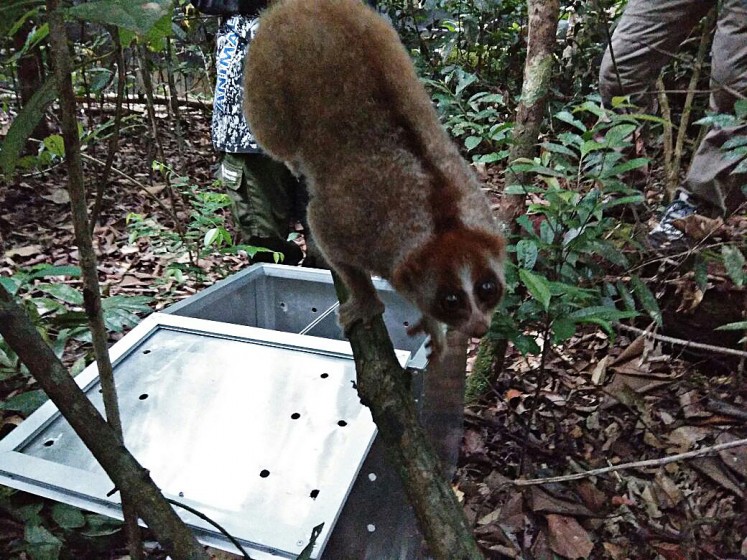 Into the wild: A Sunda slow loris crawls along a tree branch at a wildlife rehabilitation center in Mount Tarak, Ketapang regency, West Kalimantan. (Courtesy of the West Kalimantan Natural Resources Conservation Agency/File)
Join the discussions