Constitutional Court rules indigenous faiths 'acknowledged' by state
Marguerite Afra Sapiie

The Jakarta Post
Jakarta |

Tue, November 7, 2017

| 04:43 pm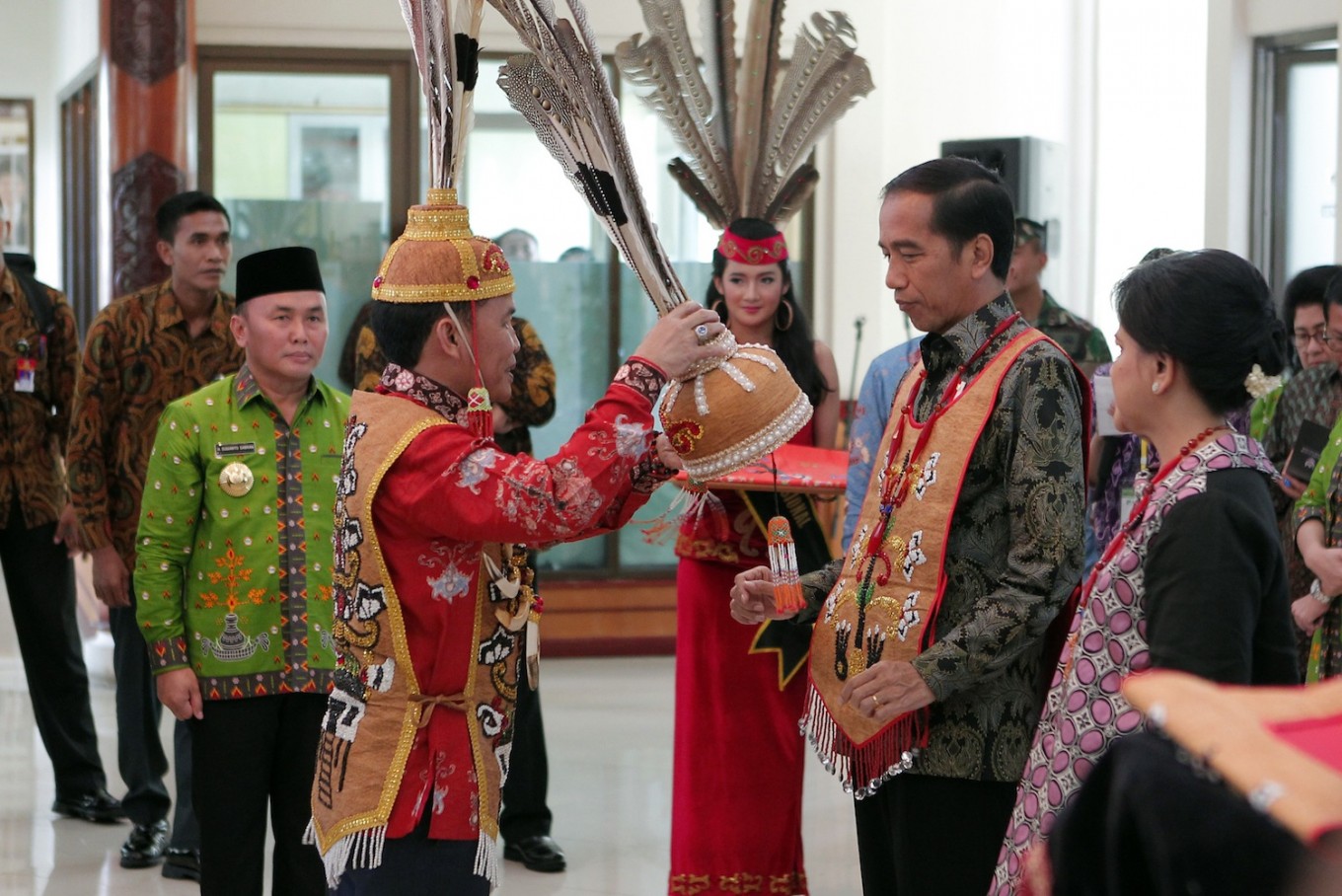 President Joko "Jokowi" Widodo is crowned a Dayak king by the head of Central Kalimantan's Dayak Customary Council, Agustiar Sabran, in Palangkaraya, Central Kalimantan, on Dec. 20, 2016. (Courtesy of Dayak Customary Council/Ridhwan E. Siregar)
The Constitutional Court granted a judicial review request on Tuesday to challenge the 2013 Civil Administration Law that will pave way for Indonesian native-faith followers to have their beliefs officially recognized by the government.
Reading out its ruling in a hearing presided by Justice Arief Hidayat, the court said articles in the law that required people adopting indigenous native faiths to leave the religion column in their ID cards blank were discriminatory.
"Article 61 [2] and Article 64 [5] of the Civil Administration Law contradict the 1945 Constitution and these articles are not legally binding," Arief said Tuesday.
The judicial review was filed in 2016 by followers of four indigenous faiths who argued that the law violated the principle of equality before the law.
Justice Saldi Isra said the disputed articles provided no legal certainty and violated principles of equal justice for all citizens. The articles had also created difficulties for native-faith followers to obtain e-ID and family registration cards.
By leaving the religion fields blank, indigenous-belief followers had also suffered problems in exercising their rights, including difficulties in marriage registration and accessing civil administration services, Saldi said.
The religion field on family registration and e-ID cards of people adopting indigenous beliefs should now show that they are "penghayat kepercayaan (native-faith followers)" without details about their native faith, Saldi added.
According to Culture and Education Ministry data, there were about 1,200 native-faith groups with at least 12 million followers across the Muslim-majority country in 2016. (ebf)
Topics :
Join the discussions