Belgium to join Indonesian food expo to boost fries exports
Stefani Ribka

The Jakarta Post
Jakarta |

Mon, November 20, 2017

| 04:56 pm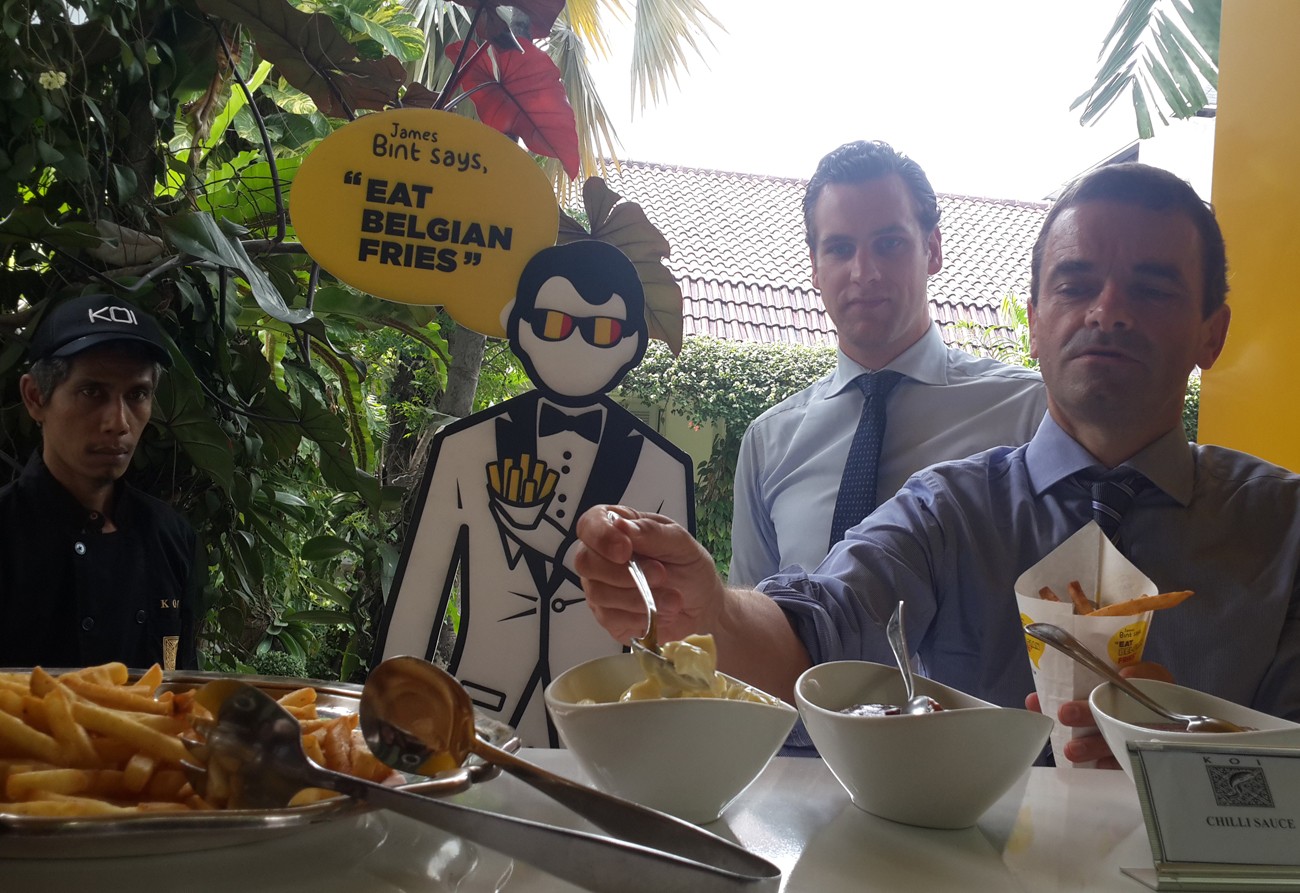 Belgium Ambassador to Indonesia Patrick Herman (right) serves fries to journalists after a press briefing to promote Belgian fries. The country will join major Indonesian food expo SIAL Interfood 2017 held at the Jakarta International (JI) Expo Kemayoran, Central Jakarta from Nov. 22 to 25. Belgium is the world's biggest frozen-potato exporter. (JP/Stefani Ribka)
The Belgian Potato Trade and Processing Industry Federation (Belgapom) will take part in the major Indonesian food expo SIAL Interfood 2017 to be held at the Jakarta International (JI) Expo Kemayoran in Central Jakarta from Wednesday to Saturday, in an effort to boost its frozen-potato sales.
Belgapom representative Wouter Trybou said it was part of a two-year campaign to boost exports of Belgian fries.
The five exporters of fries that will join the event are Agristo, Bart's Potato Company, Clarebout Potatoes, Ecofrost and Mydibel.
"This year is the first year of our campaign. We're targeting B2B [business to business] transactions in food services, the retail sector and quick-service restaurants. Next year, we'll target more in the retail sector," he told a press briefing on Monday.
"Our fries are made from the Bintje potato. It's a non-GMO [Genetically Modified Organism] grown without coloring," he added.
Belgium is the world's biggest exporter of fries, with 90 percent of the fries exported worldwide. Its fries exports increased by 14.3 percent to 1.68 million tons in 2016, mostly to Saudi Arabia, Brazil and Chile.
Indonesia is the fourth-largest importer of fries after the United States, Netherland and Canada. Indonesia imported 40,961 tons of frozen potatoes last year, 11.6 percent of which came from Belgium. (bbn)
Join the discussions