Grant for Jakarta teachers susceptible to fraud: Unions
Agnes Anya

The Jakarta Post
Jakarta |

Mon, December 4, 2017

| 07:28 pm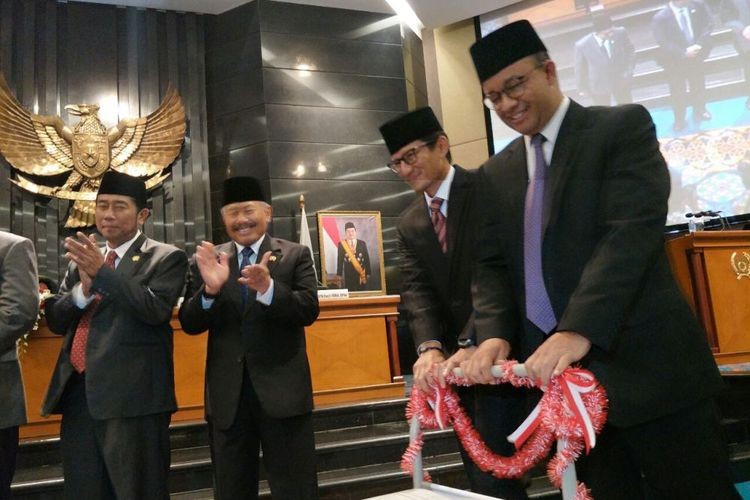 Jakarta Governor Anies Baswedan (right) and his deputy Sandiaga Uno (second right) push a trolley containing documents for the 2018 city draft budget after a plenary session on the draft budget's approval at the City Council building on Nov. 30. (kompas.com/Jessi Carina)
Jakarta's 2018 draft budget has once again garnered criticism, with education experts claiming that a Rp 430.7 billion (US$31.8 million) grant set aside for teachers' associations would be susceptible to fraud.
According to the Indonesian Teacher Unions Federation (FSGI) and Jakarta Teacher Union (SEGI), the funds should be given directly to teachers.
"[Distributing the grant through organizations] will trigger discrimination and jealousy," Heru Purnomo, FSGI's general secretary, said in a press conference on Sunday.
Jakarta administration has set aside funds for three teacher organizations in its 2018 draft budget. The Association of Indonesian Educators and Teaching Practitioners for Early Childhood Education (Himpaudi) is set to receive Rp 40.2 billion, the Indonesian Teachers Association (PGRI) is slated to get Rp 367 billion, while Rp 23.5 billion will go to the Indonesian Association of Kindergarten Teachers (IGTKI).
The administration said that the funds were a show of its appreciation for teachers.
Furthermore, if the funds were channeled through specific organizations, only teachers who were a part of those organizations would receive their share, Heru said.
"It will not reach all teachers in the capital who did not join those organizations. If the administration wants to improve the quality of teachers, it should provide workshops instead of giving cash," he added.
Education Agency deputy head Bowo Irianto assured that all Jakarta teachers would receive a monthly share of the grant, adding that the three organizations were selected to help the administration distribute the funds accordingly.
Moreover, these three groups were the ones that had made a formal request for a grant for Jakarta's teachers, he said.
Topics :
Join the discussions