US wants no mention of `Climate Change' in new Nafta
Josh Wingrove, Eric Martin and Andrew Mayeda

Bloomberg
Washington, United States |

Sun, December 17, 2017

| 04:30 pm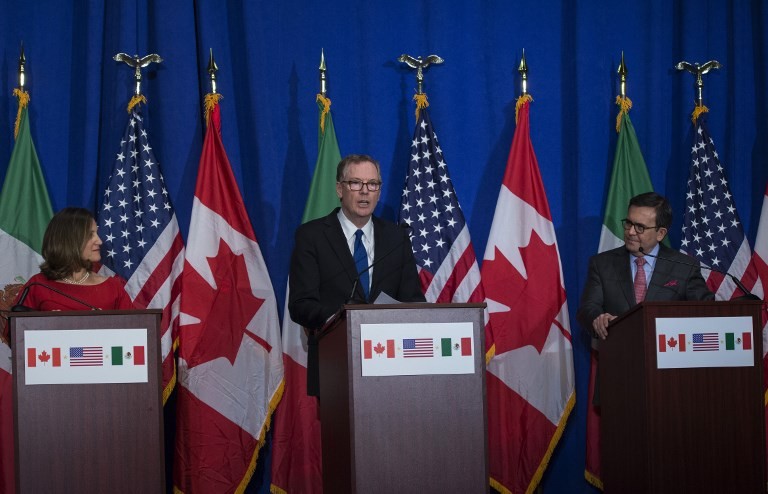 United States Trade Representative Robert Lighthizer (center), Canadian Foreign Affairs minister Chrystia Freeland (eft), and Mexican Secretary of Economy Ildefonso Guajardo Villarreal hold a press conference at the conclusion of the fourth round of negotiations for a new North American Free Trade Agreement (NAFTA) at the General Services Administration headquarters in Washington, DC, on Oct. 17, 2017. (Agence France -Presse/ANDREW CABALLERO-REYNOLDS )
The US is fighting against any mention of "climate change" in a potential new environmental chapter of the North American Free Trade Agreement, according to two people familiar with talks.
The latest Nafta talks were set to wrap Friday in Washington with no new agreement to finalize individual subjects or chapters. While mention of climate change in a trade agreement would be largely symbolic, Canadian Prime Minister Justin Trudeau has pushed for the inclusion of such "progressive" elements to help boost public support for trade.
In a list of Nafta negotiating objectives, the US called for the countries to bring environmental provisions, along with labor, from side agreements into the core of the deal. Still, it's privately pushing against the inclusion of the phrase "climate change" in that chapter, and against any mention of multilateral cooperation on the environment, the two people said, speaking on condition of anonymity as negotiations continue.
Canada and Mexico favor recognizing the challenge of climate change in the agreement, the people said. Canada is also pushing for stronger environmental standards within Nafta.
The US negotiation position follows similar holdouts at the Group of 20 and Group of Seven nations' meetings earlier this year where the US balked at climate change pledges. President Donald Trump has also announced he would withdraw from the Paris Agreement on climate change while moving to roll back other environmental protections.
A spokeswoman for US Trade Representative Robert Lighthizer and a White House representative didn't immediately respond to requests for comment Friday.
Topics :
Join the discussions