Events to ring in the New Year in Jakarta's cultural, amusement parks
News Desk

The Jakarta Post
Jakarta |

Sat, December 30, 2017

| 10:43 am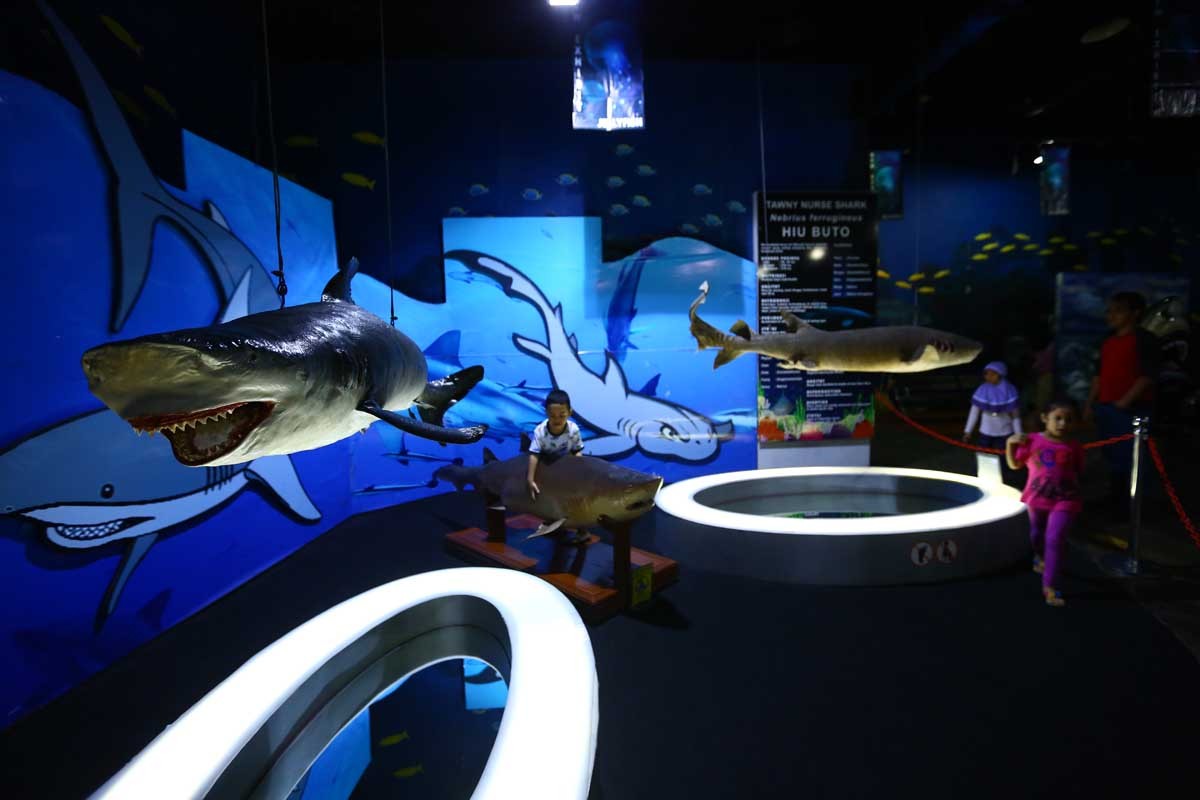 Visitors wander around Fish Museum in Sea World Ancol, North Jakarta. For New Year's Eve and New Year, Ancol and Taman Mini Indonesia Indah have prepared special events for visitors. (JP/Wienda Parwitasari)
Popular tourist spots in Jakarta have prepared special events for those who want to celebrate the upcoming New Year.
Taman Mini Indonesia Indah in East Jakarta, for example, is introducing a new visual show called Nitra Mapping Show. Running from Dec. 21 to the end of the month, visitors can enjoy the story of Nitra, the mascot of the park, projected onto the wall of Taman Mini's children's amusement center, Istana Anak (Children's Palace), using special laser projection.
Nitra is a nickname for Anjani Putra or Hanoman, a divine monkey who becomes one of the central characters in the ancient Indian epic saga Ramayana. The visual show will depict one of Nitra's adventures in the epic.
Taman Mini spokesman Jerry Lahama said the park was collaborating with video mapping company Gaung Holution to create the show. "I hope the visitors like the show, since this is our first time doing this kind of thing," he said. Jerry also guaranteed that the visual show would be interesting since it combines traditional folklore with modern technology.
Aside from the visual show, visitors can also enjoy an abundance of cultural performances from various regions in Indonesia at the pavilion of cultural houses. According to Jerry, provincial governments from each region represented in the pavilion will take care the cultural performance by themselves. Visitors can also enjoy musical performances from various local music groups and singers on Dec. 31.
Jerry hopes that this year the number of visitors will reach 100 thousand. "I hope the weather will be nice since most of our events are organized outdoors," he said.
Another tourist spot, the Ancol Dreamland amusement park, is also preparing a series of public events, ranging from culinary festivals to fireworks performances. Running from Dec. 23 to Jan. 1, visitors can enjoy various Indonesian foods at the Nusantara Culinary Festival, which is located in Dolphin Park.
During New Year's Eve, a lineup of performers will present various Betawi performance arts, such as the pencak silat martial art, Lenong Bocah and traditional dance.
Similar to Taman Mini, Ancol is also launching a new event for their visitors on New Year's Eve called Musical Fireworks. In this 15-minute fireworks show, visitors will get to see the explosion of 23 thousand fireworks, accompanied by an orchestra. Before the show begins, there will be eastern Indonesian traditional dance performances.
In its press statement, Ancol Dreamland Park director Teuku Sahir Syahali predicted that the number of visitors during the New Year's Eve and New Year would reach 280 thousand.
However, there will be no changes to ticket prices during the New Year, with Taman Mini even raising ticket prices during New Year's Eve.
"If we had a sponsor, then yes, the visitors could enter free of charge," Jerry said. "Unfortunately, that wasn't the case, so we have to increase the individual entrance ticket price to Rp 30,000 (US$ 2.1) from the regular price of Rp 10,000," he said.
Unlike Taman Mini, Ancol will not increase their entrance ticket fee. However, Jakarta Smart Card owners, who were originally able to enter the entertainment site free of charge, will have to pay the entrance fee during New Year's Eve.
Ancol spokeswoman Rika Lestari confirmed that Jakarta Smart Card holders would have to pay the regular entrance fee like other visitors.
"After New Year's Eve, free entrance for Jakarta Smart Card holders will be resumed," Rika said. (dpk)
Join the discussions