Kidnapped Argentine girl reunited with mother
Andi Hajramurni

The Jakarta Post
Andi Hajramurni |

Thu, February 8, 2018

| 09:15 am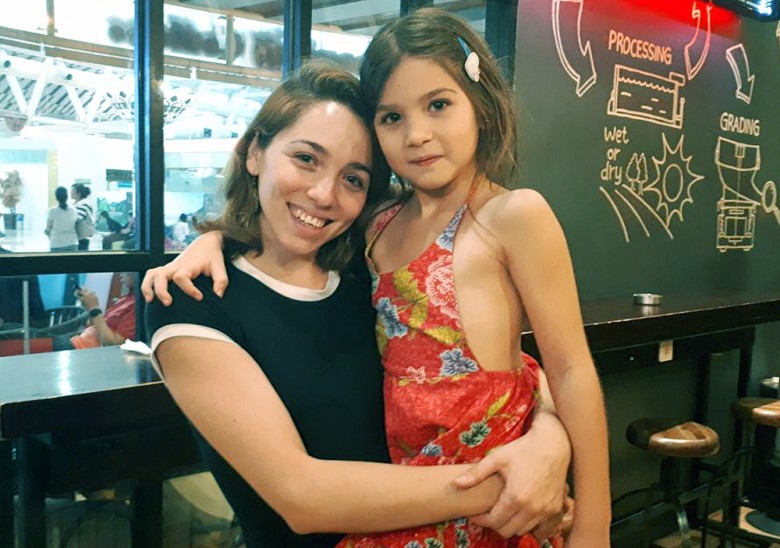 Alum Langone Avalos and her mother, Elizabeth Avalos (Courtesy of the South Sulawesi Police/File)
After eight months of searching, Elizabeth Avalos has been reunited with her daughter Alum Langone Avalos, who was found in the Kesu district of North Toraja, South Sulawesi, on Tuesday.

Alum was found by the Tana Toraja Police at the Wisma Sallebaya Restaurant and Bungalows less than a week after the three were last spotted in the vicinity on Friday. At the time, Alum was traveling with her biological father Jorge Langone, 42, and his apparent girlfriend, Candela Gutierrez, 33.

Police handed Alum over to staff from the Argentine Embassy at the South Sulawesi Police headquarters in Makassar on Wednesday. Avalos then went to Makassar to reunite with her daughter and the two returned together to Jakarta that same evening.

South Sulawesi Police deputy chief Brig. Gen. Guntur Laupe said the search for Alum was carried out in the Tana Toraja area because of information received by the National Central Bureau Interpol Indonesia.

"Based on information from the community, the Tana Toraja Police went to the location and found it was true: the three Argentinians were in the house. After talking, Jorge gave himself and his daughter up. All three were then taken to Makassar," said Guntur.

The secretary of Interpol Indonesia, Brig. Gen. Napoleon Bonaparte, said the search for Alum was undertaken because of two red alerts and an amber alert.

"Interpol issued an international request to arrest both Jorge and Candela, as well as to safeguard and save Alum," he said.

Police reported that Langone did not resist arrest and he admitted taking Alum without her mother's permission. Avalos was granted full custody of Alum after she and Langone separated in 2013. In June 2017, Avalos reported Alum's kidnapping to Argentinean authorities. According to Avalos, Alum was taken from her school in Buenos Aires by Langone and Gutierrez, who then used apparently forged documents to take her into Bolivia and from there to Brazil, Ethiopia, Malaysia and finally Indonesia.

Avalos first went to Malaysia after she was notified that the three had been sighted there. According to a statement issued by the Argentine Embassy on Monday, the three entered Indonesia through Batam and were then sighted in Tana Toraja on Friday.
Topics :
Join the discussions