Pertamina, PGN to connect 78,367 households through city gas network in 2018
Viriya P. Singgih

The Jakarta Post
Jakarta |

Sun, February 11, 2018

| 05:24 pm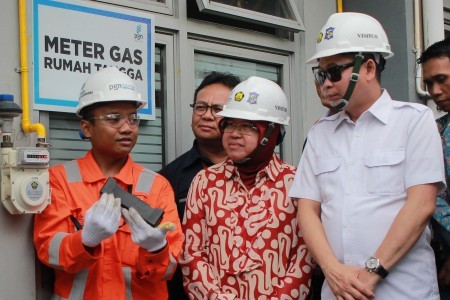 Energy and Mineral Resources Minister Ignasius Jonan (right), accompanied by Surabaya Mayor Tri Rismaharini (center), listens to the explanation from a technician of state-owned distribution company PT Perusahaan Gas Negara (PGN) after officiating a gas network in Surabaya in this file photo. State-owned energy giant Pertamina and state-owned gas company PGN will build a city gas network covering 78,367 households in 16 regions throughout this year.   (Antara/ Didik Suhartono)
The Energy and Mineral Resources Ministry has assigned state energy firms Pertamina and Perusahaan Gas Negara (PGN) to develop a city gas network connecting 78,367 households in 16 regions this year.
Funded by the state budget, the project is expected to help reduce the high proportion of imports of liquefied petroleum gas (LPG).
It is part of the larger, long-term plan outlined by the ministry to build city gas facilities connecting 3 million households by 2025 and 5 million households by 2030.
During the 2009-2017 period, it constructed the city gas infrastructure connecting 235,925 households in 31 regions across the country, of which 59,809 were linked last year alone.
Read also: Jambi proceeds with city gas program
By optimizing the use of natural gas through such a network, the ministry claims it has been able to slash LPG imports by 25,500 tons a year and cut Rp 178 billion (US$12.46 million) in subsidies annually.
"Our LPG consumption stands at 6.5 million tons a year, of which 4.5 million tons are met through imports," Energy and Mineral Resources Minister Ignasius Jonan said on Friday.
The heavy dependence on LPG has gradually increased over the years. LPG accounted for 72.38 percent of total household energy consumption in 2016, up significantly from 41.51 percent in 2010.
Jonan further reasoned that while Indonesia's natural gas production has reached 1.2 million barrels of oil equivalent per day, it mostly comprised methane gas, instead of the propane or butane gas used to produce LPG. (lnd)
Topics :
Join the discussions