KPAI apologizes for article blaming secularism for rampant sexual abuse
News Desk

The Jakarta Post
Jakarta |

Mon, February 12, 2018

| 02:29 pm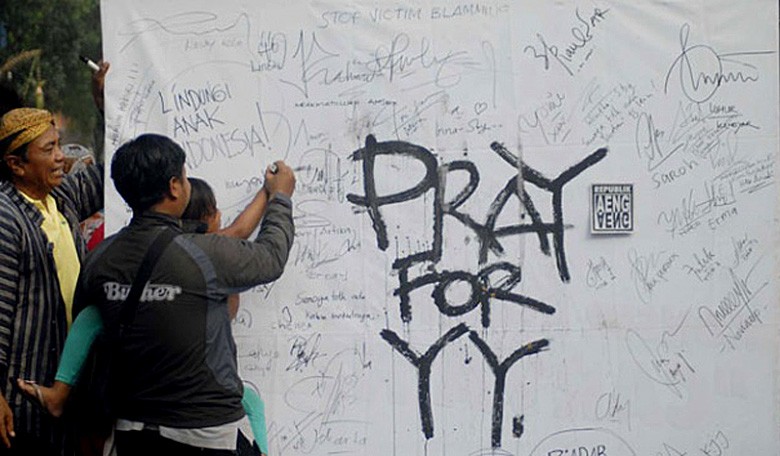 Showing solidarity – Residents put their signatures on a white textile emblazoned with Pray for YY in a Car Free Day event in Surakarta, Central Java, on May 8. Yuyun, a 14-year old student of state junior high school SMP Padang Ulak Tanding, Rejang Lebong regency, Bengkulu, was gang raped and murdered by 14 men in May. (Tempo/Bram Selo Agung)
The Indonesian Child Protection Commission (KPAI) has apologized for posting on its official website an article saying the rising number of sexual abuse cases in the country was the result of a secular political system embraced by Indonesia.
The article, "Maraknya kekerasan seksual adalah buah penerapan sistem sekular" (Rampant sexual abuse cases result of implementation of secular system), was written by Ummu Athaya, a housewife in Bandung, and was initially published on the website www.suara-islam.com.
"We convey our deepest apology to the public for the trouble caused by the article," KPAI chairman Susanto said in a statement on Sunday.
He said the news article was neither the view of the KPAI commissioner nor that of the institution. "The article was written by Ummu Athaya [in] Bandung and had not yet been reviewed by the commissioners," he added.
The government-sanctioned commission, he said, worked according to the mandate given to it under the 2014 law on child protection, which stipulates that the efforts to protect children should be in line with the state ideology of Pancasila and the 1945 Constitution.
The author of the article, which has been retracted by the KPAI, argued that many social problems occurred because Muslims separated Islam from their lives.
Indonesia is home to the largest Muslim population long associated with moderate Islam, though some analysts say Islamic conservatism is gaining ground in the country due to the rise of a Muslim middle class empowered by social media.
Government officials and most scholars have never considered Indonesia to be a secular or a religious state, highlighting the fact that the country bears some features of both political ideologies. (ahw)
Topics :
Join the discussions